The dual-axis tracker keeps the PV module optimized regardless of the time of day, time of year, or latitude, assuring optimum energy capture.
PV Booster Dual-axis Rooftop Tracker System
Bill Gross | Edisun Microgrids
Why has the C&I rooftop market been inaccessible to the benefits of trackers before PV Booster? How did PV Booster overcome those challenges?
Edisun Microgrid's PV Booster has brought solar trackers to commercial and industrial (C&I) rooftops and car ports for the first time. Until now, the C&I rooftop market has been inaccessible to the benefits of trackers due to technical limitations, including system weight, size, mounting and wind. PV Booster was designed specifically for the C&I market with these challenges in mind. The result is a market with an engineered system that is secure, minimally invasive to roofs and weighs one pound per square foot, which is less than most traditional racking systems. The result is a better designed solar energy system that maximizes power production. For the 50 billion square feet of commercial rooftops and 100 billion square feet of parking lots in the U.S. that could benefit from solar, PV Booster offers a substantial improvement to both energy capture and project economics.
What is the energy output and associated economics of a PV Booster dual-axis rooftop tracker system versus a conventional fixed-tilt system?
The dual-axis tracker keeps the PV module optimized regardless of the time of day, time of year, or latitude, assuring optimum energy capture. PV Booster's patented azimuth-elevation tracking lowers the pivot point, eliminating excessive structural material. Meanwhile, a conventional fixed-tilt system does not offer as much production, and costs much more than a dual-axis tracker. Furthermore, the technological advancements in mechanical and electrical design and installations in the field are proving the quality of dual-axis rooftop tracker systems.
How is PV Booster installed? Is installation comparable to fixed-tilt systems, in terms of time/energy?
PV Booster is plug and play and lays out as fast as any fixed tilt installation on the market. Each PV Booster is secured to the roof using manufacturer recommended methods. The mechanical attachment, which physically connects each tracker unit to the roof, includes the center support post, leveling feet, X-Base, azimuth ring and conduit, among other items. The mechanism that tracks the sun east to west and tilts the PV module in elevation towards the sun. This includes the H-Frame and channel assembly. Solar components may include cables, PV modules, inverters, and power optimizers.
According to the U.S. Department of Energy, there are 50+ billion square feet of commercial/industrial rooftop and 100 billion square feet of parking lots in the USA alone that are still without solar. Where does Edisun see themselves fitting in this untapped market?
Edisun Microgrids has developed a technology that maximizes the solar power on rooftops, therefore, maximizing the revenue that can be captured on commercial roofs. Owners of facilities with large roofs have a vast and largely untapped resource just above their heads that can not only reduce operating costs but can also be a direct revenue source. By turning unused rooftop space into a solar power plant that sells electricity into the grid, businesses can boost their bottom line and even attract new customers who value sustainability in their purchasing decisions. For the commercial and industrial rooftop space in the U.S., this is a trillion-dollar opportunity.
How has PV Booster performed in the field at the warehouse operated by Chiquita?
The fully incorporated solar energy system turned a cost-heavy roofing project into an opportunity to generate value for both the building owner and tenant, Chiquita Brands International. The key benefits of the installation is that it generates a 30 percent kWh boost, which translates into 20 percent better economics compared to fixed tilt competitors. The result is over $1.4 million in cash savings for the first year for the tenant, Chiquita Brands International.
What are the applications for PV Booster beyond C&I rooftop space and car ports?
PV Booster is designed for rooftops in the C&I building sector. This is a very large market – estimates are that there are 50 billion square feet of C&I rooftop space in the U.S. alone – and the potential in successfully addressing it is significant. At Edisun, we believe that the next large boom in the solar industry will occur in the C&I space. There is a lot to be done.
Have the Trump Tariffs and the current economic climate affected the market? How does PV Booster impact this?
The rising costs of solar modules, steel and aluminum have certainly impacted the solar industry. That said, solar trackers are a proven solution to maximize the economics of utility-scale PV installations. For the first time, Edisun Microgrids with PV Booster technology, brings the same benefits to C&I rooftops and that's why you're seeing its rapid adoption. We see it as an opportunity for the solar industry to create higher value projects stemming from improved system design, financing models, and higher-quality equipment, rather than relying on the crutch of low-cost modules that allowed many non-optimized projects to be installed. Such commitments to project quality will have long term benefits to the solar industry that far outlast tariffs.
What does Edisun see as the long-term outlook for the rooftop tracker market?
Historically, utility-scale developers have relied on trackers to make project economics work. For the first time, PV Booster allows C&I developers to have these added benefits. With regard to installing solar trackers on rooftops, with PV Booster, time of installation and the amount of equipment is significantly reduced while the same amount of energy is produced. We believe that the rooftop tracker market will continue to build momentum and revolutionize the solar energy market.
About Bill Gross

Bill Gross is the founder and CEO of Edisun Microgrids and the founder and chairman of technology incubator Idealab. Idealab has created and operated more than 150 companies, created more than 10,000 jobs, and had more than 45 successful IPOs and acquisitions. Bill has a long track record of entrepreneurship in the cleantech industry, specifically solar energy. He started his first company, Solar Devices, in high school during the 1973 energy crisis. He sold more than 10,000 kits and plans for solar energy products in the back of Popular Science magazine, helping him pay his way through the California Institute of Technology (Caltech). Bill has subsequently started many solar energy companies, including Energy Innovations (acquired by Suntech), RayTracker (acquired by First Solar), and Thermata (acquired by Solar Reserve). In addition to serving as board chairman of both Idealab and Edisun, Bill is also a member of the Board of Trustees of Caltech and of the Art Center College of Design.
The content & opinions in this article are the author's and do not necessarily represent the views of AltEnergyMag
---
Comments (0)
This post does not have any comments. Be the first to leave a comment below.
---
Post A Comment
You must be logged in before you can post a comment. Login now.
Featured Product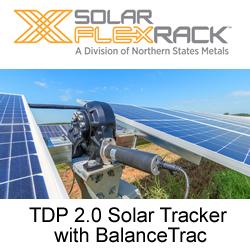 Solar FlexRack's latest solar tracker technology bundles an advanced tracker design with a full team of seasoned engineering and installation experts at your service. The next-generation solar tracker delivers a package of features that both enable increased energy yields for commercial and utility-scale solar installations, and significantly reduce project risks. That translates to smart installation cost-savings across your project budget.