Before you decide how you will finance your solar panels, make sure to research what solar financing benefits are being offered in your area. Solar technology at home is an eco-friendly movement which is growing and that has already been proven to pay for itself over time.
Creative Ways to Finance Solar and Storage Systems
Mattea Jacobs
Once you purchase a solar system, your electricity bills will decrease each month tremendously. Furthermore, if you invest in a reliable solar storage system, you will eventually be able to cut out your electricity bills completely. However, despite the amount of money you will be saving over the years on electricity, the price of solar and storage systems are very costly. Luckily there are a couple of creative ways to finance solar and storage systems to help you reap the benefits of such a great green investment.
What type of property do you want to supply solar power with (business or home)? Where are you located? Are you interested in buying or leasing? How much capital do you have? These are all relative question that will help you choose the best financing option for you solar and storage system. Each situation is unique. Therefore solar financing plans can vary vastly from one person to another. Take a look at some of your options before choosing your neighbors' plan.
Financing Options
1. Take Advantage of Tax Credits
The best start would be to look at the investment tax credit (ITC) that your area has to offer. If your state is offering a tax credit for solar systems, then why not stand in line?
You can take full advantage of state and federal tax credits when it comes to powering your home with solar power. In some cases, the federal solar tax credit will allow a deduction of up to 30 percent. This counts for solar energy technology for residential or commercial customers.
2. Use Your Existing Home Mortgage
If you have a loan taken out on your home, then you are already familiar with the lending process. On top of that, you can use your existing home mortgage to help you finance a new solar system.
In most cases, if you have a home mortgage, the chances are good that your credit risk has been assessed and that you have an established relationship with a lender. In such a case, you can extend or redraw from your existing home loan to fund your solar and solar storage system. This is known to be the most straightforward method and very cost effective as well.
3. Apply for a Secured Loan
Another way to go is to let your home serves as collateral by taking out a home equity loan or an FHA title 1 credit. These types of loans are secured and have the lowest interest rates. The interest on the loan will also be tax deductible.
4. Apply For an Unsecured Loans
With an unsecured loan you do not need collateral, but due to the higher risk for the lender, you will have to pay a higher interest rate. These loans are not tax deductible, and it can impact your credit score if you were to default the loan.
Solar Leases or Power Purchase Agreements
If you find that purchasing solar panels and a solar storage system is out of your budget or that you do not qualify for any loans, you can opt for a solar lease or a power purchase agreement (PPA).
When leasing solar panels, the leasing company will install solar panels on your roof, for which you will be paying a monthly fee. In the case of a PPA, the PPA company will generate the solar power and provide you with a certain amount of solar energy each month.
A lease or a PPA is easier to get than a loan, but your credit score will have to be more than 700 to qualify. Most lease or PPA contracts generally last for 20 years, which also means that you will have to be prepared for a long-term commitment.
In most cases with a power purchase agreement and a leasing contract, you will not be expected to pay anything upfront, and you can expect to save 10 to 50 percent on electricity bills. The downside is that you will not be an owner of a solar system and you will not qualify for any tax rebates or incentives.
The Risk Behind Solar Storage Systems
Having storage for your solar power helps to meet your daily power needs, and it can eliminate your electricity bills. Therefore solar storage systems are seen to be a valuable investment.
However, because solar storage is still relatively new, the risk for investors is still uncertain. That is why, when you decide you purchase a storage system together with your solar panels, make sure that the storage battery is reliable with a good warranty to protect your investment.
Hopefully soon, we will see further development and investments in solar storage systems as proof of paybacks coming forth.
Bottom Line
There is no right or wrong way to finance your solar panels and storage system. It all comes down to what works best for you. Solar incentives, rebates, and tax deductions are not always the same in all areas. Therefore before you decide how you will finance your solar panels, make sure to research what solar financing benefits are being offered in your area. Solar technology at home is an eco-friendly movement which is growing and that has already been proven to pay for itself over time. That is why finding a reliable solar installer should be your priority.
About Mattea Jacobs
Mattea Jacobs is a freelance writer who mostly writes about both interior and exterior home design, and environmentally-friendly ways to improve homes. She is also a green activist and a mother of two beautiful sons. You can reach her on Facebook and Instagram.
The content & opinions in this article are the author's and do not necessarily represent the views of AltEnergyMag
---
Comments (0)
This post does not have any comments. Be the first to leave a comment below.
---
Post A Comment
You must be logged in before you can post a comment. Login now.
Featured Product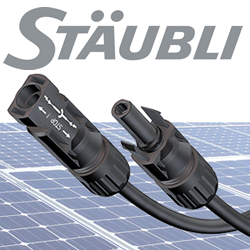 ​Stäubli Electrical Connectors are used on more than 300 GW, over 50% of the PV capacity worldwide. The MC4 family of UL and TUV listed products include connectors, in-line fuses, branch connectors, cable assembly and more.