NEC 2017 690.12 is a listed provision for module level control on PV arrays installed on or in buildings, but its implementation was delayed. That provision goes live in January 2019, updating the PV Rapid Shutdown System (PVRSS) requirements.

Michael Rogerson | SolarEdge
Tell us about SolarEdge.
SolarEdge is a global leader in smart energy technology. By leveraging world-class engineering capabilities and with a relentless focus on innovation, SolarEdge creates smart energy solutions that power our lives and drive future progress. SolarEdge developed an intelligent inverter solution that changed the way power is harvested and managed in PV systems. The SolarEdge DC optimized inverter seeks to maximize power generation while lowering the cost of energy produced by the PV system. Continuing to advance smart energy, SolarEdge addresses a broad range of energy market segments through its PV, storage, EV charging, batteries, UPS, and grid services solutions.
We normally see NEC updates every three years. However, we are about to see a change after only 2 years. Can you give us a brief summary of the code update?
NEC 2017 690.12 is a listed provision for module level control on PV arrays installed on or in buildings, but its implementation was delayed. That provision goes live in January 2019, updating the PV Rapid Shutdown System (PVRSS) requirements. The most significant change has to do with voltage inside of the array. The most common implementation specifies that all conductors within an array's 1-foot boundary must be reduced to 80V or less within 30 seconds of rapid shutdown initiation.
How should installers prepare and comply?
Installers need to be aware of the changes to the standards and the different options available that comply with the new standard. When evaluating which product to select for PV systems, installers should take into consideration costs and installation complexity. Sourcing the solution from one manufacture is the simplest approach.
What do you consider to be the most important thing to know about the implementation of inside the array boundary rules for NEC 2017?
There are three different options for implementing the inside the array boundary rules for NEC 2017.
The first option is PVRSS listed array. There is currently no UL safety standard published for this option. There is a new standard in the works, but as this takes time, it is anticipated that it will take a few years before any products will be available with this certification. This means that in the meantime expensive field evaluation and labeling will be required.
The second option is the conductors within an array's one-foot boundary shall be reduced to 80V or less within 30 seconds of rapid shutdown initiation. This is the most popular option and readily available on the market.
The third option was developed as an exception to the rule for a very narrow market sector, such as BIPV on roofs, non-metallic roofs. Unfortunately, the spacing requirements using this option actually reduce how much PV you can place on the roof.
The main thing to consider between these different options is which is the safest, most reliable, and most cost effective. Option two is the most popular option today for a number of reasons. Emergency responders prefer it since the energy is removed from the conductors. Designers and installers select option two because the other options are unproven, complicated, and have too many unknowns.
Tell us how SolarEdge's products comply with the inside the array boundary rules for NEC 2017?
Compliance comes standard with SolarEdge. There are no additional costs and no need to change the installation method to comply. Each power optimizer is designed to drop to <1 Volt SafeDC voltage. With a maximum of 30 power optimizers per string, each string will be below the 30 Volts limit. Furthermore, on commercial systems, by supplying separate inputs for each module, our power optimizers are designed to lower the voltage within the array to <80 Volts.
How will installation and maintenance of SolarEdge's systems change once the inside-the-array-boundary rules are implemented?
There will be no significant changes to the general installation or maintenance of SolarEdge systems in order to comply. Installers simply select the right power optimizers for their application and module, like they would previously. We expect the transition to be seamless.
What makes SolarEdge's solution for the updated rule better than competitors?
Since 2008, SolarEdge has included SafeDC™ (rapid shutdown) technology in every power optimizer shipped – even before it was required. Providing PV systems with enhanced safety has been at the core of our offering from day one. So, our installers have been selling, designing, building, and maintaining some of the safest PV systems - even before the code was written. Additionally, our safety technology is field tested with a proven track record for performance. Offering proven solutions helps eliminate the risk of adopting untested solutions – this further enhances its safety.
NEC 2017 has been in effect in many markets for over a year now. What is changing?
Over half of the states have already adopted NEC 2017. Around ten more are in the process of adopting NEC 2017 right now. So, this version of the code and article 690 are well understood. NEC 2017 itself is not changing; there is no new text. What is happening is that the effective date of the already published rapid shutdown requirements is almost here.
In your opinion have the changes helped or hindered the solar industry?
SolarEdge supports the recommendation and the decisions of the cross-industry bodies that design and develop safety standards based on due diligence and years of work by code officials and stakeholders. SolarEdge believes that any standards that work to make solar energy more accessible and attractive is important to advancing the PV industry. Advancing safety is certainly an aspect that can improve the proliferation of solar energy.
The content & opinions in this article are the author's and do not necessarily represent the views of AltEnergyMag

SolarEdge Technologies
SolarEdge Technologies provides end-to-end distributed solar power harvesting and PV monitoring solutions, allowing maximum energy production for faster return on investment. The SolarEdge power optimizers perform MPPT per individual module while monitoring performance of each module. The highly efficient solar inverter is tailor-made to work with power optimizers. SolarEdge enables more power from any PV system, optimal roof utilization, a complete panel-level monitoring, and enhanced safety.
Other Articles
To save money, and operate sustainably while doing so, a growing number of stadiums around the world are turning to solar to power their massive banks of floodlights, sound systems, luxury boxes and flashing video screens.
If you think about it, an industry that is wholly dependent on nature and the environment should look to the sun for free power.
SolarEdge Technologies shares with us its thoughts on how they are managing through the pandemic as well as insights into what the future holds with manufacturing and the solar supply chain.
---
Comments (0)
This post does not have any comments. Be the first to leave a comment below.
---
Post A Comment
You must be logged in before you can post a comment. Login now.
Featured Product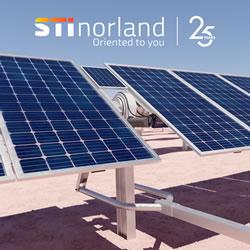 Developed in 2017, the STI-H250™ is consists of two linked torsion beams that rotate simultaneously following the sun's path. They are moved by just one motor, cutting supply and maintenance costs. STI-H250™ dual-row tracker includes backtracking mode to avoid shadowing between adjacent rows and stow function to protect the tracker in extreme wind conditions. For cleaning, vehicles can pass between trackers and each row can be placed in a different position.