By storing clean solar power in a battery, people can use that power at night when the sun isnt shining, withstand power outages that are growing in frequency, keep the grid stable during times of high usage, and make 100% renewable, clean energy achievable.
Trends in the Residential Solar Industry
Audrey Lee | Sunrun
What's driving the consumer push for solar energy right now?
People want 100% renewable energy, and home solar and batteries will help us get there. A recent EEI survey found that 74% of those polled believe we should be using solar "as much as possible." Clean, affordable home solar paired with battery storage puts the power in the hands of the consumer. Climate change and extreme weather are becoming the new normal, and clean energy and battery storage is the best way to keep the lights on in the face of hurricanes and outages, while also decreasing carbon emissions.
What trends are you seeing in the residential solar industry currently?
Adding a home battery like Sunrun's Brightbox to rooftop solar is revolutionizing our energy future. Sunrun is building an energy system designed for people and their needs. By storing clean solar power in a battery, people can use that power at night when the sun isn't shining, withstand power outages that are growing in frequency, keep the grid stable during times of high usage, and make 100% renewable, clean energy achievable. Sunrun's Brightbox can power critical loads for up to 10 hours during a blackout, even when the sun isn't shining. In fact, more than 25% of Sunrun's direct sales customers in California are choosing to include a Brightbox with their home solar system, with numbers as high as 60% in some areas of Southern California.
How can residential solar change our energy system?
Our energy system is 100 years-old and crumbling. The centralized model is inefficient, and vulnerable to extreme weather. The average age of a power plant is 34 years-old, and the system requires billions of dollars to repair outdated infrastructure. Since the modern grid was invented, customers have only had one choice - the monopoly utility. We now have the technology to build a better system. Now, residential solar is disrupting the monopoly held by the current utility conglomerate. Sunrun alone installs a solar system somewhere in the country once every three minutes. We have prevented 2.7 million tons of carbon pollution and saved customers more than $200 million. Home solar provides cleaner, more affordable energy, and protection against extreme weather events. This vision is outlined in CEO Lynn Jurich's white paper Affordable, Clean, Reliable Energy.
The Consumer Reports data shows that half of the respondents would be willing to install solar panels if they could recover their investments within five years. What should people know about the economics of home solar?
We are transforming how Americans are able to participate in a new clean energy system. With Sunrun's unique solar-as-a-service business model, households can have clean, affordable solar power from their roof with little to no upfront cost and no maintenance concerns. It is now affordable for consumers to install a battery at home, both to protect their family during power outages and also to respond to grid demand.
What is the average payback period for a residential solar system at this time?
With the solar-as-a-service model, customers can get home solar and batteries for little to no upfront cost. This means they don't have to wait years and years for payback, and start reaping all the benefits of home solar immediately.
Is there government support in the form of subsidies for solar installations?
Federally, the Investment Tax Credit (ITC) allows businesses to deduct 30 percent of the cost of installing solar energy systems from federal taxes. There's also a 30% tax credit for individuals who purchase their system. These tax credits were extended in 2015, and begin to phase down in 2020. California residents can also take advantage of the Solar Generation Incentive Program (SGIP), which provides incentives for home batteries like Brightbox.
What are the ongoing costs to maintain a solar system?
With the solar-as-a-service program, Sunrun monitors, maintains and insures the system at no additional cost to customers during the term of the contract, including equipment replacement.
What are the biggest myths about home solar? How can people get accurate information about solar?
Two of the biggest myths about solar are that it is too expensive and that it makes moving difficult. In fact, the costs for home solar and batteries have declined significantly. Over the last decade, the cost of installed solar panels came down 65% and the cost of batteries came down 84 percent. Market researchers forecast the cost of installed solar panels will decline 61% while the cost of batteries will decline 49% over the next 10 years. Those costs will only continue to drop. Additionally, some of the main expenses when it comes to solar installation are permitting and other "soft costs." That's why Sunrun has put forth a plan to cut down on these unnecessary expenses. This plan will save a typical homeowner more than $7,000 in red tape expenses on solar power systems.
Going solar and moving homes is simple with Sunrun. We handle everything from educating realtors and potential buyers to working with escrow officers, title agents and home inspectors. Sunrun makes the service transfer process seamless and easy for both existing customers and new homeowners. New homeowners are pleased to know that they and their family will benefit from clean solar energy at a discounted rate to that offered by their local utility, helping to make their local community healthier.
For more info read Lynn Jurich's white paper Affordable, Clean, Reliable Energy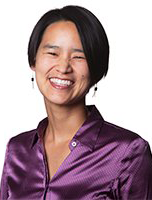 About Audrey Lee
Audrey deploys and aggregates home solar and batteries to create a more affordable, clean, reliable energy system. Audrey also serves on the Energy Storage Association Board and the NIST Smart Grid Advisory Committee. Previously, Audrey was VP of Analytics & Design at Advanced Microgrid Solutions, where she built the analytics and operations platform to optimize a 50 MW fleet of customer-sited batteries as a virtual power plant in Southern California after the closure of the San Onofre Nuclear Generating Station. This resulted in Series A and B corporate funding and a $200 million project finance raise – the largest dedicated energy storage finance vehicle at the time. Prior to that, Audrey led policy and analysis at the CA Public Utilities Commission President's office, Harvard University, U.S. Department of Energy and the International Energy Agency. She holds a Ph.D. in electrical engineering from Princeton University. At home she builds forts and Snap Circuits with her two children.
The content & opinions in this article are the author's and do not necessarily represent the views of AltEnergyMag
---
Comments (0)
This post does not have any comments. Be the first to leave a comment below.
---
Post A Comment
You must be logged in before you can post a comment. Login now.
Featured Product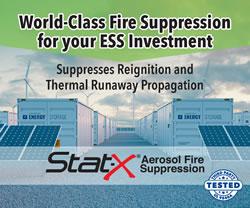 Stat-X® condensed aerosol fire suppression is a solution for energy storage systems (ESS) and battery energy storage systems (BESS) applications. Our Stat-X condensed aerosol fire extinguishing product was tested for efficacy in suppressing li-ion battery fires. It was found that the product successfully extinguished single and double cell battery fires. This testing was conducted in parallel with a large battery fire testing program on behalf of a large energy storage company.