For continuous racks, the vertical deformation results in additional stresses on the racking system and can cause a variety of issues such as cracked modules; solar panel distortion; damage to conductor; connection failures; and more.
Frost Heave and Solar Arrays
Director of Engineering, Michael Faraone, Ph.D., P.E. | TerraSmart
What is frost heave?
Frost Heave is an upward swelling of soil that occurs during freezing conditions. It happens when the temperature in the soil reaches below freezing point, persisting for a long period. A reservoir of ground water close to the frost line feeds the growing ice lens resulting in an uplift force on the soil. Overall, this causes a vertical displacement of soil due to the persistent ice lens growth below surface.
Geographical areas prone to frost heave conditions are mainly the mid-west and throughout the Northeast. Soils which are the most frost susceptible are silts and fine sands. These types of soils have a large capillary rise due to its fine particles and water can easily flow through due to their permeability. In coarse-grained and clay-type soils, the frost heave is relatively small as water cannot move as easily through these soils.
How can frost heave affect a solar array?
As the soil begins to freeze, adfreeze forces (which is the bond between the frozen soil and foundation surface) develop along the perimeter of the foundation. The combination of this freezing bond and frost heave results in an uplift force on the foundation. A foundation that does that does not account for this frost heave force in their design can result in a permanent vertical deformation of the racking structure.
For continuous racks, the vertical deformation results in additional stresses on the racking system and can cause a variety of issues such as cracked modules; solar panel distortion; damage to conductor; connection failures; and more.

What has been the typical solution to frost heave when installing a solar array?
For many of the existing solar PV farms, rehabilitation was necessary in order to try and prevent further uplifting of piles. For existing arrays, remediation may result in addition of insulation on the ground surface to help prevent the soil from freezing.
Typical solutions to combat frost heave have been to increase the existing embedment depth of the foundation, place concrete at the base of each pile in order to strengthen and prevent further uplift, adding slick coat to reduce adfreeze force, add PVC sleeves filled with gravel, placing insulation around the pile to restrict frost penetration, etc.
All of the aforementioned methods listed can add additional costs and time. Not to mention that with increasing the embedment depth, there is more risk involved. The further you go down the greater potential there is to run into refusal.
Tell us about TerraSmart's Ground Screw and how it solves some of the issues with frost heave?
TerraSmart's ground screw is a 3-inch diameter steel tube that is typically 7 feet long with a continuous spiral thread around the shank. It has a forged chisel-tip for insertion into all soil types, especially rock. TerraSmart's ground screws combat frost heave in three ways:
The threads on the ground screw are embedded below the frost line depth, which mitigate ice lensing force.
Ground screws have a smaller perimeter area relative to other solar foundations, resulting in a reduced frost heave force.
Due to the threaded portion, ground screws can mobilize a large amount of tension to resist frost heave forces as compared to other foundations.
Overall, our ground screw provides a cost-savings and cost-effective solution to soil types prone to frost heave conditions. There is no risk to drive a longer pile with unknown soil conditions, no need for additional costs with PVC casing, added slick coat or gravel fill, etc.
What other types of terrain and soil are you seeing benefits of using the Ground Screw?
TerraSmart's ground screw excels in all rocky soil conditions such as bed rock, caliche, volcanic rock and glacial till. Regardless of the soil condition, our ground screws negate subsurface risk while maintaining install velocity. TerraSmart's ground screws also excel in undulating terrain that allow solar racks to be built on high slopes. As a result, TerraSmart is capable of building solar projects on sites that were once not thought possible, while at the same time, adding a significant savings value to a project's civil costs.
For example, in 2016, TerraSmart installed over 128,000 ground screws on the U.S Tribal Lands in Moapa, Nevada, a 353-megawatt solar array. Moapa Valley's soil was unique in that the top layer was made up of a hard caliche soil, a rock mixture of sand and limestone, which is very tough to penetrate.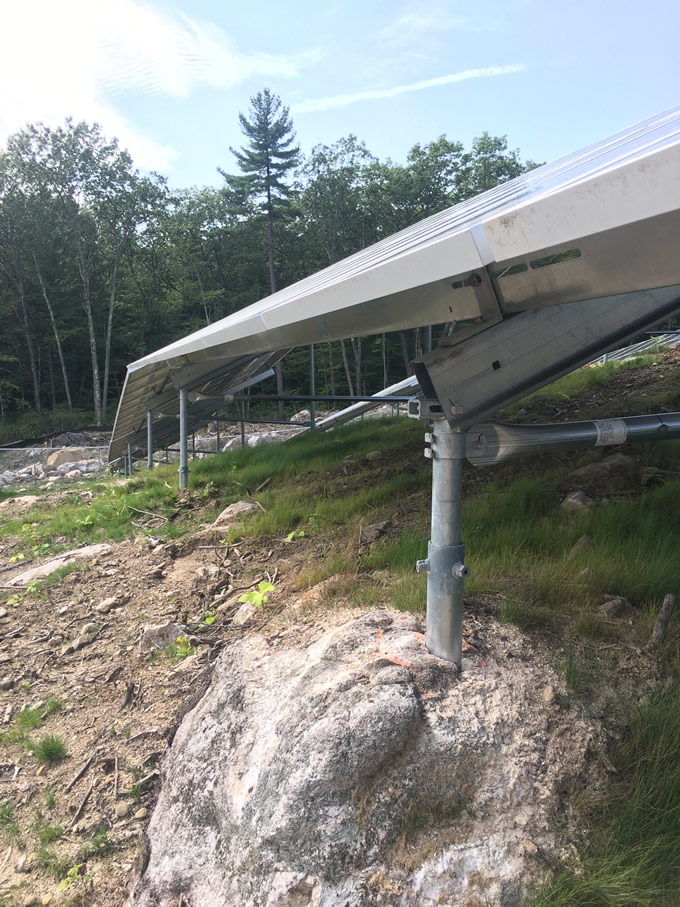 TerraSmart's ground screw penetrated into large rock piles on a
2.5 MW solar farm in Fitchburg, Massachusetts.
TerraSmart's ground screw was also chosen as the foundation solution for a single-axis tracker site in Bend, Oregon. The site was made up of three different types of volcanic rock with undulating terrain. Due to our unique install methods and engineered solutions, we were able to install quickly and efficiently keeping costs within budget as well as construction schedules on track.
Why is it so important for a developer to understand the ground and soil conditions when designing a solar array?
A developer needs to evaluate subsurface conditions to help reduce potential subsurface risks and subsequent unforeseen costs. Once the subsurface conditions are understood than the most economical foundation can be selected.
Subsurface risk can include: refusals, organic material/trash, voids, etc.
TerraSmart's engineering and design team know how to evaluate subsurface conditions from geotechnical reports and size foundations appropriately.
From an installer's perspective, they need to understand subsurface conditions so they can determine the proper equipment in order to install the foundation.
About Director of Engineering, Michael Faraone, Ph.D., P.E.
Dr. Faraone's career at TerraSmart started in 2016 as a Geotechnical Engineer. Dr. Faraone's expertise in deep foundation design led him to the advanced role of Director of Engineering, of which he oversees the entire engineering department that develops and analyzes all foundation designs and testing for TerraSmart's progressive solar-racking solutions. Prior to, Dr. Faraone received his Doctor of Philosophy (Ph.D.) in Geotechnical Engineering in 2014, whereas he went on to work as a research engineer at the University of Florida. His experience in developing design software for deep foundations and extended studies in geotechnical engineering earned him the nickname, "Dr. Dirt".
The content & opinions in this article are the author's and do not necessarily represent the views of AltEnergyMag
Terrasmart
Terrasmart, the renewable energy portfolio of Gibraltar (NASDAQ: ROCK), is a leading provider of solar racking technologies, electrical balance-of-system products, installation services, and project optimization software. Harnessing the combined strengths, technical expertise, and heritage of its four brands, the new Terrasmart delivers a holistic project experience and best-in-class solutions across markets, providing leading solar technologies and smart solutions across the project lifecycle to mitigate risks and amplify returns for solar projects of any size, type, and location. Serving the commercial and utility sectors across North America, Terrasmart integrates products and solutions across the PV lifecycle to minimize risks and maximize returns. With over 19 GWs of solar deployed across 4600 PV systems, Terrasmart creates unique value for more profitable solar on any terrain, anywhere in the U.S.
Other Articles
When assessing the site, the installation team noticed some challenges that would make foundation installation difficult—a 21% north and south slope, rocky terrain, and drainage swales.
Solar client SunCommon engaged Terrasmart to build two surface lot canopies for Alchemist Brewery, a craft brewing company catering to the tourism industry in Stowe, Vermont. The project had to be optimized for the region's rough weather.
Gibraltar acquired Sunfig and TerraSmart to provide an end-to-end solution for our customers, which will bring greater value to solar projects of any size, any type and in any location.
---
Comments (0)
This post does not have any comments. Be the first to leave a comment below.
---
Post A Comment
You must be logged in before you can post a comment. Login now.
Featured Product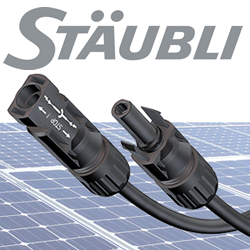 ​Stäubli Electrical Connectors are used on more than 300 GW, over 50% of the PV capacity worldwide. The MC4 family of UL and TUV listed products include connectors, in-line fuses, branch connectors, cable assembly and more.