Bankruptcy laws would allow PG&E to renegotiate supplier contracts and in Ohio a judge allowed FirstEnergy Solutions to renegotiate money losing PPAs. But are these money-losing contracts?
What's Next for PG&E after Bankruptcy?
Charlie Seltzer | CivicSolar, Inc
Reprinted with permission from CivicSolar's blog:
PG&E -- California's largest utility with 40% of ratepayers -- gave notice that they are filing for Chapter 11 bankruptcy on January 14th. The expected claim from Camp Fire in November 2018 and fires from 2017 have lead PG&E to file Chapter 11. Per California bankruptcy laws, PG&E has to give employees two weeks notice to file bankruptcy and this will surely be a lengthy process that is unprecedented. It remains unclear how this will impact utility-scale and DG solar in California and has lead to many questions about the PG&E's future.
In the short-term, this should not affect DG solar in PG&E territory. PG&E will continue providing Net Metering credits and Net Metering is protected under law. Unless there's large employee defection, the bankruptcy will not impact interconnection applications and SGIP disbursements; SGIP is also protected under state law and funds are reserved for storage deployments. Solar contractors should not anticipate any abrupt changes in 2018 despite key questions about PG&E's future and many uncertainties.
Will PG&E break up?
Governor Gavin Newsom has supported municipalization of the grid. This would force PG&E to break-up and local California cities would manage the grid in their territory. San Francisco mayor has already asked for the city to look at taking over the grid. While San Francisco has the resources (PG&E is headquartered in San Francisco) to manage the grid, smaller and rural municipalities are not going to have the same resources. Community Choice Aggregation (CCAs) are expanding rapidly in PG&E territory (including Bay Area which has many PG&E ratepayers) and it's unknown how they will be impacted by PG&E.
Will a judge allow the bankruptcy?
PG&E says the fire liabilities from 2018 and 2017 will exceed $30B and are more than their insurance can provide. However, does that mean PG&E is not solvent? Wall Street Analysts have value PG&E's equity at $20B in December 2018 and it was still an investment grade company. Also, PG&E hasn't received any judgment against yet, it will be several years before the litigation is finished, and it's likely that PG&E will settle their claim at a discount to face value. If PG&E can continue to operate properly profitability the next couple of years, they will have sufficient solvency to pay the claims.
Will this impact solar contracts?
PG&E has 5.9 GW of PV projects built before 2012 and the PPA prices are about 5 times as expensive as current PV PPAs. Bankruptcy laws would allow PG&E to renegotiate supplier contracts and in Ohio a judge allowed FirstEnergy Solutions to renegotiate money losing PPAs. But are these money-losing contracts? Presumably, PG&E rate-bases these solar contracts and the costs are passed on to the ratepayer. If they renegotiate them to lower their supply price, PG&E would lower their rates to the ratepayer and they will not gain a penny from renegotiating the PPAs. Renegotiating these contracts would lead to further litigation from the solar suppliers and Governor Newsom has said that PG&E "will honor promises to suppliers." Furthermore, adjusting these contracts may require FERC's permisssion since FERC oversees the CAISO (which PG&E belongs to). These contracts were signed in good faith and are fair-and-square, so why would FERC change the terms and conditions?
What about SB901?
Last September outgoing Governor Brown signed SB901 for wildfire management which allows PG&E to pass on costs incurred from 2017 fires (if PG&E is found liable). This means most likely PG&E will increase their rates but it will not allow them to include the claims from Camp Fire since this occurred in 2018. Under SB901 the CPUC has the authority to review which costs can be passed on to ratepayers versus shareholders. It's unlikely SB901 would help rescue PG&E from bankruptcy because previous attempts to include Camp Fire have been rejected and it currently it appears the state legislature is not getting involved.
It's way too early to predict how PG&E's bankruptcy will play out and unlikely CA legislature will remain completely uninvolved. California companies file bankruptcy every day but this is going to be one of the largest bankruptcies since the 2008-2009 financial crisis. Given that PG&E has 300,000 ratepayers and 20,000 employees, and the vital role it plays in grid modernization and the country's clean energy economy, perhaps it's the most significant bankruptcy since Enron. Despite these unknowns, DG and utility solar should continue to proliferate in PG&E territory because of state's long-term commitment to renewable energy.
The content & opinions in this article are the author's and do not necessarily represent the views of AltEnergyMag
---
Comments (0)
This post does not have any comments. Be the first to leave a comment below.
---
Post A Comment
You must be logged in before you can post a comment. Login now.
Featured Product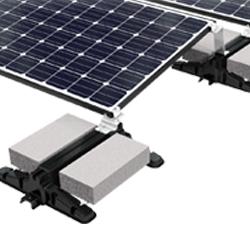 Preformed Line Products introduces the POWER MAX Ballasted Roof Mounting System. The POWER MAX solar mounting system is engineered to maximize energy output on commercial flat roofs. Developed with the professional installer in mind, this system offers adjustable inter-row spacing in the field of up to 11 inches. It features 50% fewer components and a simplified design resulting in faster assembly rates and labor savings on every project. Available in a flush mount, 5˚ or 10˚ tilt or higher density dual tilt design, the POWER MAX base arrives stacked on pallets providing easier transport to the roof. Engineered as a fully ballasted, non-penetrating system, it accepts standard concrete blocks and is qualified by wind tunnel testing.