In a white paper published today, specialist financial information and services provider New Energy Finance is calling on politicians to address Europe's poor record in creating clean energy technology companies.
Download the full text of the white paper here:

http://www.newenergyfinance.com/NEF/HTML/Press/NEF-Innovation-White-Paper.pdf
New Energy Finance's research shows that despite the fact that Europe leads the world in environmental regulation, as evidenced most recently by its ratification of the Kyoto Protocol, its record in creating clean and low-carbon energy technology companies lags that of the USA.
New Energy Finance surveyed nearly 3,500 organisations, identifying over 300 startups active in various parts of the clean energy industry. Of these, no fewer than 201 were in North America (USA 157, Canada 44) and only 75 in Europe.
Europe's clean energy "Innovation Deficit" affects not only start-ups, but also Europe's larger companies. For example, a recent study by Derwent Analytics and Thomson Scientific of patent filings in the fuel cell area, considered by many to be the long-term technology of the future for the transport sector, showed that of the 22 most active companies worldwide in 2003, only one (Daimler Chrysler) was European.
Europe's "Innovation Deficit" in clean energy is particularly notable because sustainability was one of the themes chosen under the Lisbon 2000 Strategy, aimed at turning Europe into "the most dynamic, knowledge-based economy in the world". The interim report on Lisbon 2000, undertaken late last year, found that little progress had been made. It stated that "much needs to be done to prevent Lisbon from becoming a synonym for missed objectives and failed promises." Now it appears even one of Europe's flagship policy areas is lacking dynamism.
Current plans to reform Lisbon revolve around introducing new road maps and performance targets - depite the fact that Commission President José Manuel Barroso recently complained, "the Lisbon package consists of 28 main objectives and 120 sub-objectives, with 117 different indicators. The reporting system for 25 Member States adds up to 300 annual reports which clearly no-one reads."
Michael Liebreich, Founder and CEO of New Energy Finance is calling on politicians across Europe, including the leaders of the main British political parties, to focus instead on five policy areas to spur innovation and to attract private sector funding into renewable energy and low carbon energy technologies:
· General macro-economics for innovation and entrepreneurship
· Ensuring access to markets for clean energy providers
· Reducing subsidies for fossil-based energy providers
· Using the public sector to create markets, not to pick winners
· Decoupling incentive programmes from social and political goals
"Legislation is only one of the drivers of change in energy usage patterns. Another major factor will be the ability of Europe's economies to innovate," said Liebreich. "What is needed from Brussels is not more co-ordination, more goal-setting and more money going to unwieldy research consortia, it is a basic understanding of the mechanics of building companies, and the breaking down of the barriers to entrepreneurship, particularly in the area of clean energy technologies."
"As for the British political parties: Labour promises more of the same plus a probable revival of nuclear power; the Conservatives are opposed to wind farms; and the Liberal Democrats are fiddling round the edges promising a fruit salad of carbon taxes and tax cuts."
"The USA may have opted out of Kyoto, but it would be very unwise to write them off in the race for technological leadership in the sector. On current form, the Cisco Systems and Intel of the clean energy industry are more likely to come out of North America and be funded by Silicon Valley than out of Europe and be funded by the EU."
Michael Liebreich
CEO & Founder
New Energy Finance Ltd
Unit 225 Canalot Studios
222 Kensal Road
London W10 5BN
tel: +44 (0)20 7727 8590
fax: +44 (0)20 7727 8596
email: michael@newenergyfinance.com
http://www.newenergyfinance.com
Featured Product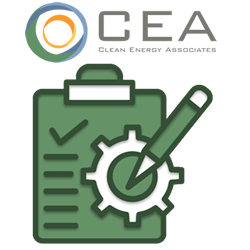 Clean Energy Associates provides a complete quality assurance solution that covers the entire product lifecycle of PV modules, storage systems, and every Balance of Sy stem (BOS) component. CEA's experienced on-the-ground and international team of quality control engineers and account managers offer an unparalleled quality assurance presence that can protect solar and storage investments and ensure future energy-producing viability for the life of the product.