Sustainability has long been transforming our most treasured conventions, and new trends are emerging within our culture to reflect that. With trends come money — but the most money comes from those who arrive first. This requires you to keep your ear to the ground.
How Solar Companies Can Get an Edge on the Competition
Adrian Johansen
The battle for sustainable practices and innovation is an uphill battle. But the more information about renewable energy and other green practices becomes known, the higher public demand grows for products to complement a sustainable lifestyle. Knowledge about sustainability creates demand for eco-friendly practices, but it also naturally creates some competition between solar power providers.
However, this industry is still growing and making headway. If we ever hope to keep this world livable, it has to. This means that if a solar company wants to stay on top of their competition, they have to utilize the newest technology and make their company a preferred and respected brand. And of course, they have to offer reasonable prices, which also requires keeping their costs down. Here are some ways they can do so:
The Potential of Smart Tech
Without a doubt, smart tech is the future of our daily activities. Right now, artificial intelligence innovators are looking to revolutionize utilities, saving money and energy. This is also expanding into several sectors that apply to solar energy, and through the internet of things, it will be tied into other smart utilities. Some current examples of this come in the form of security cameras, charging stations for electric vehicles and smartphones, thermostats, and sound devices — all using smart technology and powered by solar technology!
The rise of AI has also created the potential for good and bad. When it comes to smart solar technology, you may need to implement some extra cybersecurity measures since hackers using AI pose threats to IoT devices. Because most smart devices work around a central network, hacking one could give someone access to the rest. And there have been some pretty sketchy smart hacks, including one in which researchers took control of a Jeep SUV, revealing the vulnerability of the multi-billion dollar corporation.
But none of this means that you shouldn't utilize AI; it just means you should innovate on it and use all of the tools at your disposal to improve security. For instance, smart home devices are being created to control the temperature in a home and use machine learning to adapt throughout the seasons. There are even new batteries that can store excess power obtained from solar panels for later use. AI can be used to calculate how much of this power is excess and deviate it to the batteries.
Of course, this new technology can be extremely expensive, especially considering that a lot of our solar batteries and technology are coming from China right now. China enforced a new policy which cancelled subsidies for power battery companies, but battery companies are still looking to expand in 2019. This means that, in addition to the Trump tariffs, you'll still have to compete with traditional battery companies as well.
This will require marketing better than the competition and being more cost effective. You must optimize your supply chain and manufacturing process. Efficiency plus good marketing will help to keep you ahead of the competition.
Employee-Based Recruitment
Sometimes companies lack the labor force needed to excel. While their products may be great, their recruitment practices are often not. In this day and age, decent pay may not be good enough to remain on top of the food chain. Rather, you have to offer a great workplace environment and benefits as well.
The solar industry combines new technology with traditional jobs. There is room for electricians, construction workers, project managers, marketers, and business strategists within the industry.
This leads us to the topic of education. Did you know that many companies are investing in the education of their employees? As with any new industry or social push, education is an important part of future success. Green education and solar energy training are practices that will need support, from community colleges to Ivy League universities.
Given the importance of providing individuals with the opportunity and motivation to take action for sustainability, it may be a wise move to sponsor environmental education for your employees, especially if they plan to work long term at your place of work. Additionally, helping with the proper schooling for the aforementioned mechanical and business parts of the job could be equally as valuable. With more education, employees could contribute to the work you do in a greater capacity and with more authority. And of course, this encourages internal brand loyalty as well as future innovation in the solar energy field.
Assess the Needs and Follow the Trends
Sustainability has long been transforming our most treasured conventions, and new trends are emerging within our culture to reflect that. With trends come money — but the most money comes from those who arrive first. This requires you to keep your ear to the ground.
For instance, take transportation. Without a doubt, solar transportation is the way of the future. As noted by author Brooke Faulkner:
… A future solar car may be able to not only supply itself for either short trips to and from work or long trips across the country, but may also be able to play a role in contributing to the world power supply. This is big news considering some of the major issues associated with the world's growing power needs. Modern technologies are coming a long way.
Solar energy trends don't stop with transportation and powering traditional homes. As building and construction fads and habits evolve across the United States, alternative energy continues to make itself known. This has especially been true in the intermountain west. If you are looking for a place to expand, this part of the western U.S. isn't just a place that needs it, but is looking for it as well. Sustainable practices to help with RV living, the tiny house revolution in Arizona, and the shifting real estate in Nevada are markets waiting to be tapped.
Assessing the needs and wants of a market is important for getting an edge on your competition. So much of it is a matter of time, and that requires a little extra work on your part. But the profits will be worth it, as will the environmental impact. When the renewable energy market grows, so do the benefits for our planet.
The content & opinions in this article are the author's and do not necessarily represent the views of AltEnergyMag
---
Comments (0)
This post does not have any comments. Be the first to leave a comment below.
---
Post A Comment
You must be logged in before you can post a comment. Login now.
Featured Product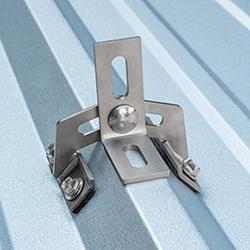 Error-Proof Compression: The QB2 doesn't leave any room for user error when it comes to Microflashing® compression. Once the Dual Drive Shoulder Screw is secured, the Microflashing® is compressed. Only 3 Components: The QB2 is comprised of Microflashing®, an L-foot and a Dual Drive Shoulder Screw. No more Nuts needed to tighten and secure the L-foot! Not only does this simplify the installation process, it also cuts down the installation time.