Both technology and economics are changing in favour of hydrogen and fuel cells. In addition to these two the other major positive for hydrogen is the policy change.
New Hydrogen Economy - Hype or Hope?
Marzia Zafar | World Energy Council
Why should the market pay attention to hydrogen this time around?
Hydrogen is the lightest, most abundant chemical elements in the universe. Yet, hydrogen is not a source of energy but an energy carrier. It must be produced and stored before use. Every couple of years, the discussions around hydrogen's role in the energy system picks up and it has always been referred to as the fuel of the future. This time around, however, falling renewable energy prices, stringent climate change requirements and the discrete involvement of China are step changes.
Why hasn't hydrogen been paid attention to in the past?
First, it is important to note that hydrogen has very well-established applications. Today, hydrogen is used in large quantities for industrial uses in chemistry and refining. Around 60 million tonnes of hydrogen are produced each year, mostly for the production of ammonia, which is essential for the fertilizer industry, and for refining petroleum products. What we discuss in the brief are the new hydrogen applications and its role in the transport, gas, power and heat sectors. It is not that it hasn't been paid attention to; I think its fairer to say that it has in the past experienced cycles of "hype", but this time around it is more realistic "hope", because of the evolution of technology and the existential crisis of climate change ramifications that is pushing hydrogen into the mainstream as an energy carrier.
What are some of the key hydrogen pilot projects that are currently underway that the market should keep an eye on?
In the brief that we published we have highlighted 8 use cases that are currently underway and provide a window to how in the very near future will incorporate hydrogen in the energy mix. For example, we have featured applications such as material handling (fork-lifts), passenger vehicles or drones whose commercial viability is expected to be achieved by 2025 and also applications that are more into the future such as aircraft, steel production or heat are also being detailed in our brief.
The use cases we are featuring can be solutions to decarbonise or strengthen energy security using hydrogen as an energy vector/carrier.
Has the technology and or economics of hydrogen improved in the last few years?
Yes! both technology and economics are changing in favour of hydrogen and fuel cells. In addition to these two the other major positive for hydrogen is the policy change. Climate change policies have actually created the improvements for both technology and economics. For instance, renewable energy prices are at their lowest and projected to go even lower – this allows a better economics case for hydrogen and especially for green hydrogen. This is not to say that hydrogen is in the clear. There are still quite a few obstacles to overcome, but the opportunity is there or rather the hope is a realistic hope and not just hype.
Is hydrogen another developed country hobby?
I would say the "hype" was a hobby. So, in the past it was a hobby. This is not to say that it was a useless effort. Technology matured as a result of this. Now, however, it seems that it might be a necessity and that's because of the climate change crisis. The world is looking to decarbonize, and hydrogen is a solution as is electrification and energy efficiency.

Is hydrogen a substitute or a complement to electrification for the energy transition?
Definitely a compliment. Green and blue hydrogen can refresh those parts of the energy system transition that electrification cannot reach. Moreover, there is no green hydrogen without electricity.
Is hydrogen safe?
I would challenge you to tell me what is safe. Is nuclear safe? Is natural gas safe? Is burning coal safe? – not only for the miners who risk their lives every day, but also all of us who breathe the air. Safety must be paramount and addressed in everything we do, especially in the energy sector. If something is not safe then the longevity and economic viability of it will be short-term.
How do you see the next few years unfolding in the adoption of hydrogen as an energy resource?
Based on the exploratory interviews that the World Energy Council conducted with energy experts and hydrogen enthusiasts as well as sceptics from all corner of the world it seems that hydrogen is here to stay. The fact that China is putting a lot of financial backing via subsidies it seems that if there was a good time for hydrogen to move from hype to hope to a mainstream energy carrier then this is its time.
About the Innovation workstream of the World Energy Council
This Innovation Insights Brief on hydrogen is part of a series of publications by the World Energy Council focused on Innovation. In the fast-paced era of disruptive changes, this brief aims at facilitating strategic sharing of knowledge between the Council's members and the other energy stakeholders and policy shapers.
About the World Energy Council
The World Energy Council is the leading impartial global network of energy leaders, committed to the sustainable use and supply of energy for the benefit of all. Formed in 1923, the Council is the UN-accredited global energy body, representing the entire energy spectrum, with over 3000 member organisations in nearly 100 countries. We work across the entire energy system, including all forms of energy, power and utilities, transmission, government, resources, finance, technology, transport, Insurance and consultancy. As the only truly international and impartial energy organisation, leaders and experts work together to share best practice and experience to promote a robust energy transition.
The content & opinions in this article are the author's and do not necessarily represent the views of AltEnergyMag
---
Comments (0)
This post does not have any comments. Be the first to leave a comment below.
---
Post A Comment
You must be logged in before you can post a comment. Login now.
Featured Product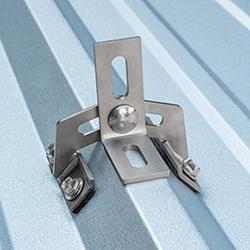 Explore new lines of income for your solar installation business with QuickBOLT's Stone Coated Steel roof mounts designed in partnership with metal roof manufacturers themselves. These SCS roof mounts work on all metal tile profiles and will help you bring in money you're missing out on. By not driving into the roofing material, QuickBOLT's Stone Coated Steel roof hooks maintain the integrity of the roof. Install with ease and confidence knowing your roof is protected against the harsh elements that these hooks are designed for.