Unlike banks, fees do not generate the economics of our investment returns. We look for long-term partnerships with our clients because we work side-by-side in understanding their business and helping them achieve their goals.
RE Royalties is Financing Renewable Energy Projects to Fight Climate Change
Bernard Tan | RE Royalties
Bernard, tell us about RE Royalties. What do you do?
RE Royalties is a royalty financing company focused on renewable energy. We provide flexible non-dilutive capital to small-to-medium sized renewable companies (SMRE) so that they can build and grow their project portfolio. For our shareholders, we provide an avenue for them to: invest in the sustainable sector; earn a strong return through a stable distribution and, growth; all while protecting their capital for the future. https://www.reroyalties.com/about-us
Why did you start this company?
The inspiration for the Company came to me when I became a new parent a few years ago. I wanted to do something positive for my children's generation and the generations thereafter. We are seeing the early impact of climate change affecting many parts of world and if we do not do something to slow it, it will have a profound effect on their way of life for generations to come. I have always believed that capitalism and innovation are two of the strongest forces to mobilize change and by bringing more capital and introducing innovation into the renewable industry, we can hopefully slow or even reverse the effects of climate change. https://www.reroyalties.com/our-story
What does your typical day at the office look like?
My kids would describe my typical day as "super-boring" as I am either on the phone, on email, reading or creating documents on the computer, or in meetings all the time! However, to me, it is extremely fulfilling because I am constantly being challenged to try to find a creative solution to our client's problems and learning about how renewable energy projects get built around the world. My colleagues are the most amazing, passionate, intelligent and dedicated people and I always feel that there are never enough hours to the work day and I look forward to coming back to the office the next day. Our company also strives to give back to our local community. Recently, we spent a day volunteering at the Union Gospel Mission. https://www.reroyalties.com/post/re-royalties-is-giving-back-to-union-gospel-mission-our-donation-and-volunteering
How did you see the opportunity to finance renewable energy projects?
I had experience as a corporate finance executive in using royalty financing and I am an investor in several successful royalty financing companies in other industries. When I was advising a small renewable energy company a few years ago, I noticed that the renewables industry did not have any royalty financing company. Hence, I saw the opportunity to introduce a well-known form of financing into the sector.
How do you decide if a client is a good fit for your business? How do you choose your projects?
First, we look for clients that share the same values that we do. That they want to make a positive impact for the environment, but to do so in a profitable way. Second, a client must be able to demonstrate a strong ability to understand and operate in the markets they are in, technical proficiency in managing the projects, an entrepreneurial spirit, and professionalism. Essentially, we ask the question on whether we can live with this client for the duration of the royalty, which is almost like marriage. In order for us (and the royalties the Company owns) to be successful, we need our clients to manage the assets competently over the long-term and to grow their own project portfolios (which allows us to acquire new royalties as they grow).
How are you different than other banks that finance renewable energy projects?
Unlike banks, fees do not generate the economics of our investment returns. We look for long-term partnerships with our clients because we work side-by-side in understanding their business and helping them achieve their goals. Our team think like project owners first, and our clients appreciate how we can be creative in finding a solution to their capital needs.
What countries do you finance projects in?
Our mandate is global because (i) climate change is a global problem and (ii) the more you can diversify your royalty portfolio globally the more you can reduce risk. However, we have a small team with limited time, so our initial focus has been pre-dominantly Canada, the United States and the European Union. We also believe that RE Royalties, as the first company to apply the royalty-financing model to renewable energy projects, has a key role to play across the United Nations Sustainable Development goals on an international scale. https://www.reroyalties.com/post/how-we-are-reaching-the-sustainable-development-goals-at-re-royalties
Why is no one else doing this?
I still ask myself that question each day. While the royalty business model is well proven and the renewable industry is not new, the combination of the two is outside the norm. I think for many more established organizations, it is difficult to stray outside the norm and do something completely outside the box. I come from an entrepreneurial family and have worked with entrepreneurs for the greater part of my career, so the cliché of "thinking outside the box" and "always searching for better" has always been how I've approached things.
What challenges have you had to overcome as you are building your business?
The most common "challenge" has been from prospective investors that tell me the Company is "too small" for them to invest in. I have always found this comment perplexing as to why size is the most significant impediment because as an investor, the driving factor for me personally in investing has always been whether a company has a good product, in the right industry, and with a great team. While some may view the Company's size as a "challenge", I have plans to turn this "challenge" into an advantage. Stay tuned!
How does this business fit with your overall goals personally?
As a finance professional, I have always wanted to do something that would make the world a better place and make money for others. As an investor, I have always wanted to find an investment that made a positive impact, provides a strong return, stable distribution, long-term growth and capital protection. While there are some products that check one or a few boxes, I could not find any that checked all five. So, thinking outside the box….I created my own!
How can someone invest in your renewable energy projects? Can they choose what projects they want to support?
The Company owns all of the renewable energy project investments and is publicly traded on the TSX Venture Exchange under the symbol "RE". Anyone can buy shares in the Company and own a piece of the Company's investment portfolio. Conversely, any shareholder can sell at any time. We do not offer individual projects because each transaction requires a significant amount of due diligence, risk assessment, documentation, negotiation, etc. which our team undertakes.
Bernard Tan
Bernard Tan is the Chief Executive Officer and Co-Founder of RE Royalties, an innovative financing company focused on partnering with growth oriented renewable energy companies. As a Chartered Accountant and MBA graduate, Bernard brings 15 years of financial, operational and professional experience. Bernard has been involved with various public resource and technology companies in the areas of equity and debt financings, initial public offerings, mergers and acquisitions, tax planning and regulatory compliance.
The content & opinions in this article are the author's and do not necessarily represent the views of AltEnergyMag
---
Comments (0)
This post does not have any comments. Be the first to leave a comment below.
---
Post A Comment
You must be logged in before you can post a comment. Login now.
Featured Product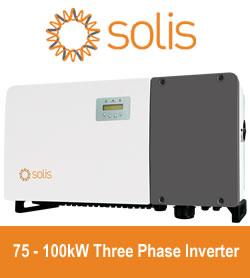 Solis75kW - 100kW series high-power string inverters are widely used in industrial and commercial rooftops. Solis's new three-phase string inverter is the first choice for industrial and commercial photovoltaics. 75-100kW three phase series string inverter have Maximum 28 strings input, support "Y" type connection in DC side. Maximum string input current 13A, support bifacial modules access.Supports anti-PID function to improve system efficiency.