EVs stepped on the gas in 2019. With the demand curve hitting no breaks, the battery electric vehicle market is likely to be reaching its tipping point by 2022.
Electric Cars Take Flight in 2019
Giles Kirkland | Automotive Writer & Consultant
EVs stepped on the gas in 2019. With the demand curve hitting no breaks, the battery electric vehicle market is likely to be reaching its tipping point by 2022. The last three years turned out to be an electric surge for the automotive industry. From being seen as just a fringe technology in early 2010, the scenario has been rapidly changing. 2017 marked a breakthrough, with global EV sales surpassing one million units for the first time. This substantial growth continued in 2018 with over 2 million vehicles sold and 2019 was no less. The figures show that 1.134.000 units were globally delivered in the first six months of the year, 46% higher than in 2018.
Source: Global EV Sales for the 1st Half of 2019

China Leading the Global EV Market
The global stock of passenger cars exceeded 5.1 million in 2018 and Deloitte's latest forecast is clear: a sales increase by 12 million units is expected to happen in 2025, followed by 21 million in 2030 due to gradually diminishing costs of batteries and expanded manufacturers' capacities. These figures align with the need of major countries, such as France, Germany and Norway, to fully transition to electric by 2050 in order to fight climate change, comply with the EU environmental resolutions, and shift to a greener energy usage.
Source: Global electric vehicle market in 2019
The world's largest market is represented by China with its sheer volume of 2.3 million electric vehicles in use. Internal light vehicle sales have plummeted by 12% compared to the same period in 2018 as a result of subsidiary cuts and new entry level barriers for manufacturing subcontractors. However, China keeps holding its global leadership tight. Government targets, which were set to reduce the country's severe pollution levels and to cut off its dependence on imported oil, have boosted market growth.
Source: Monthly plug in vehicle sales
China also has statistically the cheapest EVs available, at around $27,000. However, even though China is leading the run in absolute terms, a consistent and stable growth places Europe right ahead of the US as far as market share is concerned. The latest data shows that in the first three quarters of 2019 400.000 units were sold and October alone registered over 50.000 deliveries. This translates into a growth of 39% over 2018. The frontrunners leading the uptake in terms of volumes were Germany and the Netherlands.
source: 2019 in the automotive industry
Following Europe, the third largest market is the US with 361.000 sales recorded. This translates into a 9% decline over 2018 originating from lowered sales volumes in the last two quarters of the year. This slump might be due to several factors such as geographic availability, limited variety of models available, inadequate promotions, and issues related to the lack of charging infrastructures. However, predictions show the trend will stay intact even though sales will remain volatile.
BEVs: The Key Driver of the Global EV Demand
In 2019 74% of global sales came from BEVs, battery electric vehicles driving with an e-motor and storing energy in battery. This constitutes a massive shift of 11% from PHEV, plug-in hybrid electric vehicles driving with combustion engine and/or e-motor in need to be plugged-in to recharge the battery. China is currently the driving force for demand of BEVs with a domestic market share of over 50%. Europe and US haven't been keeping the same pace. PHEVs and HEVs, hybrid electric vehicles driving with combustion engine and/or e-motor, are still the most popular types of EVs in use. However, demand is rapidly reaching a dramatic turning point. As a result, both regions are pushing hard in this direction and the total BEVs sales are expected to gain 9% of market share by 2025 with a forecasted amount of 1.5 million units.
source: 2019 in the automotive industry
In China minicars and small cars dominate over larger vehicles and while customers usually opt for foreign brands, the McKinsey report shows that this preference is not applicable to the EV market. In 2019 the Baojun E-Series and the BAIC Eu Series showcased higher sales volumes compared to the Tesla Model 3 thanks to their competitive prices, compact sizes and appealing performances.
In Europe small cars are not as popular as compact and mid-sized sedans. The best-selling vehicle in the first quarter of 2019 was the Tesla Model 3. Volumes leveraged throughout the year bringing up sales for the popular Renault Zoe and the Nissan Leaf.
Seemingly, in US compact and mid-sized cars are preferred. Tesla Model 3 took the leadership of the market with a substantial gap separating it from the runners-up, the Toyota Prius Prime and the Tesla Model S.
The Future is Electric
Taking a look at the global picture, 2019 was the year of electric vehicles. Not only sales doubled, but the launch of the BEV Tesla Model 3 set a milestone towards in the automation and electrification of the automotive industry. Meanwhile, as manufactures bet high on EVs, in 2020 Tesla will have to gear up to face a tight competition with models such as the Audi E-tron Sportback and the BMW iX3 are ready to enter the market.
With these premises, the future of EV cars looks like is going to be electric. This term coined in a PwC report describes in a nutshell the trends that EV car markers are going to deploy in the upcoming decades:
Electrification: vehicles will be electric and the electricity used to charge the vehicles will come from renewable sources to ensure CO2-neutral mobility.

Autonomy: technology will allow to develop autonomous vehicles able to manage complex traffic situations

Sharing: car sharing will continue to grow reducing the demand for private vehicle ownership

Connection: cars and passengers will be interconnected
The content & opinions in this article are the author's and do not necessarily represent the views of AltEnergyMag
---
Comments (0)
This post does not have any comments. Be the first to leave a comment below.
---
Post A Comment
You must be logged in before you can post a comment. Login now.
Featured Product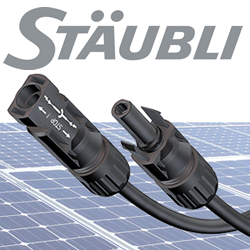 ​Stäubli Electrical Connectors are used on more than 300 GW, over 50% of the PV capacity worldwide. The MC4 family of UL and TUV listed products include connectors, in-line fuses, branch connectors, cable assembly and more.