Industry suppliers tend to throw around a lot of different labor metrics. What do they actually mean? How do variations in modules-per-day or modules-per-hour impact your bottom line? And—a primary concern—will a given supplier stand behind their claims?
Installation Speed: the Murky Cost Creep of Commercial Solar
Case Study from | Unirac
Whether it's the whine of a power drill, the ka-chunk of a pile-driver, or the clink of crews bolting together an array, if you get within earshot of a solar installation site you'll know right away that there's a lot of action. Installations are always fast-paced and sometimes labor-intensive. But, how do you measure the efficacy of a solar installation? Industry suppliers tend to throw around a lot of different labor metrics. What do they actually mean? How do variations in modules-per-day or modules-per-hour impact your bottom line? And—a primary concern—will a given supplier stand behind their claims?
"Good racking consists of not only the physical elements of the product, but the whole jobsite experience," says Edgar Pedregó, Commercial Solutions Manager at Unirac. "A great racking structure is just the beginning."
The jobsite experience is top-of-mind for the team at Unirac. Our staff sets expectations and strives to meet or exceed quality standards that begin in Pedregó's Commercial Solutions department and continue throughout Unirac's product development process. Ultimately, excellence in the jobsite experience is carried out by Unirac's nationwide team of Installer Sales Specialists that consist of trainers and technical salesmen.
Real-World Results
Kevin Price, Managing Partner at Key Solar LLC, "the fastest-growing EPC in the northeast," says that Unirac's focus on the bigger picture makes the RoofMount 5-Degree (RM5) racking system their go-to product.
Price says that using the Unirac RM5 products reduces Key Solar's install times by one-third, compared to similar installs completed with a leading competitor's less labor-optimized, SKU-heavy racking system. That reduction quickly turns into dollars and cents. When labor content often equates to $0.20-$0.30/watt or greater for commercial projects, savings add up quickly.
"The difference was plain to see," Price says. "With the competition, you would have to set up assembly stations where each sub-array was being installed. With Unirac's RM5, you can just deploy the pallets throughout the roof field. Basically, you just snap lines and go."
A Commitment to Labor Savings
When shopping, you want to look for a racking system that was meant to save you time and make the whole process easier.
"When we introduced RM10 (Roofmount 10 degree) in 2014, cutting down on the time spent on the roof was a primary goal," Pedregó says. "And we succeeded."
Unirac produced a system with only two lightweight parts that require only one tool for installation, designed to reduce searching for and fumbling with components. Upon the product launch, third-party verification to assess the design found that a three-person crew with no previous Unirac product experience and with just one morning's practice was soon able to install upwards of 12 modules per labor hour.
"We've seen a five- or six-person crew new to RM10 go from scratch to 150 modules installed and ready to go within two hours," says Anthony Romero, one of Unirac's Installer Sales Specialists. "I've coached hundreds of installations, and that first number from 2014 still holds. If anything, it was conservative, because an experienced team can peak even higher."
Price says that RoofMount 5-degree (RM5) is quick and simple to assemble. Along with Unirac's Dual-Tilt (RMDT) system, both are even quicker to install. Both go up with little more than chalk lines, a spacer jig, and a single socket.
"What we found was that RM5, by the nature of its basket-style construction, can be set upon the roof with the modules set on top. We don't have to prebuild legs with nuts and bolts or pre-assemble parts on the modules. Technicians can hold everything together while you're tightening things up," Price says.
Service Behind the Product
Great products are one thing, but a true industry leader should be able to offer much more than just well-designed goods. Here at Unirac, for instance, we have pioneered a team of in-field Installer Sales Specialists like Romero. This team of industry veterans train and advise teams on-site, accelerating new and experienced teams through the learning curve, helping teams keep ahead of time and under budget, and are available to all Unirac customers.
Zach Kushner, another Unirac installation specialist, gives this example: "Being on the roof when a crew is starting a big job means I can demonstrate small tricks with big impacts. Small tips—very quick, very easy—can make a huge difference."
Romero agrees: "It's things like making sure people have thought about introducing a lean approach on the roof," he says. "The way you divide your labor can make or break a day. A couple of minutes spent planning beforehand gets everything going in the right direction. And, as questions come up, we jump in there to show how it works. At our on-site trainings, people aren't just standing around reading manuals."
Looking to the future
Does a potential supplier take your time seriously? If so, they'll have a system for hearing concerns and a road map for improvements.
"One of our major pushes in recent months has been our 'Better Solar Starts Here' program," Pedregó explains. "It means we are paying attention to what matters to our customers and positioning ourselves to respond across our organization to get rid of the headaches and inconveniences and to save time and money."
This year, for instance, Unirac has announced that it will release a new flat-roof mounting system that promises even greater benefits to the installer.
"We innovate," Pedregó says. "That's what we do. Our products and services don't get stuck at a certain point. If you want to ensure you'll get better results over time, you have to look for a supplier with that philosophy."
The content & opinions in this article are the author's and do not necessarily represent the views of AltEnergyMag
---
Comments (0)
This post does not have any comments. Be the first to leave a comment below.
---
Post A Comment
You must be logged in before you can post a comment. Login now.
Featured Product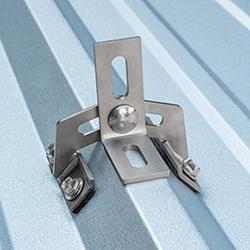 Explore new lines of income for your solar installation business with QuickBOLT's Stone Coated Steel roof mounts designed in partnership with metal roof manufacturers themselves. These SCS roof mounts work on all metal tile profiles and will help you bring in money you're missing out on. By not driving into the roofing material, QuickBOLT's Stone Coated Steel roof hooks maintain the integrity of the roof. Install with ease and confidence knowing your roof is protected against the harsh elements that these hooks are designed for.