There isn't a lot of historical data on energy storage to leverage in sales strategies, so installers should sell homeowners on the benefits of purchasing a complete home energy solution, including the technology used and the warranty options.
With Panasonic EverVolt, pairing solar with battery storage during installation is easier than you think
Q&A with Dan Glaser, Sales Engineer, Solar and Storage | Panasonic
Tell me about Panasonic's energy solutions that combine solar power and battery storage.
Panasonic manufactures and sells both solar panels and residential home energy storage systems. Panasonic's premium HIT panels are made with heterojunction technology to minimize electron loss and dual-sided cells that multiply energy output, resulting in an industry-leading temperature coefficient of -0.258% /⁰C. The EverVolt battery storage system stores electricity for instant access during peak hours and grid outages, providing homeowners with the ability to tap into their private energy storage anytime. The total home energy solution consisting of Panasonic premium HIT solar panels and EverVolt allows homeowners to optimize their investment by lowering their carbon footprint, improving grid independence and saving money.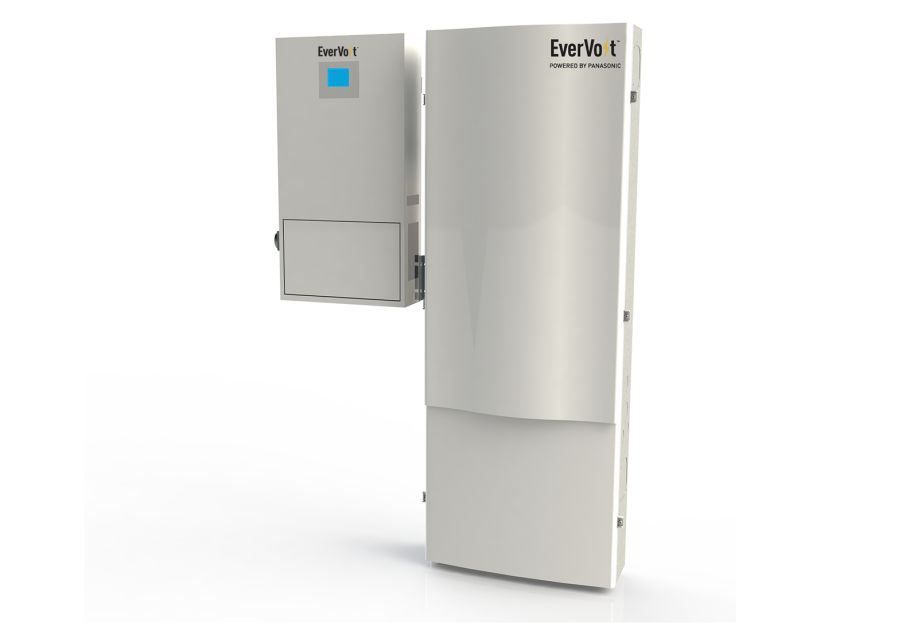 Panasonic solar panel and battery storage customers also receive the added benefit of peace of mind, knowing their whole home energy solution is backed by one of America's most trusted brands with a century of financial stability and reliability. When installed by a Panasonic Authorized, Premium or Elite Installer, the Panasonic HIT solar panels include a TripleGuard warranty which covers the solar panel performance, workmanship, parts and labor for 25 years. EverVolt is backed by Panasonic's 10-year product and performance warranty, one of the best in its class for homeowners.
Can EverVolt be added to an existing solar system already on a home, or is it only compatible with a new installation of panels?
EverVolt battery storage can be installed whether or not homes have an existing solar system. Available in both AC- or DC-coupled versions and storage options ranging from 11-102 kWh, EverVolt is customizable to fit homeowners' needs.
Why do you feel it is important for solar installers to certify in battery storage installation?
Solar battery storage is a new technology for homeowners and installers alike, and certification ensures that installers have received the necessary training to safely install battery storage systems. Unlike solar, designing an energy storage system can be a much more challenging task. It is often necessary to understand not only how much energy a home is consuming as a whole (kWh), but instantaneous power (kW) and current (A) needs from all appliances. All authorized Panasonic Installers are eligible to complete EverVolt certification.
What sales strategies do you recommend for installers interested in offering homeowners both the panels and storage system?
While energy storage is quickly growing in popularity, it's still relatively new to the industry. There isn't a lot of historical data on energy storage to leverage in sales strategies, so installers should sell homeowners on the benefits of purchasing a complete home energy solution, including the technology used and the warranty options. Manufacturer reliability should also be a primary selling point; because of its uptick in popularity, several companies are eager to take advantage of consumer interest in purchasing battery storage. However, battery storage is a complicated and relatively new solution, requiring significant experience and expertise to develop. Therefore, it's important for homeowners to choose total home energy solutions providers with strong reputation and reliable warranty.
Can you share with us a bit on the process of installation, what is required from an installer standpoint?
The energy storage installation process with EverVolt is relatively simple for an electrician and will average around one day of labor. If solar is also being installed at the same time, it may take a little longer than this. The basic installation involves mounting an inverter and battery inside a garage, as well as installing a sub-panel that will contain the loads a homeowner chooses to have backed up during a grid outage. For a typical system, these loads would be things like lights, refrigerator, garage door, internet, cell phone, laptop, etc. Larger appliances such as A/C units, pumps, or heaters, generally will require 2-3 EverVolt systems.
Do you have any specifics on performance of EverVolt, what type of long-term savings one may expect, battery life, maintenance requirements?
In addition to lowering electricity bills with solar panels, EverVolt allows some homeowners, depending on local regulations, to sell excess energy back to utility companies to increase cost savings. Many utilities in California and other areas are shifting to Time of Use rate schedules, where EverVolt can help lower rates by consuming energy that is stored in the battery during times of high energy cost, as opposed to purchasing from the grid. When installed by an Authorized Panasonic Installer, EverVolt battery storage is warrantied for 10 years. Maintenance for EverVolt is similar to that of a solar system, with an annual check-up recommended to inspect wiring and connections. If the system experiences a fault, the installer will be notified via the monitoring application.
Panasonic has recently announced an Elite tier of its Residential Solar Installer Program, tell us about that program and its benefits.
The recently announced exclusive Elite tier of the Residential Solar Installer Program is designed to show Panasonic's appreciation to the highest-performing installers. This new tier is exclusively available to those installers who have established successful, longstanding partnerships between their businesses and Panasonic. Members of this new tier are eligible to receive exclusive perks such as the best pricing, priority notice of homeowner leads, preferred access to new products and more.
This new addition introduces the third level of the program, building on existing Authorized and Premium installer categories. Elite installers will also retain their Premium Installer benefits, including exclusive access to leads generated from Panasonic's website, cooperative marketing funds and a robust Installer Portal, which is designed to help them grow their business.
About Dan Glaser, Sales Engineer, Solar and Storage at Panasonic
A passionate advocate for the environment, Dan Glaser decided to join the renewable energy industry in 2007 designing residential and small commercial PV systems for SolarWorld Americas. With a background in mechanical engineering, Dan has also designed and engineered multiple types of solar mounting systems for use in residential, commercial and utility scale projects. He now devotes his time to the development of high energy efficiency solar modules and energy storage technology at Panasonic, furthering the company's core objective of preserving the Earth's natural resources.
The content & opinions in this article are the author's and do not necessarily represent the views of AltEnergyMag

Panasonic Solar
Panasonic has been pioneering solar power since the green revolution began. Starting with production of amorphous cell technology in 1975, no one has spent more time on solar R&D. In 1997, our HIT® modules introduced high-efficiency solar panels to the world. Panasonic HIT® offers one of the most efficient solar modules available today, providing homeowners with decades of reliable sustainable power. Add our intelligent battery storage solutions and deliver the most complete solar + storage system under the sun. Help homeowners improve grid independence and save money with a fully integrated energy ecosystem that keeps their family powered up during outages and peak rate periods. With full support from one of America's most trusted brands, Panasonic installers stand by their work and product with confidence. Our industry-leading warranty on HIT® solar panels covers product, performance, parts and labor for 25 years.
Other Articles
This project, like most, came with its share of challenges and requests from a discerning homeowner who wanted top quality. The ask: plan and install a solar system to handle the high electricity needs of this large home with a customized design and clean aesthetics.
EverVolt modules are more resistant to the effects of shade than conventional panels as the cells' connections are split in parallel, so even if one part is shaded, another parallel connected part can generate the electricity.
Even though there are short term impacts to installation rates due to policy changes, historically solar and energy storage has only grown and will continue to grow. Energy storage in particular has a significant potential to grow this year. Booth #1616
---
Comments (0)
This post does not have any comments. Be the first to leave a comment below.
---
Post A Comment
You must be logged in before you can post a comment. Login now.
Featured Product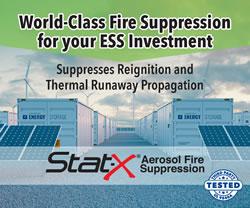 Stat-X® condensed aerosol fire suppression is a solution for energy storage systems (ESS) and battery energy storage systems (BESS) applications. Our Stat-X condensed aerosol fire extinguishing product was tested for efficacy in suppressing li-ion battery fires. It was found that the product successfully extinguished single and double cell battery fires. This testing was conducted in parallel with a large battery fire testing program on behalf of a large energy storage company.