The program currently encompasses twenty-four monitoring stations placed in publicly-accessible areas of communities surrounding the Nevada National Security Site (NNSS). To keep these systems running full-time, the DRI turned to Morningstar solar charge controllers.
Community Monitoring at Ground Zero Nuclear Test Sites
Case Study from | Morningstar Corporation
Situation
The Nevada National Security Site (NNSS), formerly known as the Nevada Test Site, is located just 65 miles outside of Las Vegas, Nevada. It is a 1,360-square-mile area of land which, for 41 years, served as the literal "ground zero" for nuclear testing in the continental United States. From 1951-1992, 928 nuclear tests were conducted at the site, including 100 atmospheric tests.
Many of the atmospheric tests, as well as some of those conducted underground that lost containment, resulted in contamination of downwind areas off-site, exposing nearby communities to radioactive fallout, and causing significant concern and fear in the affected populations regarding the potential for adverse health effects.
Additionally, communities downgradient from the NNSS had concerns about the contamination of groundwater from underground testing at the site and its potential to affect public water sources in the future.
Project
In 1981 the US Department of Energy, the US Environmental Protection Agency (EPA), and the Desert Research Institute (DRI) of the Nevada System of Higher Education launched the Community Environment Monitoring Program (CEMP) to monitor the ambient environment for radiation from past nuclear testing and ensure the safety of nearby communities. Key to re-establishing trust among the affected populations was providing a hands-on role in the monitoring process for local citizens, many of whom are high school and college science teachers, as well as local leaders. In 1999, DRI took over full technical management of the stations from EPA, and today the CEMP is funded through the National Nuclear Security Administration's Nevada Field Office, and administered by DRI, which manages the day-to-day operations and employs local residents in the collection and dissemination of data.
The program currently encompasses twenty-four monitoring stations placed in publicly-accessible areas of communities surrounding the NNSS, which monitor ambient radiation levels, as well as local weather conditions. In 1999, when DRI assumed technical operation of the CEMP, weather monitoring equipment was added to measure air temperature, humidity, wind speed and direction, incident solar radiation, barometric pressure, and precipitation. This weather monitoring equipment provides crucial information to researchers on how weather patterns affect naturally-occurring radiation levels. In the early days of the program, occasional power surges were a problem, sometimes shorting out electronic equipment, so the DRI turned to solar electric power in tandem with a deep-cell battery as a more reliable local source of power.
For residents living in communities near the NNSS, the direct participation of neighbors in the collection of data and dissemination of information from these stations provides a greater sense of security. All information collected from automated sensors at these stations is posted online on a website (http://cemp.dri.edu/) that is updated at least hourly.
"These stations run 24-7. The big thing is being open and honest about everything. We update the pages every hour, as close to real-time as possible," said Lynn Karr, assistant research scientist in the Division of Hydrologic Sciences at DRI. The additional transparency provided by the posting of near real-time data improves public confidence in the monitoring data.
Solution
The electrical power for all instrumentation used in the CEMP stations, with the exception of the low-volume particulate air samplers, is supplied by 50 and 60-watt solar panels operating in conjunction with a deep- cell battery, with trickle charging at five locations. To keep these systems running full-time, the DRI turned to Morningstar solar charge controllers.
"We have a 20-year track record of using the [Morningstar] SunSavers. We started out with the SunSaver 6. I like the 10 [SunSaver] when I can, but I've got some 6s that have been out there 15 years," says Karr.
As part of a community engagement strategy, local Boy Scouts created the solar battery enclosure boxes that are responsible for safekeeping the power systems .
"The SunSavers are right on top of the batteries. They get dirty, they get bugs on them, they get hammered. I've had really good luck with your stuff," says Karr.
The Community Environmental Monitoring Program has, for nearly forty years, engaged the local community while providing vital radiation and weather information to researchers. The reliability of these stations is crucial for promoting safety and community awareness.
The content & opinions in this article are the author's and do not necessarily represent the views of AltEnergyMag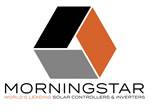 Morningstar Corporation
Morningstar Corporation is the world's leading supplier of solar controllers and inverters. Proven on all seven continents and in a myriad of off-grid solar electric powering applications, Morningstar's products have been delivering the industry's best overall customer value for more than twenty-five years. Setting new standards in performance, innovative features, quality and reliability Morningstar's products are an integral power electronic component in more than two million PV power installations.
Other Articles
We've actually secured a training event room on the first day of the show (February 14th) and will be holding product training sessions the entire day.
There are over 1,600 off-grid inverters out there now in our power class, and coming out with 6 more means we had to make them exceptional. They are– the polar opposite of "me too" thinking, designed for "mission-critical" industrial applications.
GEL, AGM (Absorbed Glass Mat), and Flooded batteries are all lead-acid batteries. The primary difference is how the electrolyte is handled. Each type of battery has its own optimal charging characteristics.
---
Comments (0)
This post does not have any comments. Be the first to leave a comment below.
---
Post A Comment
You must be logged in before you can post a comment. Login now.
Featured Product
GenStar MPPT is the industry's first fully integrated solar DC charging system, an all-new design with "lithium DNA" from the leader in charge controllers. Out of the box, GenStar is an overachiever-delivering legendary Morningstar quality, efficiency, power and reliability along with the latest in advanced communications and control technologies. All the most installer-requested features are on-board; additional features can be easily added via Morningstar's ReadyBlock expansion technology, with snap-in blocks that provide battery metering and monitoring, signaling and load control, and lithium battery communications/control