By incorporating alt energy into urban planning, we can reduce pollution and carbon output, thereby making a difference on the state of the environment. But what exactly do energy alternatives in city planning look like?
Incorporating Alt Energy Into Urban Planning
Article from | Adrian Johansen
Alternative energy (alt energy) and sustainability are the future of innovation and building practices as the world combats a lack of renewable resources. Cities are getting behind the effort to build a more sustainable world. By incorporating alt energy into urban planning, we can reduce pollution and carbon output, thereby making a difference on the state of the environment.
But what exactly do energy alternatives in city planning look like? How are these innovations being used in urban planning? And how do we build a cleaner future with energy alternatives?
With municipalities setting regulations and establishing examples, we can take a good look into the ways alt energy is being incorporated into urban planning to achieve cleaner, more efficient results.
What is the Alt Energy of Urban Planning?
Alternative energy plays a key role in modern urban planning, where municipal accommodations must be made to allow for convenient use of electric vehicles, solar power, and other sources of clean energy. Alt energy for urban planning stands to provide renewable, net-zero carbon energy zones, reducing the pollutant outputs of cities, which produce more than 60% of all greenhouse emissions.
To combat this dangerous output, more and more cities are adopting green energy practices, building sustainability directly into the infrastructure of the cities themselves.
For example, over 100 cities worldwide are already generating the majority of their energy from renewable sources, usually a combination of wind, solar, hydro, and biomass. Cities like Seattle, Washington, or Prince George, British Columbia, have tapped into these sources to replace fossil fuels for a cleaner environment.
Additionally, Reykjavik, Iceland, is planning to convert its entire public fleet into one free from fossil fuel use. This will likely consist primarily of electric vehicles, which require the development of charging stations and electric-friendly roads and parking garages, a widespread and costly endeavor for any city.
Luckily, it is in the best interests of both cities and transportation companies, as the energy costs of renewable fleets and infrastructure allow for incredible savings. The effects of controlling traffic congestion and emissions can bring immense benefits even for smaller fleets. A fleet of as few as 50 vehicles can save $320,000 a year on the costs of energy waste in traffic alone.
This is why modern cities are acting quickly to incorporate energy-conserving methods across public works.
How is Alt Energy Being Used in Urban Planning?
Alt energy is being implemented in urban areas in all kinds of ways, stretching far beyond the traditional charging stations and solar panels. The innovations of modern sustainability are allowing for cost-effective methods of sustainable city management. In turn, the average citizen receives the benefits of cleaner air and cheaper public transportation options.
Additional clean energy innovations are making themselves useful in cities across the world every day. Here are just some of the modern plans for cleaner, sustainable urban developments:
All these solutions and more incorporate alt energy methods to create cleaner, more efficient cities. With more communities consistently developing energy options like these to improve sustainable outcomes, we look to a renewables industry in a valuable growth zone, rising in value all the time against the fossil fuel industry's losses.
Regulating for a Green Future
In nearly every country around the globe, time and money are being devoted to clean options for municipal growth. This has come in the form of a variety of regulations and incentives that steer development towards a clean future. All kinds of businesses and individuals can support these practices through voting, donations, and more to help build a future of green energy, free of pollutants and climate-heating toxins.
While a truly zero-carbon city may be some ways off, by incorporating alternative energy into city development, we can come closer to a cleaner, safer planet.
The content & opinions in this article are the author's and do not necessarily represent the views of AltEnergyMag
---
Comments (0)
This post does not have any comments. Be the first to leave a comment below.
---
Post A Comment
You must be logged in before you can post a comment. Login now.
Featured Product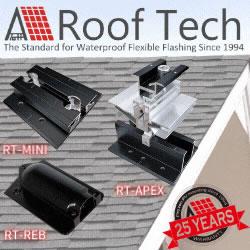 Now Roof Tech brings you the most innovative, watertight mounting systems ever developed for solar photovoltaic systems. Designed and manufactured exclusively for us by Japan's longtime leader in roofing technologies, Roof Tech products are 100% code-compliant and offer fast, simple installation and huge savings on shipping costs due to their compact, rail-less design. Learn more about our full line of versatile PV mounting solutions now available for residential installations. The next generation in rooftop solar mounting solutions."