The COVID-19 pandemic, upon initial lockdowns and social distancing orders, showed that fast change is possible with the right tools. While pollution drops haven't lasted, a way forward is clear.
Google Announces Plans for Clean Data Center Solutions
Shannon Flynn | ReHack
Renewable energy and sustainable efforts are at the forefront of conversations going into 2021. The COVID-19 pandemic, upon initial lockdowns and social distancing orders, showed that fast change is possible with the right tools. While pollution drops haven't lasted, a way forward is clear.
Clean energy is a necessity in any form. Now, Google's data center energy plans show that big tech companies can lead the way.
Why Data Centers Must Change
Tech companies are infamous energy consumers. The bigger the company, the more information and data they process. A corporation like Google needs numerous data centers to store information and meet consumers' needs properly. This requires constant energy usage.
From standard computing to cloud technology to Internet of Things (IoT) devices, data centers have countless systems to work with and process data. These needs translate into energy usage from various sources. Though big tech companies like Google have been moving away from fossil fuels and working towards full renewability, transitions have been slow. Data centers require cooling, too, which consumes even more energy.
A key area in need of change is diesel fuel. During power outages, the main data center energy source at Google's locations has been diesel. This fossil fuel is cheap, but it causes significant harm to the environment. No matter what energy sources data centers run on regularly, having diesel as backup power is not sustainable.
Moreover, the pandemic has emphasized technology use. More people are staying home and working or learning remotely. Usage of the internet, and usage of all the platforms on it that Google offers, like YouTube, has increased.
Heightened use means greater power requirements from data centers, which could ultimately lead to more outages and more diesel usage. Continuing on the road towards full renewability means companies like Google have to enact a plan for cutting out diesel.
Google's Current Plans
Google has been making strides with renewable energy and sustainable efforts for several years. One of the company's primary goals is to reach carbon-free energy usage by 2030. On the road to this goal, Google recently announced its plans to make its data centers more renewable.
The solution is straightforward. With the data center in Saint-Ghislain, Belgium, as the first test, Google is now going to use batteries to power the facility during power outages. Batteries are cleaner alternatives to fossil fuels, like diesel, and more efficient as well. The big tech conglomerate plans to phase out generators and instead use battery power and storage to keep the facility going.
This switch means that even when more power is necessary or storms knock out electricity, batteries can provide the clean energy the data center needs. The overall environmental harm from Google's Belgium facility will start to decrease as well.
The change, though, will be gradual. Google plans to keep the diesel generators running alongside the battery grid likely until experts believe the battery setup is strong enough to run on its own. Additionally, this step is one of many that Google needs to take towards becoming more sustainable.
A carbon footprint from a company of Google's size is vast. It includes trucking, shipping, energy consumption and production setups in factories. However, this use of batteries is nevertheless an important step forward.
Batteries and Renewables Together
In 2019, 72% of new energy was renewable in the United States. The focus on renewable energy goes hand-in-hand with other sustainable energy efforts, like Google's integration of battery power. When the two work together, renewable efforts are at their peak.
The battery integration from Google is key because it also helps the surrounding local area with its energy grid. Batteries will also be reliable electricity sources should the nearby community need them.
This dynamic shows what's possible for energy. New technology like automation for smart grids for solar can use batteries as backup energy as well. From here, new projects and ventures from tech companies of all sizes must become the norm.
Data centers should run on renewable energy, using battery power for backup, just as Google is planning to do.
A Better Energy Infrastructure
Clean energy is a necessity. For the world to move in the right direction, it's time to combine renewable energy with a sustainable power source like batteries.
This way, companies that use data centers widely — with all the countless energy-guzzling operations they come with — won't have to rely on fossil fuels to keep operations running. Google's step is one that others must now take as well.
The content & opinions in this article are the author's and do not necessarily represent the views of AltEnergyMag
---
Comments (0)
This post does not have any comments. Be the first to leave a comment below.
---
Post A Comment
You must be logged in before you can post a comment. Login now.
Featured Product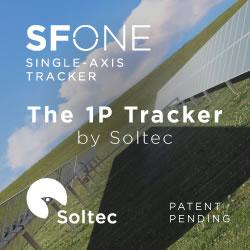 Under the slogan "engineered for greatness", the SF8 tracker aims to revolutionize the photovoltaic market with its new minimum 2x60 configuration and 4 to 6-strings. This tracker is elegantly designed while it reinforces its structure to perform in any terrain. In addition, the SF8 tracker increases the rigidity of its structure by 22% more than the previous generation of Soltec trackers, the SF7. The SF8 is specially designed for larger 72 and 78 cell modules, an increasing market trend.