Gibraltar acquired Sunfig and TerraSmart to provide an end-to-end solution for our customers, which will bring greater value to solar projects of any size, any type and in any location.
Gibraltar Expands Solar Capabilities
Q&A with Bill Vietas, Group President, Gibraltar's Renewable Energy Group & Ryan Reid, President, TerraSmart | Gibraltar
What is the significance of the transaction to Gibraltar's strategy in renewable energy?
Renewable energy is a market Gibraltar is focused on investing in and contributing toward. The transactions strengthen our position in the solar energy market with a full suite of solar products and services for commercial and utility customers.
"We are excited about the benefit it gives customers. As a single source from project optimization software to design to infrastructure build, there are greater efficiencies through simplification. Additionally, with a broad tracker portfolio, we can put the best product on site," said Bill Vietas, Gibraltar Renewable Energy Group President.
Why did Gibraltar buy TerraSmart and Sunfig?
Gibraltar acquired Sunfig and TerraSmart to provide an end-to-end solution for our customers, which will bring greater value to solar projects of any size, any type and in any location.
Our product and services suite includes fixed tilt, ground-mount, single-axis tracker, canopy, design software and installation services. For customers, we can help enable better ROI on a project from looking at site design optimization upfront through to efficiencies in installation.
In the project development phase, Sunfig provides a software solution that optimizes solar installation design for maximum return on investment. It uses real time data and analytics for projects up to 1.0 GW. It can also optimize complex contract and project requirements providing more than 10,000 options per investment.
With a broad tracker portfolio, we can put the best product on site for further optimization and we have the expertise to help consolidate the number of vendors a developer needs to work with. Having a single source for solar project development from design to infrastructure build enables customers to focus on their core responsibilities instead of managing multiple project partners.
Gibraltar seems to be building itself to be a one-stop shop. How much do clients see this as a benefit?
"In the early stages of expanding TerraSmart, I listened to our customers struggle in having to work with multiple subcontractors that could add up to as many as ten on one project site. Additionally, they dealt with the pains of finger pointing, delayed schedules, accelerated costs, time constraints and more," says TerraSmart CEO Ryan Reid.
In sharing the same customer-focused mindset, Gibraltar's renewable energy group has the resources to deliver a seamless project execution for all clients, no matter the project size. All critical aspects of the solar process will be in-house, from the early stages of investment, development and design concept, to laying the final glass.
With Gibraltar's one-stop shop, customers will experience the full-service suite of early-stage investment decision making, slope & typography analysis, design & engineering, manufacturing, project management, construction, installation and real-time performance monitoring. Conclusively, all project's lifecycle will excel in speed, agility, safety, responsiveness and result in an overall increased value.
Who are your customers and what markets do you serve?
With the recent acquisitions of TerraSmart and Sunfig, Gibraltar has accelerated their contribution toward making solar energy readily available everywhere. This includes being the largest turnkey provider of ground-mount infrastructure, tracker and design software solutions in North America.
Gibraltar serves all sectors in the growing market including Community, Commercial & Industrial, and Utility given any type of project, size and on any terrain. We now have the broadest industry offering in project development, infrastructure design, installation and O&M services.
With many states' legislatures approving boosts to their renewable portfolios and climate action plans, there is more of a push to build large-scale solar farms on land specifically located near utility power grids. These locations are not always found on ideal land conditions, some on mountainous rock and hillsides.
Particularly on land in the Northeast region, the soil can be quite rocky and dense. Filled with glacial till prone to frost heave conditions, it's important to be able to provide ground-mount and tracker solutions that can be installed efficiently, with adaptability and cost-effectively. With Gibraltar's powerhouse of renewable energy offerings, we are able to provide reliable solutions to build clean energy foundations atop land that was once not thought viable.
How do you think the new administration will impact the solar energy industry?
"Support for the industry is always helpful, but the renewable energy space is going to continue to grow regardless. The market economics have made renewable energy very attractive and it continues to be a fast-growing market. Our goal is to continue to invest in the industry and be an end-to-end partner across the solar energy value chain," said Bill Vietas, Gibraltar Renewable Energy Group President.
About

Bill Vietas, Group President, Renewable Energy
Bill Vietas leads Gibraltar's renewable energy group and more than 10 years' experience in the renewable energy industry. He was appointed President of the Renewable Energy and Conservation Group in January of 2018. Before that, he was General Manager of RBI Solar, helping to start the company in 2009. He also had previously served as Commercial Division Manager for Rough Brothers. Prior to joining Rough Brothers, Mr. Vietas worked at Van Wingerden Greenhouse Company. Vietas holds a Bachelor of Science degree from Rutgers University.
About Ryan Reid, President, TerraSmart
Ryan Reid founded TerraSmart in 2010 when he saw an unmet need in the solar industry. The end of 2012 became a turning point for the business as Reid led sales growth to more than $70 million in 2016, and from there TerraSmart's sales continued on the rise each year more than doubling in profitability. With TerraSmart, Reid created the first utility-scale project on U.S. tribal lands with Moapa Southern Paiute Solar and as a result, earned its first Solar Builder's 2016 utility-scale Project of the Year award. In November 2020, TerraSmart was awarded its second Solar Builder's 2020 utility-scale Project of the Year for the massive Turquoise Solar site, located in Reno Technology Park, Nevada. Reid holds a Bachelor of Arts degree in corporate communications and marketing from Susquehanna University, and a M.B.A in Marketing from Hodges University.
The content & opinions in this article are the author's and do not necessarily represent the views of AltEnergyMag
---
Comments (0)
This post does not have any comments. Be the first to leave a comment below.
---
Post A Comment
You must be logged in before you can post a comment. Login now.
Featured Product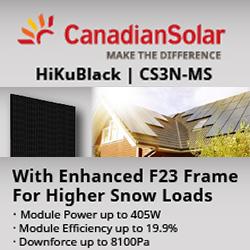 Aesthetic appearance for residential systems: With black backsheet & black frame, Power range 380 ~ 405 W, Low power loss in cell connection. Enhanced reliability: · Low temperature coefficient (Pmax): -0.34 % / °C, LID LeTID less than 2.0%, Lower hot spot temperature, Better shading tolerance.