There are a lot of new tools that exist in the C&I space that haven't existed in the past. As the price of electricity increases, more C&I businesses owners are looking for ways to to generate electricity.
Capitalizing on the Growth of Small to Medium Commercial Rooftops (50-500kW)
Q&A with Omeed Badkoobeh | Yotta Energy
Tell us about yourself and Yotta Energy.
My name is Omeed Badkoobeh, and I am a renewable energy professional. I have worked in various fields across different continents, bringing together technical innovation and environmental sustainability for everyday living. I have always been passionate about solar energy technology.
Yotta Energy's ultimate goal is to build commercial solar + storage systems that bring value to building owners and the grid. We believe we are at the forefront of developing what we see as the future of distributed energy storage. Maximizing the space on commercial flat-roofs with our PV-Coupled™ architecture, we can sell energy back to the grid with our technology and microgrid. The primary purpose is to help meet the energy demands of the current electrification of the grid..
What new developments have been made in small to medium commercial rooftops that make this market interesting?
With the help of energy storage providers like Yotta Energy, the technology for small to medium commercial properties is becoming more robust. This market has been neglected in the past because residential has fast paced cycles in addition to a lack of financing for C&I and more business owners becoming concerned about rising electricity costs. Additionally, the growth of EV charging will completely change demand. Businesses will be looking to offset demand with solar + storage. Yotta's solution brings solar production/generation to business owners, and with energy storage allows businesses to utilize solar power when the sun goes down. On the flip side, solar power within this market is growing rapidly as the cost of solar declines. The nation and several states prioritize incentive programs for more C&I and residential buildings to incorporate solar into their properties.
Additionally, there are very few products that combine energy storage solutions with solar power conversion and grid services software, as Yotta does. The company's service combination allows installers to get precisely the right amount of energy through our modular approach. It couples with reliable energy storage and optimization software that makes everything operate seamlessly and at the lowest cost possible.
Does it make sense for residentially-focused operations to explore small to medium C&I?
Yes. As the effects of climate change worsen and natural disasters become more prevalent, backup energy solutions are necessary to help residents and small businesses keep the lights on. In addition, solar panel deployment will only continue to grow, and the time is now for this sector to get caught up on the technology it needs to support the movement toward cleaner energy solutions.
There are a lot of new tools that exist in the C&I space that haven't existed in the past. As the price of electricity increases, more C&I businesses owners are looking for ways to to generate electricity.
This market has been historically difficult due to a dearth of financing options. Today, Yotta partners with various financiers to help finance various C&I projects.
How does Yotta Energy's quad microinverter compete in the C&I marketplace?
We have optimized a solution that we call the Dual-Power Inverter that allows the C&I sector to reap the benefits from microinverters, such as maximum flexibility, at the costs of string inverters. We call it a "dual power inverter" because it's designed to automatically detect and work with solar panels or our battery interchangeably. As a result, customers can deploy a project with just two inverters and no batteries. Then, they have the option to come back and add (or expand) storage to that system without replacing any of the equipment.
How does the trend toward electrification change the game in this market?
With more electricity regularly used, demand rates are higher during certain times of day, making electricity prices sometimes more costly. To combat this, energy storage solutions are deployed to buy energy when rates are lower and store it for when rates are higher. This ultimately helps customers save a good portion on electricity costs during that month.
The increasing adoption of electric vehicles, smart homes, and other technologies that replace fossil fuels with electricity has made it necessary for residential and commercial properties to have energy storage solutions. Without this backup technology, these properties become at risk for paying high rates for electricity when energy is high in demand and suffering if the electric grid fails. Adding solar + storage + EV charging brings the full circle of value for customers in this space. This provides a complete system where solar + storage + EV charging can build upon each other's benefits.
Why has the market segment historically been difficult to scale?
One of the main challenges for the C&I space is it takes a different level of complexity beyond the residential market. Companies with expertise in energy storage tend to only install larger projects, say greater than 1MWh energy storage systems. Additionally, lack of financing and the difference in payment structure (i.e., tenants paying the utility bills instead of building owners) also make it difficult to scale.
How can Yotta Energy help a solar installer win in this market?
Commercial and industrial clients often experience high-cost variables because of the project size in kWh. The cost of installed system prices does not begin to stabilize until 1,000 kWh per hour. The high variation in cost is often due to the necessary foundation, thermal management, and engineering design. Yotta Energy has created a product that is installed beneath the solar panels, which eliminates the need to seek a permit for an exterior battery or energy storage system.
The Yotta Energy SolarLeaf and DPI solution is designed to replace the concrete ballast blocks and rapid shutdown devices. Our units can be used in place of the item, and therefore, our installation costs are stable. Our solution will share the same permitting process, inverter, and interconnect because we are behind the PV inverter. The dual-power inverter (DPI) eliminates the need to understand the language of alternating current (AC) electric.
In addition to our unique and advanced technology, Yotta is building a team with deep technical expertise. Yotta is ready to assist customers with proposals, design services, technical questions, project finance support, and procurement.
The content & opinions in this article are the author's and do not necessarily represent the views of AltEnergyMag
---
Comments (0)
This post does not have any comments. Be the first to leave a comment below.
---
Post A Comment
You must be logged in before you can post a comment. Login now.
Featured Product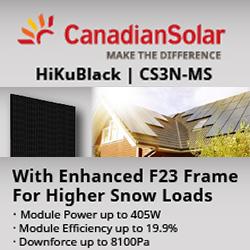 Aesthetic appearance for residential systems: With black backsheet & black frame, Power range 380 ~ 405 W, Low power loss in cell connection. Enhanced reliability: · Low temperature coefficient (Pmax): -0.34 % / °C, LID LeTID less than 2.0%, Lower hot spot temperature, Better shading tolerance.