On March 3, 2022, a serious power outage in Taiwan, happened. More than five million households and 500 industrial businesses were affected. Thanks to the SMA battery inverter, however, they were quickly back on the grid and supplied with power.
2022 Top Article - SMA Storage Solution turns the lights back on in Taiwan
Case Study from Katrina Zhang | SMA
For the island nation of Taiwan, the power outage on March 3, 2022, was one of the most severe since the earthquake on September 21, 1999. A total of 5.49 million households – nearly 40 % of Taiwan – lost power. The semiconductor, optoelectronics, petrochemical, and steel industries all suffered disruptions. Financial and economic losses are estimated to be in the tens of billions of Taiwanese Dollars (TWD 10 billion equivalent to around €300 million).
Chain reaction in the power grid
According to the power plant operator Taipower, on the morning of March 3, 2022, an equipment failure in the Hsinta Power Plant in Kaohsiung made every generator south of a certain extra high voltage substation in Tainan being disconnected from the power grid. Since Taiwan's entire power grid is interconnected, a malfunction at a single plant can lead to a chain reaction that has repercussions across the island. As a result, the power grid lost a third of its capacity.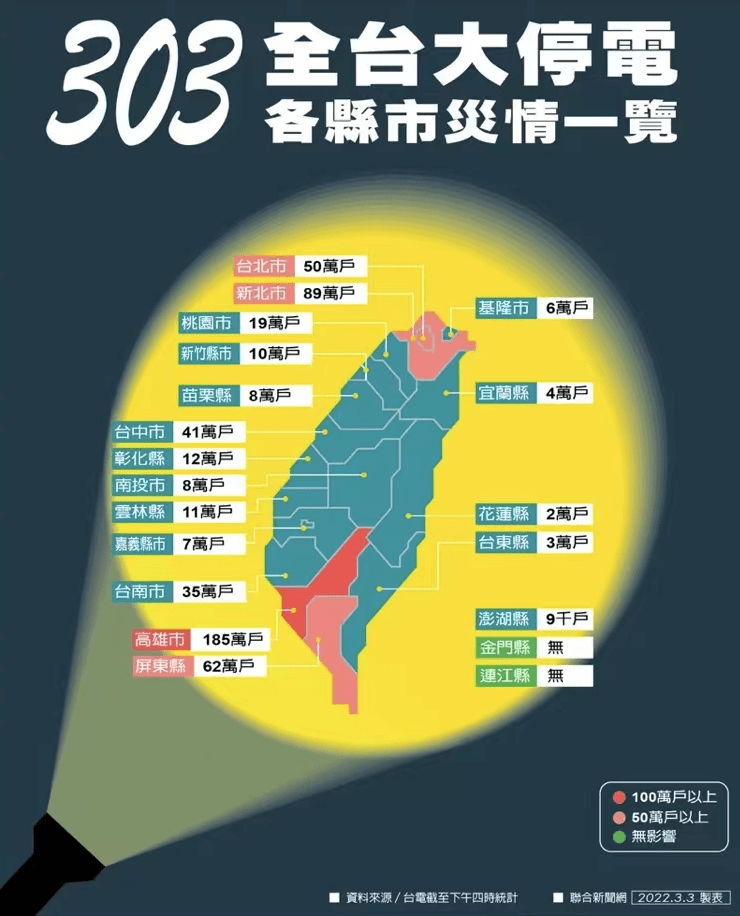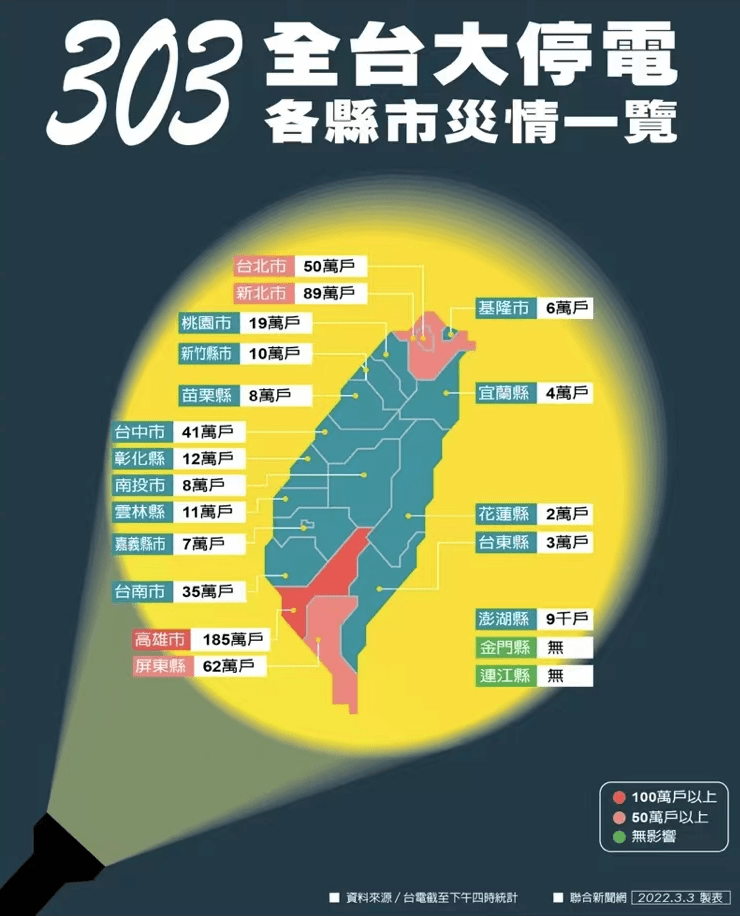 Maintaining grid stability in real time
With the help of the SMA Storage Solution including the battery inverter Sunny Central Storage, the Taiwan Cement Corporation (TCC) secured frequency regulation backup auxiliary services and prevented worst scenarios by providing the maximum power of 5,000 kW. The SMA Storage Solution discharged to a maximum of 5,000 kW within 300 seconds.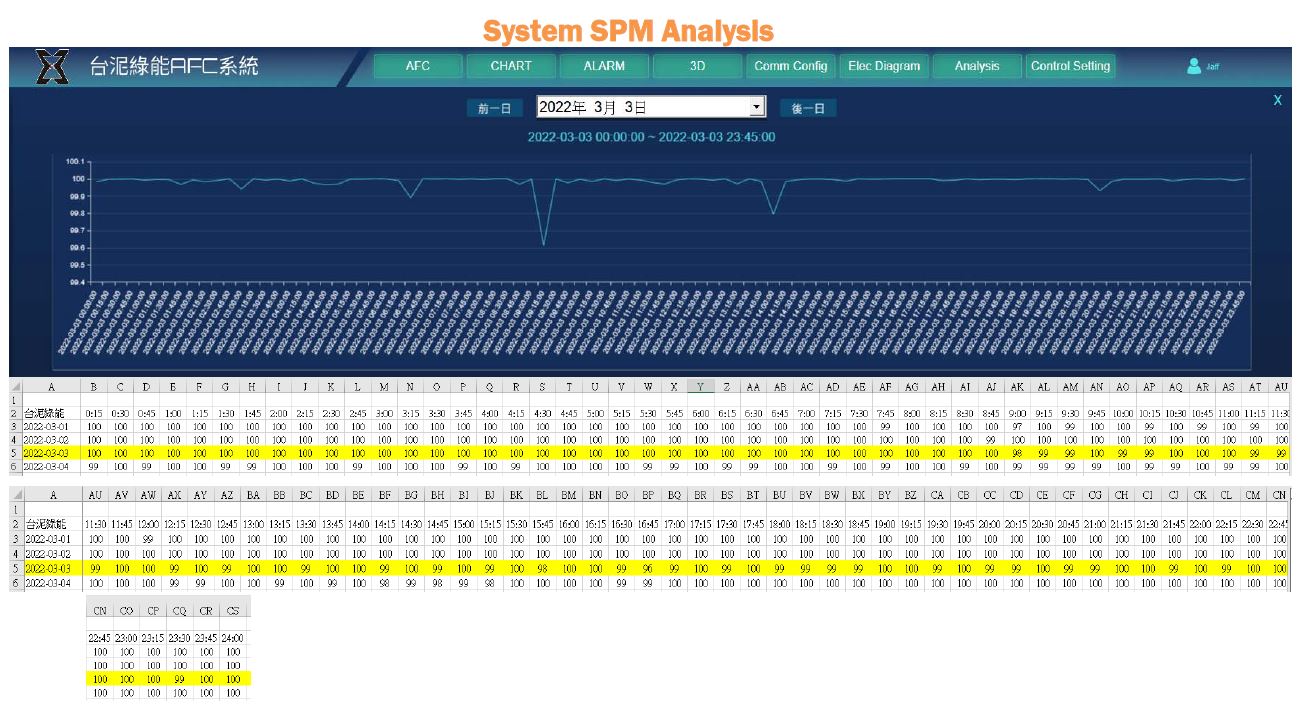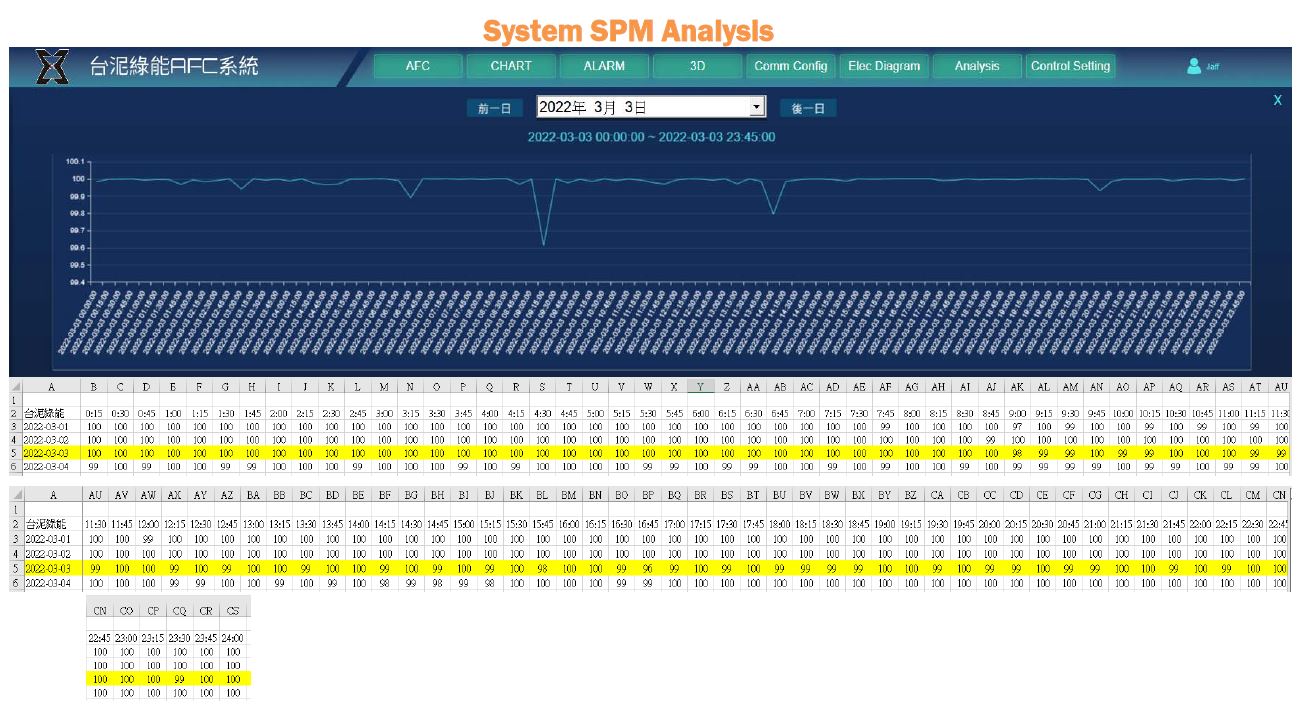 At 09:16:24 local time the AFC system reported an instant drop of the grid frequency down to 58.81 Hz. The SMA Sunny Central Storage 2900 discharged the maximum power of 5,000 kW within the shortest time. Only twelve seconds later, the grid frequency increased to 59.52 Hz, as while the discharge power came to decrease.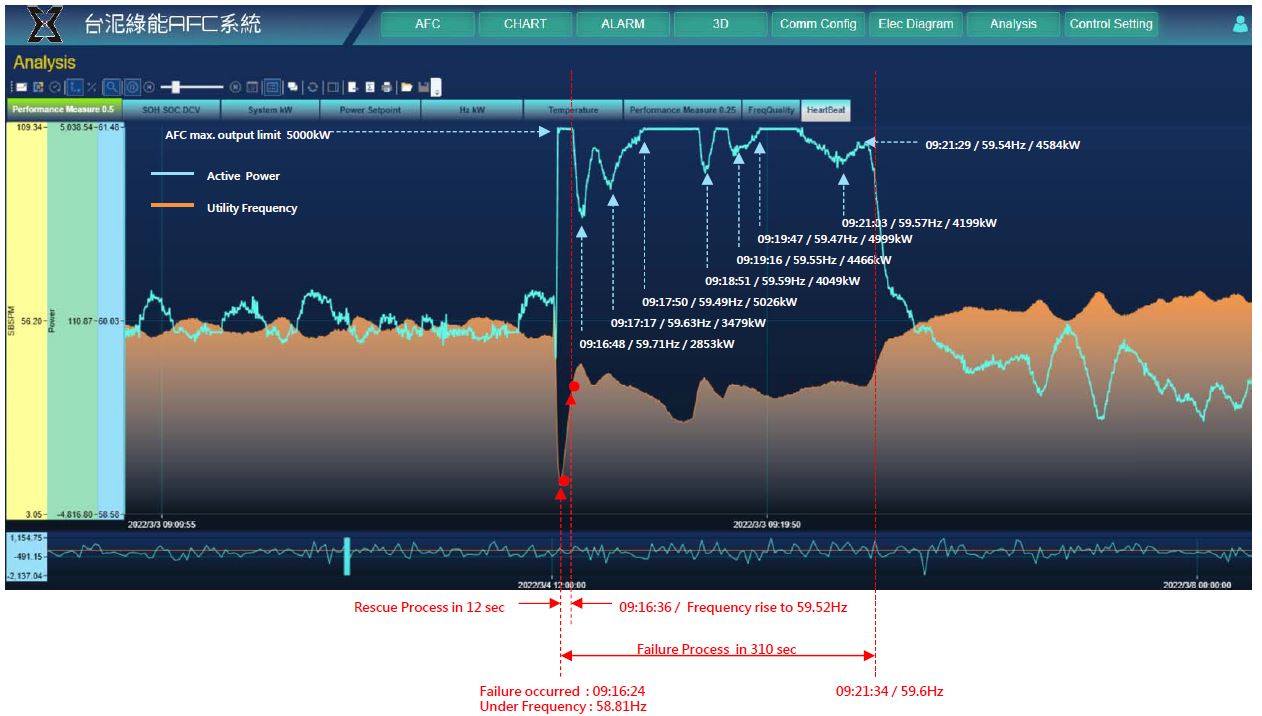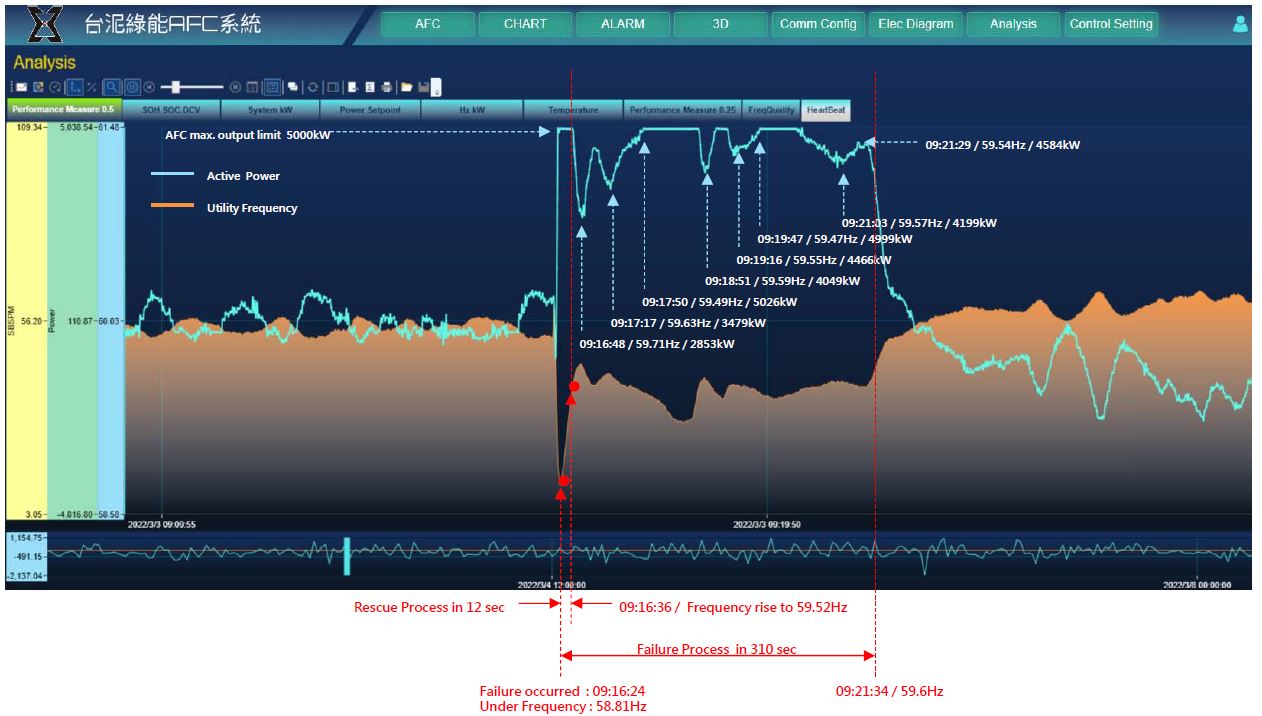 Providing safe and stable grids with renewable energies
The average service performance measure (SPM) of this energy storage system always exceeded 99% since this storage power plant was in operation in March 2021. Within the high SPM data, the system has already become the highest operating rate and compliance rate of AFC energy storage systems in Taiwan.
Blackout exposed the electrical grid's vulnerability
Since the SMA Storage Solution offered the AFC system to maintain grid stability during this massive power outage, this incident illustrates the relevance of electricity storage for grid stability. And not only for grids that already consist largely of renewable energy producers. But also in countries like Taiwan that are expanding the share of green power. Due to the limited land in Taiwan, the entire area shares one nationwide power grid. Therefore, an incident at any one plant could affect the whole country. However, as Taiwan pumps more and more renewable energy into its grid, it does make sense to build storage facilities around the island to help save up all the excessive energy for rainy days. Another challenge is the fact that the Taiwanese power grid is unstable, as there are no regional power grids that link the whole area. The power can only flow vertically without horizontal area supports. These conditions require the installation of storage solutions, which basically stabilize the grid and quickly provide enough voltage again in an emergency.
The example of Taiwan shows that SMA Storage Solutions can help stabilize power grids everywhere (see info box SMA Grid Forming Solutions). Especially when the share of renewable energy is expanded and more and more central power plants are taken off the grid. Together with SMA inverters, the electricity storage systems take on grid-building functions that are essential for a reliable power supply.
How SMA Grid Forming Solutions contribute to the success of the energy transition
when
conventional
power
plants
are
increasingly
being
taken
off
the
grid,
solutions
for
grid
stabilization
are
taking a leading
role.
SMA
Grid
Forming
Solutions
enable
innovative
business
cases
for
grid-stabilizing
ancillary
services:
Inertia: providing inertia ensures that the power system is robust and secure during disturbances.
System Strength, Short-Circuit Level, Power System Stabilizer and Power Quality
System strength and short-circuit level are measures of the strength of voltage and stability in case of faults like short-circuits. Grid Forming increases system strength and increases short-circuit ratios, thus enabling a resilient power system. This enables even higher levels of renewable generation and ensures reliable transport of energy. Grid Forming furthermore ensures a firm voltage waveform and high-power quality as well as mitigation of inter-area and local oscillation.
Grid-booster systems of large-scale energy storage plants are placed at strategic locations in the transmission grid. They add flexibility to existing transmission systems and relieve constraints while reducing the need for costly redispatch measures.
Grid Forming technology is also important for large-scale system restoration in case of blackouts. Energy Storage plants with SMA Grid Forming Solutions can initiate a decentralized "black start" of its local grid rapidly and safely.
The content & opinions in this article are the author's and do not necessarily represent the views of AltEnergyMag
---
Comments (0)
This post does not have any comments. Be the first to leave a comment below.
---
Post A Comment
You must be logged in before you can post a comment. Login now.
Featured Product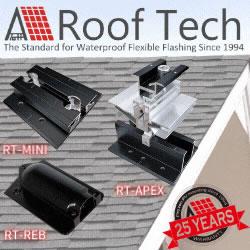 Now Roof Tech brings you the most innovative, watertight mounting systems ever developed for solar photovoltaic systems. Designed and manufactured exclusively for us by Japan's longtime leader in roofing technologies, Roof Tech products are 100% code-compliant and offer fast, simple installation and huge savings on shipping costs due to their compact, rail-less design. Learn more about our full line of versatile PV mounting solutions now available for residential installations. The next generation in rooftop solar mounting solutions."