Historically, the focus has always been on the CAPEX of projects when deciding on one company or another. But what time and experience has shown many clients is that OPEX must also be taken into account in this selection.
The Importance Solar Warranties and Customer Service
Q&A with Javier Ortuño, Customer Success and O&M Global Director | Soltec
Tell us about yourself and your role with Soltec.
I am Javier Ortuño, Customer Success and O&M Global Director at Soltec. I have been working at Soltec since 2017 and it was in 2019 when I led the creation of a new global after sales and technical support department to ensure the success of our customers which we call Solmate.
What is Solmate and what makes it unique?
Solmate is Soltec's global after sales department where all issues related to technical support, spare parts, warranty claims and O&M services on Soltec tracker projects are handled directly. Solmate has an independent and dedicated team on the 5 continents and in all Soltec subsidiaries to provide the best response to any situation or query in the shortest possible time. Our sole objective is to ensure the smooth operation of our equipment and guarantee the success of our customers' projects, through an exclusive service.
In addition, Solmate also offers O&M services so that Soltec's involvement with the proper functioning of the project is total and all the objectives of our customers are met. Solmate can take on the complete maintenance of the project maximizing production, or it can also take on just the maintenance of the tracking system alone guaranteeing 99% availability. In cases where these options are not possible, Solmate also offers premium support services with active monitoring and periodic visits, ensuring the smooth operation of the system.

Why did Soltec launch this program?
Soltec's main objective has always been the satisfaction and trust of its customers. With this premise, Soltec decided to create an exclusive department completely dedicated to attend the projects in operation with our solar tracking system. In this way we can attend any query or incident in any project around the world in the shortest possible time and always with a personal attention by one of our technicians. We accompany our customers throughout the life of the project to ensure the success of their investment.
What kind of consultations are covered? What kind of assistance will Solmate provide?
From Solmate we attend any request for technical support, warranty claims or purchase of spare parts or improvements. In addition, we also offer specific and advanced training in our system for O&M equipment, as well as technical assistance in the project in case it is necessary or the customer requests our support.
We are also in charge of offering our customers the new developments and improvements that Soltec launches to the market and that can be implemented in their projects already in operation, thus improving the performance of the equipment and maximizing the energy production.
What benefits do customers obtain with Solmate?
Through Solmate, customers have a direct point of contact within Soltec for any inquiry or incident. In this way, they always get a quick and accurate response to their requests. We guarantee an almost immediate response so that any problems are solved as quickly as possible with as little impact on production as possible. In addition, Solmate also monitors the weather conditions of the projects to anticipate and be proactive to any unfavorable forecast that may pose a risk to people and equipment.
What is the added value of Solmate that other companies do not have?
Without a doubt, it is the direct and immediate attention of our support team. Solmate is a department created and dedicated exclusively to meet the needs of our customers and their projects in operation. Our only goal is to make everything run smoothly and solve any request in the shortest time possible.
How are post-sale requests that arrive at Solmate managed?
We have an online Service Desk where we register our customers so that they can create any request and it can be managed by any technician available in the world, ensuring immediate attention. Through this platform, customers always have visibility of the status of their request and we can exchange comments and files for better management. They also have a history of requests that they can consult at any time.
But for any urgent matter, customers also have the contact telephone numbers of local technicians such as myself if necessary. We all work for them.
Does Solmate have a dedicated team to handle all projects in all countries?
Of course. We currently have exclusive Solmate technicians in all our subsidiaries (Australia, Brazil, Chile, Colombia, Mexico, US) and a team of more than 20 people in the Spanish headquarters to provide global support. We cover all hours of sunshine on the planet.
How does Solmate monitor projects?
We currently have a control center at the central facilities in Spain, where we monitor both the Soltec tracking systems installed around the world and the weather forecast. We also monitor in real time all the queries created in our Service Desk. Soon we will also be monitoring the energy production of the projects where we are contracted for this service.
Why do you feel customer care is often an overlooked value in choosing a company to work with?
Historically, the focus has always been on the CAPEX of projects when deciding on one company or another. But what time and experience has shown many clients is that OPEX must also be taken into account in this selection. And it is not only a question related to the preventive and corrective maintenance tasks or the necessary spare parts, within the OPEX it is also necessary to value the technical support services of the companies, the people who are dedicated to it, where they are located and how they manage any incident. Because when this exercise is not done, we can find ourselves with companies with a lower price for the supply, but which subsequently do not have the capacity to correctly deal with the normal incidents or queries of a photovoltaic project. And we are talking about a product that has to be operating 365 days a year for 30 years. Imagine all this time tied to a company without an adequate after-sales service and what it can mean in terms of OPEX. At Soltec we are convinced of the quality of our products, but also that sometimes problems can not be avoided and that is why we created Solmate, to be with our customers throughout the life of the project ensuring that it works to its full potential during the 30 years.
The content & opinions in this article are the author's and do not necessarily represent the views of AltEnergyMag
Soltec
Soltec technical reliability comes from our team of amazing people combining seasoned solar tracker experience with young talent and cutting-edge technology to push the boundaries of innovation within standard product cost-effectiveness criteria. Customers choose Soltec for the combined cost-effectiveness of high-yield equipment with high-tolerance installation features, and the proven reliability of Soltec to meet project criteria of schedule, cost and quality.
Other Articles
Planning and pipeline transparency are essential, and customers need to be made aware of the items that can threaten deadlines well in advance.
Soltec Power Holdings is continuously studying and investing in innovation to offer the best products to the market. In 2020 we introduced our new SF8 tracker, under the slogan "designed for greatness".
According to the US PV market study of Wood Mackenzie, throughout 2020 more than 6 GW will be installed in photovoltaic projects, of which Soltec will install almost 600 MW. Colin Caufield, Soltec VP of Sales USA reveals the company's next movements.
---
Comments (0)
This post does not have any comments. Be the first to leave a comment below.
---
Post A Comment
You must be logged in before you can post a comment. Login now.
Featured Product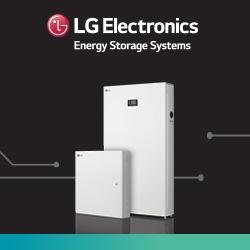 Meet LG Electronics Home 8 Energy Storage System (ESS), a whole home battery backup solution built with installers and their homeowner customers in mind. The ready-to-deploy Home 8 features just one SKU and a modular assembly for fast installation. It can be AC-coupled or solar-powered and is engineered with a grid-connected inverter, four battery modules, and a Smart Energy Box featuring a 7'' LCD touchscreen with commissioning wizard for easy setup. Each Home 8 unit can store up to 14.4 kWh of usable power, helping homeowners gain pure independence from the grid. Plus, installers can connect up to four units, bringing customers up to 57.6 kWh of total backup power-all easily managed and monitored through intuitive mobile apps.