Manufacturing

Marketing Partner
---
SolarEdge Technologies
SolarEdge Technologies provides end-to-end distributed solar power harvesting and PV monitoring solutions, allowing maximum energy production for faster return on investment. The SolarEdge power optimizers perform MPPT per individual module while monitoring performance of each module. The highly efficient solar inverter is tailor-made to work with power optimizers. SolarEdge enables more power from any PV system, optimal roof utilization, a complete panel-level monitoring, and enhanced safety.
---
Mailing Address:
3347 Gateway Boulevard
Fremont, California 94538
United States of America
Tel: +1 (877) 360-5292
Fax: +1 (530) 273-2769
Email: info@solaredge.com
Website: http://www.solaredge.com
Company Category: Solar & Wind
Geographic Region: USA - South West
Company Sector: Manufacturing
Keywords: SolarEdge solar inverter powerbox power optimizer
Partner Status: Marketing Partner
---
Products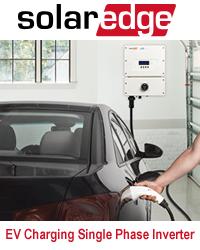 The SolarEdge PV inverter combines sophisticated digital control technology with efficient power conversion architecture to achieve superior solar power harvesting and best-in-class reliability. The fixed-voltage technology ensures the solar inverter is always working at its optimal input voltage over a wider range of string lengths and regardless of environmental conditions. A proprietary data monitoring receiver has been integrated into the inverter and aggregates the power optimizer performance data from each PV module. This data can be transmitted to the web and accessed via the SolarEdge Monitoring Portal for performance analysis, fault detection and troubleshooting of PV systems.
---
Articles
With HD-Wave technology, SolarEdge initially creates a much smoother sine wave (a high-definition wave) thus avoiding the heavy and costly magnetic components while gaining efficiency.
PVWatts performs simplified PV system performance calculations using information about the array's geographic location, orientation, and a set of user-input loss factors
---
White Papers
This Company does not currently have any White Papers
---
---