Manufacturing

Marketing Partner
---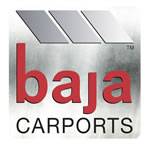 Baja Construction Inc.
Baja Construction Co. Inc. specializes in designing, engineering, supplying, and installing high-tensile, light-gauge steel Solar Support Structures that exhibit both high quality and cost-effectiveness. Our ability to customize solar projects allows our customers to provide highly versatile assets to their end users. All of our projects are tailored to optimize specific structural objectives for commercial, municipal, and residential developments. After 37 years in business, Baja Construction has perfected the craft of optimizing the "Design to Build" process, which has resulted in Baja being a leader in the solar industry and provided invaluable support to our customers nationwide.
---
Mailing Address:
223 Foster Street
Martinez, CA 94553
United States of America
Tel: 1 (800) 366-9600
Fax: 925-229-0161
Email: info@bajacarports.com
Website: http://www.bajacarports.com/
Company Category: Solar & Wind
Geographic Region: USA - South West
Company Sector: Manufacturing
Keywords: solar, mounts, structures, carports, commercial
Partner Status: Marketing Partner
---
Products
With Baja Carports 35 plus years in the industry installing our Solar Support Systems nationwide and whose founder Bob Hayworth was one of the first to use solar panels as the rooftops on commercial carports ~ is assurance that you will receive Baja expertise in all phases of installation. Our team's diligence makes the design-build process easy for customers. You don't need a set of architecture plans to begin talking to us about your project. Baja's in-house design engineers will work closely with you to meet your project specifications and city's criteria. You'll have our design team's years of experience applied to your plans. Our engineers will deliver a set of stamped plans, which maximize canopy coverage and details the most-effective layout for your business' parking lot.
---
Articles
This year we will have our newest solar carport called the Fast Port Solar Support System. Also, we will be showcasing Baja Carport Braced Single Post Solar Support System. Visit us at Booth #2458, 6011 and in the Beer Garden.
Our booth [#9511] exhibit will feature Baja's Brace Single Post Solar Support System. Having an actual Baja Carport that people can touch and walk under, look up to see its features - gives people a sense of what we do and achieve every day for our customers.
---
White Papers
This Company does not currently have any White Papers
---
Press Releases
This Company does not currently have any Press Releases
---