Integrator

Marketing Partner
---
EDF Renewable Services
EDF Renewable Energy, a subsidiary of EDF Energies Nouvelles, is a leading U.S. independent power producer boasting over 30 years of experience across a broad spectrum of services. Our core competencies in Project Development, Operations and Maintenance, and Asset Management enable us to ensure each project we touch performs at the highest level possible.
---
Mailing Address:
15445 Innovation Drive
San Diego, CA 92128
United States of America
Tel: 858.521.3406
Fax:
Email: Valerie.Mason@edf-re.com
Website: https://www.edf-re.com/
Company Category: Solar & Wind
Geographic Region: USA - South West
Company Sector: Integrator
Keywords: Renewable Energy, Project Development, Wind, Solar, maintena
Partner Status: Marketing Partner
---
Products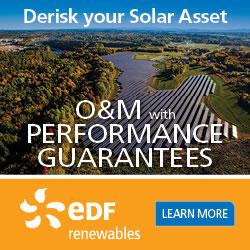 EDF Renewable Services is the trusted leader to maximizing solar project performance. Our passion is optimizing renewable energy assets, and we have 10 GW of projects under O&M contract to prove it.
---
Articles
This Company does not currently have any Articles
---
White Papers
This Company does not currently have any White Papers
---
---