Startup aims to use crowdfunding to finance and market wind farms.
If Americans invested three percent of their savings in the development of renewable energy, America would meet its Paris climate accord targets. In honor of Earth Month, WindShare, LLC announces its plans to help Americans do just that, while providing critical financing and marketing supporting to community wind developers. WindShare, a new way for everyone to invest in clean, renewable energy, announces it is opening early sign up for its wind energy membership platform.

WindShare Founder and CEO Dan Lemberg hatched the idea while vacationing in the Caribbean. "We noticed that despite the abundance of energy sources like wind and solar, which were good enough to power our boat and those around us, the islands still imported large amounts of fossil fuels." Lemberg notes. "When I got back to the US, I realized many of our local communities are similar. We import our energy at the expense of the economic effect of having local, utility scale energy production. But many of the community developers were running into finance challenges. I wanted to see if we could fix that."
For consumers, WindShare works like this. A consumer becomes a member and acquires a WindShare. A WindShare lasts 20 years and pays yearly interest from the energy proceeds of community financed farms. The capital raised from WindShare is used to provide financing and marketing support of community wind projects. In return, WindShare obtains rights to a portion of the energy proceed from the wind farm, usually a 20-year energy contract. Those proceeds are used to back the returns provided to WindShare members. Returns can be withdrawn, or left to accumulate. WindShare also pays additional interest on returns based on market performance.
At the end of the 20-year energy contract, WindShare will buy back WindShares for what was paid plus a bonus based on S&P 500 performance.
For the wind industry, the purchase of WindShares provides much needed support and investment in communities across America. WindShare support of local wind projects provide communities with affordable energy, cleaner air, supplemental income for farmers, tax revenue, and jobs.
About WindShare: WindShare makes it easy for everyone to invest in renewable energy. Our unique model provides a way for consumers to support the development of community wind projects while diversifying their portfolio. WindShare members support the development of community wind projects providing energy, tax revenue and jobs for communities across America. Find out more about the WindShare movement online.
Featured Product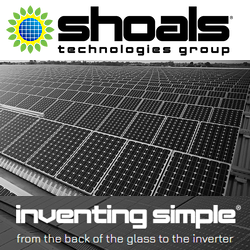 Inventing Simple® isn't just a slogan to us, it's a way of life. Using simple plug-and-play ideology, we revolutionized solar installations in 2003 with our Interconnect System™. Our harnessing system is now the gold standard EPC's use around the world. By using simple ideas, we are making solar energy a more affordable and clean power source for future generations.