Telecommunications headend facility uses SuperModule technology for renewable energy supply
MILWAUKEE, Dec. 15, 2017 /PRNewswire/ -- EnSync, Inc. (NYSE American: ESNC), dba EnSync Energy Systems, a leading developer of innovative distributed energy resources (DERs), announces the full commissioning and live operation of an advanced energy generation, storage and management system at a Spectrum headend facility in Kailua-Kona, Hawaii, as part of a power purchase agreement owned by a leading U.S. infrastructure investor.

EnSync Energy's modular technologies enable greater standardization for similar large-scale telecommunications facilities to increase renewable energy use and implement demand charge mitigation. Spectrum, the consumer brand of Charter Communications, offers a suite of advanced broadband services and is the second largest cable operator in the United States. The project is sited on a headend operations facility, which handles the processing and distributing of broadband data. EnSync Energy designs its systems based on understanding and predictive analysis of the site's load profile and behavior. Headend and hub facilities have some of the flattest building loads, so EnSync Energy developed this specific system for consistent daily demand.
For Spectrum's Kailua-Kona facility, the flat load is usually between 90 to 100 kilowatts (kW) and is now being supplied with 400 kW of carport-mounted photovoltaics and two EnSync Energy DER SuperModule™ units. The excess solar energy is stored in the SuperModules' cumulative 1,008-kilowatt hours (kWh) of lithium ion energy batteries. When on-site solar generation ceases, the system discharges the batteries to provide the facility with energy. The DER Flex™ software and Matrix™ Energy Management hardware, which are housed with the energy storage in a SuperModule standard intermodal container, manage the system's intelligent features.
The scalable and adaptable structure of EnSync Energy's solutions are not only flexible to the facility's changing needs but also replicable on a larger supply chain scale with other headend and hub facilities, facilitating streamlined, homogeneous implementation across building portfolios. The modular design also enabled faster project commissioning, which was completed over seven days.
The system's hardware and software use an Internet of Things platform to provide visibility into site operations, assess external variables from market price signals to modeled load needs and control the system to ensure the highest value, most reliable power. The Spectrum facility will use the system for various grid service applications including load shifting and demand charge mitigation. By addressing the facility's renewable energy use, the project will support Hawaii's goal to achieve 100 percent renewable energy by 2045.
EnSync Energy's CEO Brad Hansen said, "Headend facilities are a backbone for data and bandwidth support—we're proud to strengthen their operations with a more sustainable energy backbone. We look forward to supporting telecommunications and other critical operating infrastructure projects as more corporations and industries look to improve the impact of their operations. Our modular solutions are designed to make using renewable energy easy, strategic and effective."
While the project will not export electricity to the grid, the system infrastructure has the capability to export, providing the facility an opportunity to participate in potential export grid services if offered by the local utility in the future.
About EnSync Energy Systems
EnSync, Inc. (NYSE American: ESNC), dba EnSync Energy Systems (EnSync Energy), is creating the future of electricity with innovative distributed energy resource (DER) systems and internet of energy (IOE) control platforms. EnSync Energy ensures the most cost-effective and resilient electricity, delivered from an electrical infrastructure that prioritizes the use of all available resources, such as renewables, energy storage and the utility grid. As project developer, EnSync Energy's distinctive engagement methodology encompasses load analysis, system design consulting, and technical and financial modeling to ensure energy systems are sized and optimized to meet our customers' objectives for value and performance. Proprietary direct current (DC) power control hardware, energy management software, and extensive experience with numerous energy storage technologies uniquely positions EnSync Energy to deliver fully integrated systems that provide for efficient design, procurement, commissioning, and ongoing operation. EnSync Energy's IOE control platform adapts easily to ever-changing generation and load variables, as well as changes in utility prices and programs, ensuring the means to make or save money behind-the-meter, while concurrently providing utilities the opportunity to use DERs for an array of grid enhancing services. In addition to direct system sales, EnSync Energy includes power purchase agreements (PPAs) in its portfolio of offerings, which enables electricity savings for customers and provides a stable financial yield for investors. EnSync Energy is a global corporation, with joint venture Meineng Energy in AnHui, China, and energy project development subsidiary Holu Energy LLC in Hawaii, and DCfusion LLC, a power system engineering and design, consultancy and policy firm. For more information, visit www.ensync.com.
About Spectrum
Spectrum is a suite of advanced broadband services offered by Charter Communications Inc., a leading broadband communications company and the second largest cable operator in the United States. Spectrum provides a full range of services, including Spectrum TV™ video entertainment programming, Spectrum Internet™ access, and Spectrum Voice™. Spectrum Business® similarly provides scalable, tailored, and cost-effective broadband communications solutions to business organizations, such as business-to-business Internet access, data networking, business telephone, video and music entertainment services, and wireless backhaul. More information about Spectrum can be found at spectrum.com.
Featured Product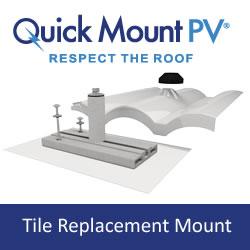 The Tile Replacement Mount provides a fast and easy way to install solar on tile roofs while protecting against water intrusion. Simply remove the tile and replace it with the Tile Replacement Mount. Works with all standard curved and flat tile roofs, and all standard rail-based racking systems. Flashed at both the deck and top levels, the mount is fully engineered to meet code requirements and industry best practices. The Tile Replacement Mount features Quick Mount PV's patented Elevated Water Seal technology for optimal waterproofing. Get a free sample and see for yourself!