Giles Dearden, Director of Global Due Diligence at renewable energy and infrastructure consultancy, Natural Power, is set to chair and deliver the opening address at the eighth annual Renewable Energy Investor Forum which takes place in London on 22nd February 2018.
The invitation-only event connects the most prominent institutional investors, fund managers and developers in the clean energy and renewables sector.

Following the chairman's introduction from Giles, the day's agenda looks at the key opportunities in renewables and emerging markets, the investor outlook for 2018 and includes presentations on:
- Lessons learned from private equity
- Unlocking value through renewable asset management
- The internet of things as the driving force capitalising investments in renewable energies globally
- Investing along the energy transition value change
- How the renewable sector is being impacted by smart grids and energy storage
Natural Power provides technical due diligence services throughout all stages of the transaction cycle, from initial risk assessment and reporting in early transaction stages through to comprehensive reporting for credit-committee, final bid stage and financial close. Due diligence clients include major international banks, developers, IPPs, utilities, investment funds and other financial institutions. Giles' specialist knowledge covers development strategy and due diligence consultancy in the primary and secondary M&A markets for client equity and debt funders, sellers and purchasers of sites and portfolios. To find out more, please visit https://www.naturalpower.com/our-services/due-diligence/
To find out more about the Renewable Energy Forum, and to apply for an invitation, please visit http://altassets.net/renewables/
Featured Product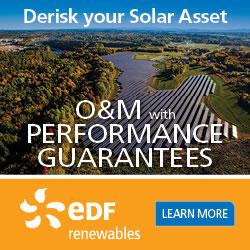 EDF Renewables offers the same innovative solutions that maximize the performance of our own 5.2 GW of installed projects. Because we're not an equipment manufacturer, our recommendations are transparent and data-driven. We cover the entire project lifecycle: from pre-commissioning support, through warranty and post warranty operation, to late stage and decommissioning.