Lighthouse Lidar Lights Up Offshore Wind Farm Plans With Zero Downtime
18 June 2018: Details of a novel three year project to enhance the energy assessment and revenue forecasting for the proposed Inch Cape Offshore Wind Farm 15km off the Angus coast in the East of Scotland demonstrates significant benefits of adopting bespoke technology to gather data. A ZephIR wind Lidar system was installed on an existing lighthouse structure thanks to a custom-built solution developed by SgurrEnergy (now Wood). This innovative solution not only negated the need for an independent offshore structure but the Lidar also took a comprehensive data set at heights from its installed location up to the projected turbine height, required no servicing and reported no major faults for the duration of the project. The project was carried out in cooperation with the Northern Lighthouse Board.

The ZephIR wind Lidar, attached to the world's oldest surviving sea-washed lighthouse at Bell Rock in Scotland, achieved up to 95% data availability and conducted measurements remotely at heights of more than 180m above the sea during the 3 years of detailed wind direction and wind velocity measurements. These data sets were taken to complement the wind data from an offshore met mast. At the end of the campaign the Lidar and supporting structure were removed with no trace left on the historic lighthouse.
Matt Smith, Offshore Expert at ZephIR Lidar, said: "At ZephIR Lidar, we understand that no deployment is the same and we provide the very best solution and customer service for every unique case. Seeing a ZephIR wind Lidar mounted on a heritage piece of infrastructure like Bell Rock lighthouse was a great experience! We thoroughly enjoyed working with Inch Cape Offshore Limited to get the best wind measurements possible with this a one-of-a-kind solution."
Pre- and post-deployment validations of the ZephIR wind Lidar were conducted against a 91m IEC compliant mast at the UK Remote Sensing Test Site. From analysis of the results there were no significant changes observed in the Lidars performance during the 3 ¬Ĺ years, with absolute performance fitting well within the industry standard (IEC) requirement for accuracy on wind speed for a first class, calibrated, well-mounted cup anemometer.
John Reddish, Technical Manager, Inch Cape Offshore Limited said: "The ability to set up the Lidar system quickly and take wind measurements without the need for any additional infrastructure brought huge benefits to the project in terms of reducing costs, improving efficiency and staying on schedule."
John added: "The harsh Scottish coastal climate naturally brings challenges to overcome and we had the additional challenge of protecting the heritage of the Bell Rock lighthouse. Thanks to its small, compact size and robust design, ZephIRs wind Lidar provided non-intrusive technology that was resistant to the adverse effects of the environment and as a result, helped us gather the necessary data without the need for servicing or delays due to repairs."
About ZephIR Lidar
ZephIR Lidar provides industry-leading wind lidar products, ZephIR 300 and ZephIR DM for wind energy and meteorological applications. These lidars deliver accurate wind measurements in both onshore and offshore applications at measurement heights across the full range swept by the blades of modern wind turbines. With more than 10 million hours of operation in the field and over 1000 deployments (and counting), ZephIR Lidar has pioneered the use of lidar in the wind industry. The company is proud of the many world firsts it has achieved with customers including: upwind measurements from a turbine nacelle, turbine wake studies, offshore deployments of both fixed and floating wind lidar, an industry-accepted validation process, re-financing and re-powering of a wind farm, successful demonstration of measurement accuracy in a wind tunnel and total wind project financing from a lidar without need for a met mast.
About Inch Cape Offshore Limited
Inch Cape Offshore Limited (ICOL)s proposed offshore wind farm is located in the North Sea around 15 km off the Angus coastline. The site covers an area of approximately 150 km2 and has a grid connection point to the National Grid near the former Cockenzie Coal Power station site in East Lothian. The project is currently under development and is expecting to enter construction in the early 2020s.
The project represents an important investment in Scotlands energy infrastructure and will make a significant contribution to addressing climate change and energy security whilst providing economic opportunities for Scottish communities.
The project is being developed by Inch Cape Offshore Limited (ICOL). ICOL aims to develop the project in an open and collaborative way, working with all stakeholders to maximise opportunities and minimise any potential impacts.
About Red Rock Power
The project is being developed by Inch Cape Offshore Limited (ICOL) which is 100% owned by Red Rock Power, an Edinburgh-based company established to invest, develop, construct, own and operate clean energy projects.
The company is owned by SDIC Power Holdings Co. of China. Listed on the Shanghai Stock Exchange, SDIC Power is engaged in the investment, development, construction and operation of power projects. The company owns a total installed capacity of over 27GW across China, more than 60% of which are renewable energy projects, including hydro, onshore wind and solar.
Red Rock Power has already provided significant investment in Scotland through its 25% stake in the Beatrice Offshore Wind Farm, which is currently under construction.
To find out more visit: www.zephirlidar.com or www.inchcapewind.com
Featured Product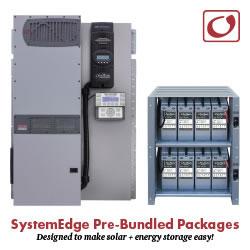 Each pre-bundled package is designed to make solar plus energy storage easy. By combining OutBack's most popular FLEXpower pre-wired systems with matched OutBack energy storage, SystemEdge takes the guesswork out of installing solar plus storage. Every SystemEdge package includes a FLEXpower factory pre-wired system, application-specific EnergyCell batteries and racking, FLEXware ICS Plus combiner and all the necessary connection hardware.