Sungrow, the global leading inverter solution supplier for renewables, announced that the company's C&I (Commercial and Industrial) energy storage system ST548KWH-250 was certified with UL9540 by TUV Rheinland on September 13th. This is the first UL9540 certification that TUV Rheinland issues to China's commercial energy storage system. Up to now, the system has more than 40MWh deployment in US.

As one of the world's largest energy storage markets, North America holds the highest standards for the inverter and battery quality, more stringent safety requirements for the system. TUV Rheinland's UL9540 evaluation tests are very comprehensive and strict, which cover battery, energy storage inverter, battery connection panel, switchgears, control system and other auxiliary components such as HVAC and fire suppression system.
To meet the growing demand for C&I energy storage in North America, Sungrow designed this turnkey solution specifically for the US customers and made relentless tests including the shake and vibration test to meet California's special installation requirements. The system is supplied by Sungrow-Samsung SDI Joint Venture and it consists of a 250kW storage inverter which is UL1741-SA certified, 548kWh of Samsung SDI Mega E2 lithium batteries, HVAC, a fire suppression system and an energy management system. The system comes with two configurations to address different installation and footprint requirements. ST548KWH-250(A) is best characterized by flexible system package, which enables easy expansion, quick installations and minimized on-site labor.
TUV Rheinland Greater China's General Manager for ESS, Weichun Li said, "An optimal design of ESS is one of the key factors leading to a successful project. Our technical team from North America has worked with Sungrow's experts to bring a meticulous evaluation process for Sungrow ESS from multiple levels including the system design, electric safety, battery safety, grid-connected characteristics, environmental adaptability and functional safety assessment. The whole evaluation for the system and quality control technology indicates that it adheres to the world's highest standards."
We are happy to work with TUV Rheinland on our bestselling C&I solution to UL9540 certificate , it further demonstrated our technology strength and leading position in the energy storage industry," commented Professor Cao Renxian, Chairman of Sungrow. "We have always been committed to providing our clients with top quality and reliable products while staying on the leading edge of PV and energy storage technology."
About Sungrow
Sungrow Power Supply Co., Ltd ("Sungrow") is a global leading inverter solution supplier for renewables with over 68 GW installed worldwide as of June 2018. Founded in 1997 by University Professor Cao Renxian, Sungrow is a leader in the research and development of solar inverters, with the largest dedicated R&D team in the industry and a broad product portfolio offering PV inverter solutions and energy storage systems for utility-scale, commercial, and residential applications, as well as internationally recognized floating PV plant solutions. With a strong 21-year track record in the PV space, Sungrow products power installations in over 60 countries, maintaining a worldwide market share of over 15%. Learn more about Sungrow by visiting www.sungrowpower.com
Featured Product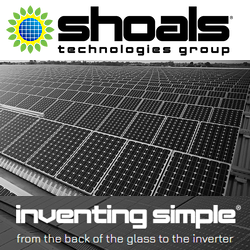 Inventing Simple® isn't just a slogan to us, it's a way of life. Using simple plug-and-play ideology, we revolutionized solar installations in 2003 with our Interconnect System™. Our harnessing system is now the gold standard EPC's use around the world. By using simple ideas, we are making solar energy a more affordable and clean power source for future generations.