Los Angeles Mayor Eric Garcetti joined LA-based EVgo, the nation's largest public electric vehicle (EV) fast charging network, and Maven, General Motors' car sharing platform, to celebrate the introduction of a new, innovative network of EV fast charging hubs
LOS ANGELES, April 22, 2019 - At a special ribbon cutting event today, Los Angeles Mayor Eric Garcetti joined LA-based EVgo, the nation's largest public electric vehicle (EV) fast charging network, and Maven, General Motors' car sharing platform, to celebrate the introduction of a new, innovative network of EV fast charging hubs that feature both public and dedicated fast chargers for Maven Gig's shared-use vehicles.

Los Angeles is home to EVgo's first local network of these public-rideshare EV fast charging hubs, which will include three locations across the city, further demonstrating the city's role as a leader in transportation electrification. Today's event celebrated the official opening of the Venice Crossroads EV fast charging hub located at 8985 Venice Blvd in Los Angeles. Venice Crossroads is located six miles away from the Los Angeles International Airport (LAX) and adjacent to the 10 Freeway and the Metro Expo Line. The first hub in the network opened last month in the heart of Hollywood at the Hollywest Promenade (5455 Hollywood Blvd., Los Angeles).
"Los Angeles is a testing ground for the latest innovations in zero-emissions technology — and a proving ground for how electric vehicles can be the bedrock of a cleaner transportation network," said Mayor Garcetti. "Angelenos are ready to build a more sustainable future, and these fast-charging hubs will make plugging in and powering up an EV more practical for drivers and ride-share companies alike."
"For nearly ten years, EVgo has been committed to electric charging for all," said Cathy Zoi, CEO of EVgo. "Our new network of public-rideshare fast charging hubs in Los Angeles is the first of its kind and will make charging quick and easy for Maven Gig members, while helping to improve access for all EV drivers across the city. We're grateful for the leadership of Mayor Garcetti, and we're proud to continue promoting transportation electrification in our hometown of Los Angeles and across the country."
"For more than two years, the Maven Gig EV fleet has generated over 43 million miles, including over 15 million miles in Los Angeles," said Alex Keros, Maven's Smart City Chief. "Through our partnership with EVgo, we are helping to create collaborative models to advance EV charging infrastructure for both our members and the public."
The Venice Crossroads charging hub features a total of nine 50 kW EV DC fast chargers (DCFC), including seven dedicated for Maven Gig members and two chargers available for all EV drivers. This new hub format enables Maven Gig EV members - who average over 125 miles per day - to have convenient, reliable fast charging where they need it and for all customers to have access to the center's retail options, including Sprouts Market, Ashley HomeStore, CVS, and Starbucks.
Maven Gig and EVgo partnered in 2018 to deliver the nation's first dedicated fast-charging network for on-demand drivers. Today, Maven Gig members use EVgo fast chargers in San Francisco, Los Angeles, San Diego, Phoenix, Boston, Washington DC, Baltimore, and Austin.
About EVgo
EVgo is America's Largest Public Fast Charging Network. EVgo's fast chargers deliver convenient, fast charges to EV drivers on the go, delivering up to 90 miles of range in 30 minutes. EVgo's fast chargers are compatible with all EV models currently on the market that accept DC Fast Charging. With more than 1,100 fast chargers and more than 1,000 Level 2 chargers in 66 metropolitan markets, EVgo's network in 34 U.S. states allows EV drivers to travel further while providing exemplary service by maintaining and operating its charging stations. EVgo offers a variety of flexible pricing options for drivers including Pay As You Go and low-cost Membership options.
To find out more, or to join the EVgo network, download our app, visit EVgo.com, and follow EVgo on Facebook, Twitter, and LinkedIn.
About Maven Gig:
Maven Gig first launched in November 2016 to provide vehicles for rideshare drivers in San Francisco and has since expanded the offering for package, grocery and food delivery drivers. The mobile app provides drivers the ability to reserve cars and earn money on their own terms. Unlimited miles and insurance are included, and there's no membership fee. Vehicle reservations are now available in Austin, Baltimore, Boston, Detroit, Los Angeles, Phoenix, San Diego, San Francisco and Washington, D.C. Learn more about Maven Gig at www.mavengig.com.
Contact: Susan DeVico SusanDV@aol.com
Featured Product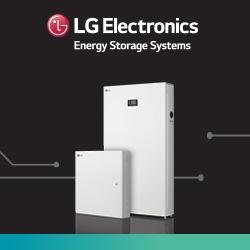 LG Solar is transforming today's solar landscape, offering precision-manufactured and high-efficiency solar panels for homeowners who demand high performance, reliability and consistently strong energy yield from a brand they can trust. LG modules feature outstanding durability, appealing aesthetics and high-efficiency technology, backed by a limited 25-year product, performance and labor (up to $450) warranty. Homeowners who purchase LG Solar modules know they're protected by a diversified global brand.