Features in new 72 home community enable residents to weather power outages, save on electricity bills and make electric lifestyle more convenient
SunPower Corp. (NASDAQ:SPWR), a leading solar technology and energy services provider, and The New Home Company (NEW HOME), a top 50 homebuilder focused on creating a new generation of innovative homes, today announced that NEW HOME is making solar systems, battery storage and at-home electric vehicle (EV) chargers standard features in its newest community, Eureka Grove.

All 72 homes in the Granite Bay, California community will include a SunPower Equinox® rooftop solar system, 13 kWh SunVault™ energy storage system and Wallbox (NYSE:WBX) Pulsar Plus EV charger, creating a comprehensive energy management solution for the modern homebuyer. With solar and storage, homeowners can generate electricity from their roofs, deploy stored energy during utility peak times when rates are the highest, and power essential loads during an outage. Homeowners can also leverage solar systems to power their Wallbox EV chargers, making charging more convenient and sustainable.
"The New Home Company is creating communities fit for the future, providing residents energy savings and peace of mind," said Matt Brost, Senior Director of New Homes sales for SunPower. "The obvious combination of solar, storage and EV charging is the future of new home communities nationwide, providing homeowners with convenience and the ability to make a positive impact on the planet."
SunPower Equinox systems generate more power in less space with fewer visible parts than conventional solar systems. SunVault batteries are made with lithium iron phosphate chemistry, which is designed to be safer and more resilient to heat and oxygen exposure than typical lithium-ion batteries. SunPower is a preferred installation provider for Wallbox and will manage the home EV charger installation in the Eureka Grove community. Wallbox's Pulsar Plus chargers come with a standard J1772 EV plug, an app allowing scheduled charging, and power sharing for two or more chargers with adjustable current output, making them a fit for all EV models.
After moving in, Eureka Grove residents can power their home with solar, have backup with battery storage, and charge their vehicle without adding pressure on the grid. Homes with these features are available for purchase today and come equipped with additional tech-forward and environment-friendly features including energy-efficient appliances and vinyl dual-pane windows for improved insulation.
"Technology enhances homes and contributes to a modern lifestyle. Innovations like built-in solar and storage can have a lasting impact on families when it comes to reliability and affordability," said Kevin Carson, NEW HOME president, Northern California. "Our first solar, storage and EV-ready neighborhood is a milestone for the company and we look forward to replicating the teamwork between energy services and architecture across future communities with SunPower to design today's homes for tomorrow's needs."
For more information on SunVault energy storage, visit: https://us.sunpower.com/home-solar/solar-battery-storage.
For more information on latest The New Home Company neighborhood, visit: EurekaGroveNWHM.com.
About The New Home Company
The New Home Company (NEW HOME) is a new generation homebuilder focused on the design, construction, and sale of innovative and consumer-driven homes in major metropolitan areas within select growth markets in California, Arizona and Colorado. NEW HOME is one of most awarded homebuilders in the United States. It was named 2019 Builder of the Year by Professional Builder and is a multi-year recipient of "The Eliant" for providing the Best Overall Customer Experience in North America in the Eliant Homebuyers' Choice Awards. NEW HOME has won hundreds of awards in the homebuilding industry for its design and planning excellence, dozens of "Community of the Year" awards, and was recognized five straight years for creating the best community or master plan in all the United States. For more information, visit NWHM.com.
About SunPower
Headquartered in California's Silicon Valley, SunPower (NASDAQ:SPWR) is a leading Distributed Generation Storage and Energy Services provider in North America. SunPower offers the only solar + storage solution designed and warranted by one company that gives customers control over electricity consumption and resiliency during power outages while providing cost savings to homeowners, businesses, governments, schools and utilities. For more information, visit www.sunpower.com.
Featured Product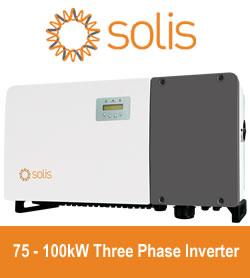 Solis75kW - 100kW series high-power string inverters are widely used in industrial and commercial rooftops. Solis's new three-phase string inverter is the first choice for industrial and commercial photovoltaics. 75-100kW three phase series string inverter have Maximum 28 strings input, support "Y" type connection in DC side. Maximum string input current 13A, support bifacial modules access.Supports anti-PID function to improve system efficiency.