Crowley marks a milestone with closing on the purchase of the 42-acre site to serve as the future home of the Salem Harbor Wind Terminal.
Crowley has completed the purchase of 42 acres in Salem, Massachusetts, the latest milestone toward the development of the state's second major offshore wind port terminal.

The Salem Harbor Wind Terminal is a public-private partnership between Crowley and the City of Salem, with AVANGRID serving as the port's anchor tenant through its Commonwealth Wind and Park City Wind projects. The terminal will be a logistics and operations center for turbine pre-assembly, transportation, staging activities and storage of assembly components. Crowley Wind Services, the company's business unit dedicated to helping develop clean wind energy resources, will operate the terminal.
"By closing on the property, Crowley, the City of Salem, and AVANGRID as the port's anchor tenant, have moved one step closer to creating a dedicated port terminal to support the U.S. offshore wind industry's growth," said Bob Karl, senior vice president and general manager, Crowley Wind Services. "We will continue to focus on delivering a high performing terminal that the community can take pride in, providing economic opportunity and environmental sustainability."
The terminal site project will result in the redevelopment of the former Salem Harbor Station, a decommissioned coal-fired energy plant creating more than 800 jobs (FTE job years) in the support of the construction and staging of wind projects and daily operations.
"Crowley's acquisition of this site in Salem marks an important step forward for Massachusetts' offshore wind industry and the development of the critical port infrastructure needed to build a clean energy future in the United States," said AVANGRID CEO Pedro Azagra. "The Commonwealth Wind project is a transformational opportunity that will bring substantial jobs, investment, and clean reliable energy to Massachusetts, and we are pleased to work with Crowley and the City of Salem as this important port project moves forward."
"Crowley's acquisition of this property represents a major milestone in our shared efforts to transform Salem Harbor into a world class offshore wind port," said Salem Mayor Kimberley Driscoll. "I am grateful to both Crowley and Avangrid for their commitment to our partnership and to our community. This critical project will bring hundreds of good paying jobs and millions in direct investment to Salem and is essential to the Commonwealth's ability to achieve our clean energy targets."
The Commonwealth Wind project represents the largest offshore wind project in New England and will create 11,000 full time equivalent jobs over the project's lifetime while generating enough energy to power 750,000 homes annually. Park City Wind, named after the City of Bridgeport, is an offshore wind project to power that will power 400,000 homes per year for Connecticut.
Construction of the wind terminal is expected to start in summer 2023, with the terminal complete in 2025.
About Crowley
Crowley is a privately held, U.S.-owned and -operated maritime, energy and logistics solutions company serving commercial and government sectors with more than $2.9 billion in annual revenues, over 170 vessels mostly in the Jones Act fleet and approximately 7,000 employees around the world - employing more U.S. mariners than any other company. The Crowley enterprise has invested more than $3 billion in maritime transport, which is the backbone of global trade and the global economy. As a global ship owner-operator and services provider with more than 130 years of innovation and a commitment to sustainability, the company serves customers in 36 nations and island territories through five business units: Crowley Logistics, Crowley Shipping, Crowley Solutions, Crowley Wind Services and Crowley Fuels. Additional information about Crowley, its business units and subsidiaries can be found at http://www.crowley.com.
Featured Product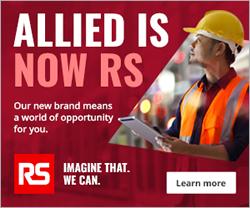 Based off the design pioneered by Anderson in 1953, the two pole SB® connectors set the standard for DC power distribution and battery connections. SB connectors feature a rugged one-piece plastic housing using stainless steel springs to retain the contacts and create the "contact force" that provides extremely low resistance enabling greater electrical efficiency. The SB connectors are also genderless (flip one 180 degrees and they will mate to each other) reducing the customer's bill of materials and providing greater economies of scale when purchasing. The SB series of connectors range in size from SB50 to the SB350. Each family size offers color-coded, mechanically keyed housings designed to prevent both visually and physically cross-mating devices with different voltages. All the connectors are UL rated to 600 volts, so the keys and colors are just identifiers to prevent accidents. Contacts are traditionally Silver plated to minimize electrical resistance while offering supreme durability and reliability.