For the eighth year in a row, Qcells solar modules have been rated as a Top Performer in PVEL's PV Module Reliability Scorecard. The company also received recognition for its module and brand quality with awards from EuPD Research and n-tv.
[Berlin, Germany, June 8, 2023] Qcells, a global leading provider of completely clean energy, is pleased to announce that it has been recognized as a Top Performer in the PV Evolution Labs (PVEL) PV Module Reliability Scorecard 2023. This accolade marks the eighth consecutive year in which solar modules from Qcells have earned such an esteemed ranking.

PVEL operates as one of the industry's leading independent laboratories, and its Reliability Scorecard is widely regarded as a benchmark for solar module performance. PVEL samples and tests solar modules from leading manufacturers as part of its Product Qualification Program (PQP), using these test results as a guideline for its annual PV Module Reliability Scorecard.
In securing the Top Performer accolade for the eighth year running for its Q.PEAK DUO module series, Qcells' commitment to exceptional quality and durable, long-term performance shines through. Qcells' Q.PEAK DUO solar modules are manufactured with the company's proprietary Q.ANTUM Technology, which is based on advanced PERC technology, and backed with Qcells' Yield Security - boasting excellent Anti-PID (potential induced degradation), Anti-LID (light induced degradation) and Anti-LeTID (light and elevated temperature-induced degradation) performance, as well as Hot-Spot Protect to ensure premium power output over the module's 25-year warranty.
Qcells' Q.PEAK DUO modules were also the first in the industry to pass TÜV Rheinland's new standard-raising Quality Controlled PV (QCPV) certification program.
Justin Lee, CEO of Qcells, said: "To consistently earn recognition for eight years in a row from PVEL's respected Reliability Scorecard is a testament to Qcells' unwavering commitment to quality engineering. Our focus has always been on pushing the boundaries of photovoltaic performance, and we take great pride in offering to our customers high-efficiency solar modules that endure in the field - offering invaluable peace of mind for those seeking a low maintenance, reliable solar-powered future."
Enduring performance from an enduring brand
While Qcells' reputation for consistently delivering reliably high quality solar modules is renowned, the company also polls well in the consciousness of customers, leading to the award of two additional seals this year for Qcells' brand image.
In Europe and the US, Qcells has once again snapped up the 'Top Brand PV' seal from EuPD Research - an internationally renowned energy research institute.
This is the 10th year in a row that Qcells has earned this seal in Europe, and the second year running in the US, where Qcells recently cemented its position as the market leading solar module provider in the residential as well as commercial space.
The Top Brand PV 2023 seal further cements Qcells' reputation for trust and reliability in the PV markets of Europe and the US. Companies that are awarded this seal must garner an excellent score in EuPD Research's 'Global PV InstallerMonitor' survey, which compiles feedback and opinions from thousands of participating solar installers active worldwide.
Furthermore, German consumers have also voted Qcells as a leading solar technology brand in this year's n-tv Life & Living Award. This award is one of Germany's leading customer satisfaction surveys. It polled more than 50,000 consumers for their opinion on 650 companies or brands active in Germany. For the fourth year running, Qcells emerged as a leading solar technology provider, claiming top spot in the "Solar Technology" category.
Germany's residential solar market boomed in 2022, growing 52% in size compared to 2021, with more than 200,000 new home solar systems added to rooftops up and down the country, according to data from the Bundesnetzagentur and the German Solar Association (BSW).
With demand for home solar solutions at an all-time high, and annual growth expected to be strong for years to come, Qcells is delighted to be recognised for its brand quality and technological excellence by German consumers.
"We are incredibly honoured to receive the n-tv Life & Living Award for the fourth consecutive year, and the EuPD Research seal for ten years running in Europe," added Moon Hwan Cha, CEO of Hanwha Q CELLS GmbH. "This recognition is a testament to the hard work and dedication of our talented Qcells team, which is pursuing ambitious growth goals across Europe to meet soaring demand from homeowners and commercial customers who want affordable clean energy solutions from a trusted provider.
"We are excited to be at the forefront of Europe's renewable energy revolution, and we remain committed to driving sustainable, renewables-led change worldwide."
In particular, the commitment of Qcells to support Germany's energy transition is unwavering. Qcells' growing Distributed Energy Solutions (DES) division offers families and even small business owners a range of financial packages designed to help them install solar at low- or no-upfront cost - delivering instantaneous clean electricity at an affordable price over the long term.
About Qcells
Qcells is one of the world's leading clean energy companies, recognized for its established reputation as a manufacturer of high-performance, high-quality solar cells and modules, portfolio of intelligent storage systems, and growing international pipeline of large-scale renewable energy projects. Qcells also provides renewable electricity retail services and packages to end customers the world over. The company is headquartered in Seoul, South Korea (Global Executive HQ) and Thalheim, Germany (Technology & Innovation HQ) with its diverse international manufacturing facilities in the U.S., Malaysia, China, and South Korea. Qcells offers Completely Clean Energy through the full spectrum of photovoltaic products, storage solutions, renewable electricity contracting and large-scale solar power plants. Through its growing global business network spanning Europe, North America, Asia, South America, Africa and the Middle East, Qcells provides excellent services and long-term partnerships to its customers in the utility, commercial, governmental and residential markets. For more information, visit: http://www.q-cells.com.
Safe-Harbor Statement
This press release contains forward-looking statements. These forward-looking statements can be identified by terminology such as "will," "expects," "anticipates," "future," "intends," "plans," "believes," "estimates" and similar statements. Among other things, the quotations from management in this press release and Qcells' operations and business outlook, contain forward-looking statements. Such statements involve certain risks and uncertainties that could cause actual results to differ materially from those expressed in or suggested by the forward-looking statements. Except as required by law, Qcells does not undertake any obligation to update or revise any forward-looking statements, whether as a result of new information, future events or otherwise.
Featured Product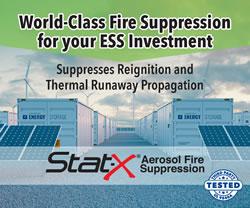 Stat-X® condensed aerosol fire suppression is a solution for energy storage systems (ESS) and battery energy storage systems (BESS) applications. Our Stat-X condensed aerosol fire extinguishing product was tested for efficacy in suppressing li-ion battery fires. It was found that the product successfully extinguished single and double cell battery fires. This testing was conducted in parallel with a large battery fire testing program on behalf of a large energy storage company.