Power generation is underway at Codford Solar Farm, the first newly built solar farm owned and operated by Centrica, under the company's plans to build out a portfolio of flexible energy assets.
Construction began at the site in Wiltshire in April 2022, after the consent was acquired by Centrica Business Solutions in 2021. Made up of 33,000 panels, the project has a total capacity of 18MW and should produce 19GWh of green electricity every year, enough to power some 4,850 homes.

The deal not only brings additional renewable power provision to the UK grid but supports the UK government's ambition to focus on home-grown renewable energy to boost long-term energy independence and security.
In late 2021, Centrica announced ambitions to deliver 900MW of low carbon assets by 2026. The company is currently building battery storage projects at former gas peaking plants at Brigg, Lincolnshire, Knapton, North Yorkshire, and Ostend in Belgium, and has developed a multi-GW pipeline of projects.
Vodafone will purchase half of the electricity output from the solar farm, helping to support their development and bring additional renewable power provision to the UK Grid. Combined with agreements already in place, around 44% of the company's annual energy requirement will come from UK-based renewable power sources by 2025. In the UK, 100% of the grid electricity Vodafone uses is from certified renewable sources.
The long-term Power Purchase Agreement (PPA) will see approximately 9GWh of green electricity, enough to power around 2,500 households for a year, dedicated to Vodafone UK. The remainder will be sold into the national grid through Centrica's Energy Marketing & Trading business.
The deal is the third PPA signed by Vodafone and Centrica Energy Marketing & Trading over the last year. In May 2022, Vodafone and Centrica announced a long-term PPA with MYTILINEOS S.A for the output from three solar farms in the UK. And, in February 2023, Vodafone committed to take a significant proportion of the output from a further five solar farms in one of the largest corporate solar PPAs to date.
Chris O'Shea, CEO of Centrica, said: "Centrica is a uniquely integrated energy company - well positioned to both drive, and benefit from, the energy transition. I'm delighted that we're now back building assets, focussing on clean electricity generation and storage.
"That integration stretches from the construction of new generating assets, such as Codford, to the movement of power across Europe. We've rapidly built a reputation as a leading player in European energy markets, supporting grid operators with sourcing the power they need to maintain a secure supply and supporting organisations, such as Vodafone, in their net zero ambitions."
Andrea Dona, Chief Network Officer and Chair of Vodafone Net Zero Steerco, said: "Achieving net zero for our UK operations by 2027 is a critical part of our company strategy and Power Purchase Agreements play an important role. Today's announcement will help ensure that a significant proportion of our energy requirement, for at least the next 10 years, is home-grown in the UK. I'm proud that Vodafone is helping to progress the development of new renewable power sites and supporting the delivery of more green energy to the UK grid."
Rt Hon Chris Skidmore MP, OBE, Chair of the Net Zero Review & Mission Zero Report, said: "As the former Energy Minister who signed the UK's net zero commitment into law, I have always recognised the need for more renewable power as we seek to create a net zero power grid by 2035. The Net Zero Review, 'Mission Zero', that I published earlier this year called on the government to recognise that expanding solar power generation would be one of the most effective means of delivering net zero in the future.
"I am proud to be a part of the opening of Codford solar power plant, which is pioneering British clean energy solutions. This site has the capacity to generate over 18 megawatts of clean energy, which is enough to power 5,000 homes and is a prime example of what we need to achieve to meet our net zero goals. Our journey to net zero has already started and by opening this plant we are taking an important step forward towards unlocking the opportunities it will bring."
Centrica has committed to reach Net Zero by 2045 and for its customers by 2050. Reducing the carbon content of the company's energy supply by supporting the expansion and take-up of clean energy is core to achieving Net Zero.
Featured Product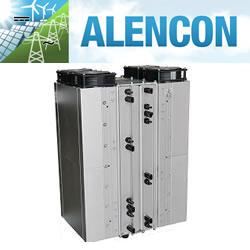 Alencon Systems is the premier manufacturer of high power, high voltage DC:DC optimizers for alternative energy applications including solar, battery energy storage, Microgrids, Fuel Cells and Electric Vehicle charging. Alencon's DC:DC converter offerings include the SPOT, BOSS and CUBE series DC:DC converters. The SPOT is a modular, uni-directional DC:DC solution ideal for solar applications. The BOSS is a modular, bi-directional unit for use with battery energy storage. The CUBE is a monolithic DC:DC converter which is available in both uni-directional and bi-directional modalities. Pictured above, is the Alencon SPOT.