As the Research/Marketing Analyst for IpAuctions, Inc.™, I have explored many industries and several aspects of the Intellectual Property field. Whether we are retained to assist in licensing or selling patents outright through our live on-line auctions or private offerings, I have had many opportunities to see into the windows of inspiration and the people who drive technology's growth that most individuals are unaware of.
Green Technology Inspiration
Davel Foote | IpAuctions, Inc.
One such person is Dawn Ottman of CanDew Scientific LLC, Lemmon, South Dakota. Her background includes being Canada's first woman Space Scientist and part of the Motorola Design team for the Iridium Satellite Constellation. Combined with her belief in Green Technology, she saw a need and opportunity as inspiration to combine the two and fill that need.
The first solution is in the LED Lighting arena. Her patent for LED Decorative Light is battery powered and re-chargeable through Solar Technology. The Product Feasibility Study emphasizes the general publics embracing of LED technology and its use of lighting in landscaping as well as decorative. This can be used and sold through multiple channels: Traditional Consumer distribution, Commercial Distribution/Use. Some points in the study to consider:
In a ten month study, China manufactures and exports over $823 million LED Christmas lights worldwide. During that same time it is estimated Americans use over 38 billion individual lights during the Christmas Holidays.
Power companies across the US and Canada try to reduce power cost during peak seasons like Christmas. It has been calculated LED's reduce power consumption by 90%.
Commercial contractors in landscaping have increased the use of LED technology both in residential and commercial use, utilizing the brighter glow LED's emit.
Solar based holiday lights are still wired and come with a large solar panel mounted in the ground with a stake. This technology is unique with a miniature solar panel that charges a micro-coin cell battery (a rechargeable hearing aid battery) during the day via a trickle charge. At night a LED light comes on and discharges the battery.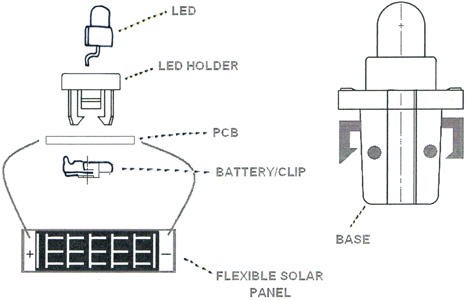 This design won 3rd place at the "Watchamacalit" contest at the South Dakota State University's Innovation Expo Conference.
On average, testing shows the lights stay on at least 6 hours and requires only a 3 hour charge. Since they depend on solar battery power only, they will automatically turn on at dusk and turn off at dawn.
Potential versatility for this patented design includes personal safety, first responders, Search & Rescue, fire fighters applications as well as military applications since LED technology has no heat signature. With demand from consumers for "green" friendly products and the commercial world looking for freedom from wires, this "solution" will reach both segments requirements and desires and may be able to take advantage of the windfall of support from the Power Industry and the Environmental support organizations.

The second solution combines the natural solar and wind resources while reducing its footprint. This patent pending application is a hybrid based on the mathematical analysis showing an increase in turbine output of 15%. This combination of turbine and solar reduces space requirements and increased power supply dependability. To understand the differences between traditional wind and solar collection methods and Dawn's application, I did a little interview with her:
IpA: What is your invention?
Dawn: It is a combination of the use of wind energy with solar energy. Wind energy is the main source of power and solar augments it.
IpA: What makes your invention unique or better than what we have today?
Dawn: The output is at least 15% greater and the output is more steadfast….that is, there is an output even when the wind does not blow. No, it is not a 24/7 solution…it is not intended to be…but it does increase one's warm fuzzy feeling in that there is an output more of the time.
IpA: Is there a prototype?
Dawn: Not yet. The mathematical calculations are based on an integration of the surface area of the turbine tower covered with amorphorous silicon (thin film) solar collectors and their commercially available efficiencies. It is expected that each turbine's output will increase by at least 15%.
IpA: Can your invention be used on all types of wind turbines?
Dawn: Yes. According to the National Wind Studies, even lattice towers can be used. As thin film solar material is flexible by nature, it can be conformed to fit either around or onto many surface shapes.
IpA: Can your invention be used on existing wind turbines?
Dawn: Yes. The solar material can be adhered and the hybrid combination network can be installed.
IpA: Can your invention be used by offshore wind turbines?
Dawn: Yes. In fact, we expect even greater output from offshore wind turbines as amorphorous silicon accepts light from all angles and the reflective light from the water's surface will increase the power generated. One of the advantages of this invention of hybrid wind and solar power generation is that it does not require additional land or space….that is it does not affect the geographical footprint of the wind turbine.
This is a graphic example of Dawn's Hybrid:


Possible placement of the amorphorous silicon material depending on the type of turbine tower
To request a copy of the LED Decorative Light Feasibility Summary or more information on this or the Hybrid Wind and Solar Power Generation Invention and any other Green Technology available, contact us directly at toll free 866-826-1300. Visit our website to view other available intellectual property,
www.IpAuctions.com
.
Davel Foote joined IpAuctions, Inc.
™
in 2007, as a research technician. Davel entered the Marketing Department bringing her enthusiasm, creating a fresh approach.
IpAuctions, Inc.
™
, Inc. is a 10-year old online auction firm specializing in the sale of patents, trademarks, copyrighted materials and other intangible assets. We have a database of over 9,000 intellectual property attorneys, venture capital firms and other IP buyers and investors we target with our promotion.
The advantage of a live online web site,
www.IpAuctions.com
, makes the sale accessible by buyers worldwide, as well as, providing access to World IP Offices for due diligence by potential Buyers.
In 45 days or less we can promote, advertise and auction valuable Intellectual Property from private portfolios, corporate disposals and the U.S. Courts. We can quickly respond with court required affidavits, reports of sale, and preparation of assignments for Buyers. We are a bonded member of the American Bankruptcy Institute and the National Auctioneer Association.
The content & opinions in this article are the author's and do not necessarily represent the views of AltEnergyMag
---
Comments (0)
This post does not have any comments. Be the first to leave a comment below.
---
Post A Comment
You must be logged in before you can post a comment. Login now.
Featured Product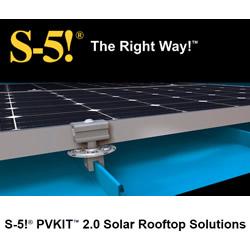 The concept of combining PV arrays with standing seam metal roofing is growing-for good reasons. Metal roofs have a life expectancy of more than 40 years. Shouldn't the mounting system last as long? With S-5! zero-penetration attachment technology and PVKIT 2.0, the solarized metal roof is the most sustainable system available -and without compromising roof warranties! PVKIT 2.0 is the also the best solution for attaching PV modules directly to any exposed fastener metal roof.