Here are 5 of the entries in this years Solar Decathlon for your interest and enjoyment. More to come in future issues. These students have earned the support of us all. Thanks for giving us your view of the future!

Bob Hetherington | AltEnergyMag
The U.S. Department of Energy Solar Decathlon is an award-winning program that challenges 20 collegiate teams to design, build, and operate solar-powered houses that are cost-effective, energy-efficient, and attractive. The winner of the competition is the team that best blends affordability, consumer appeal, and design excellence with optimal energy production and maximum efficiency.

The first Solar Decathlon was held in 2002; the competition has since occurred biennially in 2005, 2007, and 2009. The next event will take place at the National Mall's West Potomac Park in Washington, D.C., Sept. 23–Oct. 2, 2011. Open to the public free of charge, visitors can tour the houses, gather ideas to use in their own homes, and learn how energy-saving features can help them save money today.

Purpose
The Solar Decathlon:
Educates student participants and the public about the many cost-saving opportunities presented by clean-energy products

Demonstrates to the public the opportunities presented by cost-effective houses that combine energy-efficient construction and appliances with renewable energy systems that are available today

Provides participating students with unique training that prepares them to enter our nation's clean-energy workforce.
Impact
Since 2002, the Solar Decathlon has:
Involved 92 collegiate teams, which pursued multidisciplinary course curricula to study the requirements for designing and building energy-efficient, solar-powered houses

Established a worldwide reputation as a successful educational program and workforce development opportunity for thousands of students

Affected the lives of 15,000 collegiate participants

Expanded its outreach to K–12 students by inviting schools in the Washington, D.C., area to visit on class tours.
In 2009, the Solar Decathlon:
Provided 307,502 house visits to the public over 10 days

Offered 32 workshops onsite for the public and held a dedicated day of workshops for builders and industry, which were attended by 506 professionals

Partnered with the National Education Association, which broadcast daily educational programming to classrooms around the nation

Reached millions of readers and viewers in markets across the globe through various media.

The First Five Teams in the 2011 Lineup
Appalachian State University
The Solar Homestead
Team website: www.thesolarhomestead.com
Appalachian State University was inspired by traditional Appalachian settlements for its U.S. Department of Energy Solar Decathlon 2011 entry. Solar Homestead is composed of multiple buildings that form a self-sufficient ensemble. Six outbuilding modules connect to form the Great Porch, an outdoor living space protected by an 8.2-kW trellis of bifacial solar cells. Inside, the 833-ft2 (77-m2) house features two bedrooms, a day-lit bathroom, energy-efficient appliances, and a versatile living and dining area. The Solar Homestead also includes an independent 120-ft2 (11-m2) Flex Space that can be used as a home office, art studio, or guest quarters.
Design Philosophy
The Solar Homestead embodies independence and ingenuity—qualities reflected in the heritage of traditional homesteads. The Solar Homestead fuses these values into an innovative, ultra-efficient house that is adaptable, self-sufficient, affordable, and attractive. The concept of the "modern homestead" is manifested throughout the house.
Features
The Solar Homestead embraces a traditional settlement lifestyle. It is focused around a central living core with collective buildings that adapt to the needs of modern families. Unique features include:
Outbuilding modules inspired by lean-to sheds that link to form sheltered outdoor living and work space

A generous outdoor living space called the Great Porch that embodies the lifestyle of early settlers

The adaptable, conditioned Flex Space, which features a half-bath, outdoor shower, and outdoor kitchen and can serve as a home office, guest suite, or cabin retreat.
Technologies
The Solar Homestead merges traditional sustainable practices with modern clean-energy technology. Technological solutions include:
Forty-two bifacial photovoltaic panels that supply solar energy while providing filtered daylight and protection from the elements

An on-demand solar thermal domestic hot water system that uses phase-change materials to provide constant water temperature in compact storage

A Trombe wall that is filled with phase-change material to store heat throughout the day and release it at night.
Market Strategy
The Solar Homestead is designed for residents of Asheville, North Carolina. The house meets the needs of this market by providing a secure investment for the experienced homebuyer through energy independence, modular adaptability, and long-lasting, sustainable materials. The combination of renewable technologies and sustainable design provides a distinctive dwelling for the new homesteader—an emerging group that values independence, the land, and the environment.
What's Next
After competing in Solar Decathlon 2011, the Solar Homestead will travel the state of North Carolina to promote renewable energy education. The team will teach visitors the value of sustainable technology and environmental preservation. When the tour concludes, the house will return to Appalachian State University to serve as an educational tool for future Mountaineers.
Video Walkthrough
The Team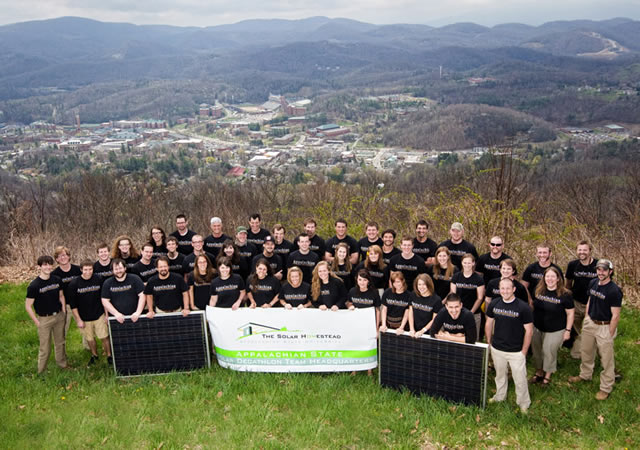 ---

Florida International University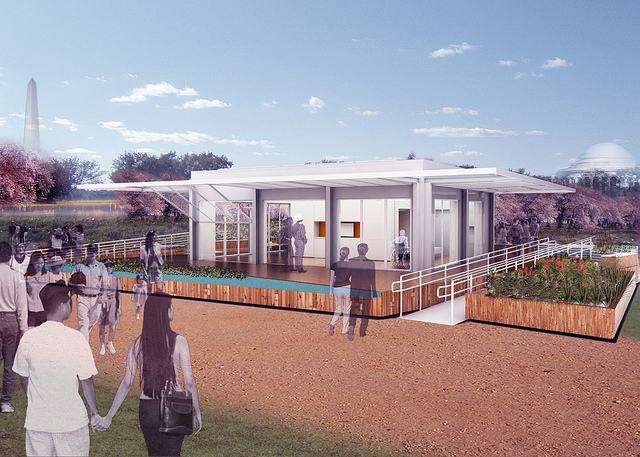 perFORM[D]ance House
Team website: solardecathlon.fiu.edu
Florida International University's U.S. Department of Energy Solar Decathlon 2011 entry, the perFORM[D]ance House, responds to its environment, its inhabitants, and its use. Its open pavilion design links the interior with the exterior through a layered façade and integrated landscape, and operable louver panels open to extend the interior space and expand the livable space to the exterior. The ever-changing configuration is driven by environmental conditions, resulting in an interactive performance that showcases sustainable strategies and technologies.
Design Philosophy
The design of the perFORM[D]ance House incorporates lightness and open spatial continuity reminiscent of Paul Rudolph's Cocoon House. The house incorporates key elements of tropical design, including louvers, a continuous flat roof, and an expansive horizontality.
Features
The perFORM[D]ance House features:
Operable louvers that raise and lower as needed for privacy, shading, and protection against hurricane-force winds

A fully retractable glazing system on the windows that provides relief from the heat and humidity of South Florida

An exterior deck with a garden and biofiltration pond

Bio-remediating beds that treat storm-water runoff collected from the roof using native landscaping that filters sediment, reduces runoff, and oxygenates water.
Technologies
Florida International University's house is an elegant hybrid of technology and design that achieves livability and sustainability using:
Passive design strategies such as natural cross-ventilation, canopy shade devices, and daylighting to reduce demand on mechanical systems

A ductless air conditioning system that uses micro-climate zoning to increase comfort while decreasing load

Sensors, timers, and remote controls to provide system automation that increases efficiency and reduces operation and maintenance costs

A weather station with monitoring capabilities that allows homeowners to monitor energy production and use, solar panel performance, and water consumption

A reflective white exterior to reduce cooling demand.
Market Strategy
The perFORM[D]ance House was designed for a Hispanic-American couple whose children are off in college. Juan Gonzalez is a self-employed contractor and green building advocate. Alice Gonzalez is a former art history professor who has an illness that requires her to use a wheelchair. These empty-nesters have always wanted to retire to the sunny, subtropical climate of Miami, Florida.
What's Next
After the house returns from Solar Decathlon 2011, it will be installed on the Modesto A. Maidique Campus of Florida International University in Miami. The perFORM[D]ance House will support the university's Office of Sustainability by serving as a visitor center pavilion and promoting the university's mission for sustainability.
Video Walkthrough
The Team
---
Middlebury College
Self-Reliance
Team website: solardecathlon.middlebury.edu
Self-Reliance, Middlebury College's U.S. Department of Energy Solar Decathlon 2011 entry, is a two-bedroom, ultra-efficient, 990-ft2 house designed for a family of four. It features a green wall for growing plants, open family living space, and healthy building materials. Its traditional gable, or peaked roof, is a familiar form that holds a 7.2-kW photovoltaic array.
Design Philosophy
By incorporating the best features of the New England farmhouse into a novel design for the 21st century, Middlebury College offers an environmentally responsible house that can compete in the current market. Modern technologies such as energy-monitoring software, high R-value insulation, and triple-paned windows make the traditional form more energy-efficient. In addition, the team considered upfront and lifecycle costs and chose durable, natural materials that have minimal embodied energy and environmental impact.
Features
Self-Reliance is simple, durable, and family-friendly. It reflects New England values and responds to the Northeastern climate. Self-Reliance includes:
A gable roof that sheds snow and rain.

A green wall in the kitchen and outdoor planters that provide space for growing fresh produce year-round.

A kitchen counter peninsula that encourages a communal cooking experience.
Technologies
Self-Reliance provides a solution to sustainable living through technologies such as:
A solar array of 30 panels that can produce 7,930 kWh annually

An air-to-air heat exchanger that circulates air through a network of aluminum ducts and feeds the green wall with condensed moisture

Triple-paned windows with cork-insulated frames that have an R-value of 7 and a solar heat gain coefficient of 0.53, which allows them to provide net heat gain over the course of a year

Stack effect ventilation, which pulls in cooler air toward the ground and vents out warmer air from the skylights.
Market Strategy
Designed for a New England family of four, Self-Reliance offers a comfortable space that fosters community. The adjacent kitchen, dining, and living spaces are designed to encourage the family to make dinner, do homework, and play a game together. The efficient use of space reduces the demand for energy and materials.
What's Next
Self-Reliance will settle onto Porter Field Road on the Middlebury College campus for permanent use as a student residence. Interested students will apply to live in the house in groups of four each semester. During their stay, residents will engage in community outreach projects related to the mission of the house. They will be encouraged to cook meals made with produce from the green wall and planters and to invite architects, authors, environmentalists, and other speakers to visit. Such events will provide opportunities for public exposure on campus and in the local community, and the house will remain accessible for educational purposes.
Video Walkthrough
The Team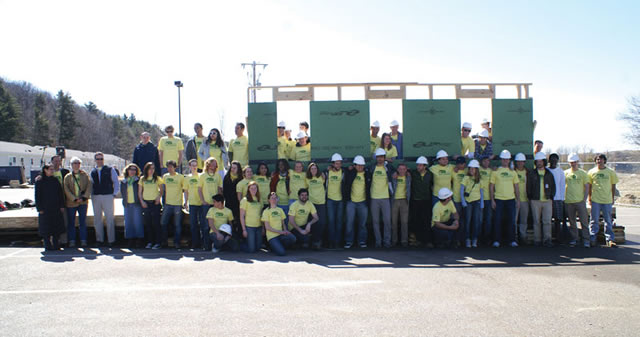 ---
New Zealand - Victoria University of Wellington


First Light
Team website: www.firstlighthouse.ac.nz
First Light, Victoria University of Wellington's U.S. Department of Energy Solar Decathlon 2011 entry, is inspired by the traditional New Zealand holiday home—the "Kiwi bach." First Light's design reflects a relaxed lifestyle in which socializing and connecting with the outdoors are central to living. At the heart of the design is a glazed central section that functions as a bridge between exterior and interior. A cedar canopy supports the solar array, which produces hot water and generates energy to power the house.
Design Philosophy
With its clean, simple lines and use of natural, low-maintenance materials, First Light puts a contemporary spin on the traditional Kiwi bach. Weather and climate are intertwined with the design philosophy of the First Light house to encourage an awareness of how to work with a changing climate rather than against it.
Features
The house is named First Light because New Zealand is the first place morning light shines at the start of a new day. In addition to being the only entry from the Southern Hemisphere, First Light is unique in many ways.
The decking runs not only around the house but also through the center, allowing occupants to effectively live outside during summer and bringing a sense of the outdoors inside during winter.

A triple-glazed skylight and large bi-fold doors illuminate the central section of the house.

The house is clad in western red cedar using an innovative, detachable cladding system.

Custom-built furniture in the living room can transform to accommodate overnight guests.
Technologies
First Light combines the principles of simplicity and innovation to ensure technology and sustainability complement the way New Zealanders live. It incorporates:
An interactive energy monitoring system that shows where energy is being used and displays peak energy use, peak energy production, water use, and weather data

An innovative drying cupboard that dries clothes quickly by pumping solar-heated hot water through a heat exchanger

Recycled sheep's wool as insulation.
Market Strategy
Although First Light is inspired by a vacation home, it is intended as a permanent residence for a couple. The house provides flexibility to accommodate family and friends through social spaces that can transform to suit the owner and make the most of the natural environment. The design creates multi-functional rooms while keeping practical concerns, such as storage, in mind. Although perfect for a couple, the house can be modified easily to accommodate spontaneous visits from guests.
What's Next
After competing in Solar Decathlon 2011, First Light will be repacked and returned by ship to New Zealand, where it will begin its second life as a fully functional home. The team would like to monitor the performance of the house with its new owners so it can confirm its performance expectations over time.
Video Walk-Through
The Team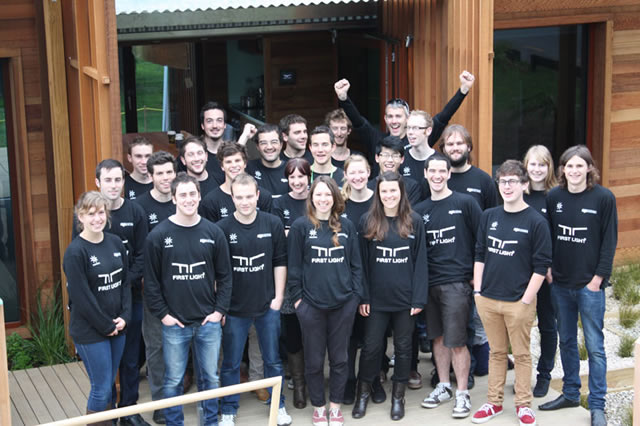 ---

Ohio State University
enCORE
Team website: solardecathlon.osu.edu
The Ohio State University's U.S. Department of Energy Solar Decathlon entry, enCORE, presents a family-friendly solution for residential needs while addressing the world's growing energy problem. enCORE features living spaces arranged around a central core that contains the house's mechanical and plumbing systems. The flexible, interconnected design gives this 930-ft2 (86-m2) solar-powered house the same functionality and livability of projects much larger in size and budget.
Design Philosophy
enCORE creates balance among necessities, environmental sensibilities, economics, and aesthetics through a holistic design approach. An adjustable exterior screen provides privacy and protection from the sun, a bioremediation system filters rainwater and brings nature close to the house's residents, and a dynamic plan that extends outward from a consolidated building core provides generous living spaces inside and out.
Features
enCORE embodies an approach that places a high priority on maximizing passive performance. Features include:
State-of-the-art triple-glazed windows that minimize heat loss while maximizing solar gain

A super-insulated exterior envelope with double the insulation value of conventional homes

Natural lighting throughout the house based on activity areas.
Technologies
Through a combination of low-cost passive measures and the thoughtful use of technology, enCORE is cost-effective and ultra-efficient. Technological solutions include:
A flat-plate solar thermal collector in combination with a heat pump water heater to further improve energy efficiency

A unique solar thermal hot air system to maximize occupant comfort and minimize energy consumption

An 8-kW photovoltaic array that consists entirely of thin-film panels manufactured locally in Toledo, Ohio

A simple control interface that controls lighting, mechanical, electrical, and plumbing systems with an intuitive and informative touch-screen display.
Market Strategy
Many neighborhoods in Columbus, Ohio, would benefit from redevelopment and rejuvenation. enCORE is a proposal for a residential neighborhood with an average income that is lower than the rest of the city. A sustainable house will ultimately save money for residents while promoting sustainable practices in the community.
What's Next
Following the competition, enCORE will return to The Ohio State University campus to serve as an educational tool. After one year, the house will be sited in a low-income neighborhood, where it will become a family residence.

Video Walk-Through
The Team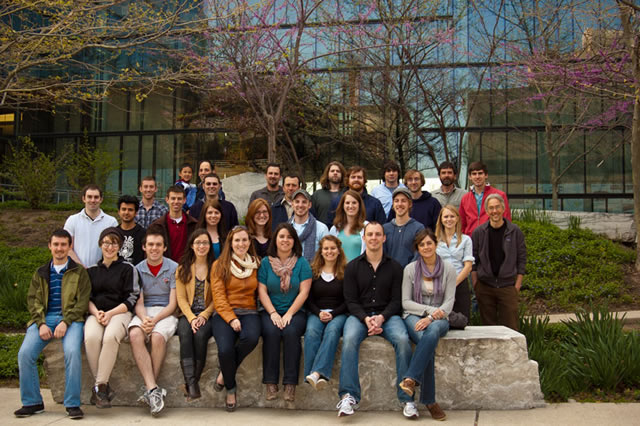 ---
Five More Teams in Part 2 - Click Here
The content & opinions in this article are the author's and do not necessarily represent the views of AltEnergyMag
---
Comments (0)
This post does not have any comments. Be the first to leave a comment below.
---
Post A Comment
You must be logged in before you can post a comment. Login now.
Featured Product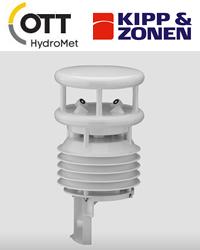 Colocation is a growing trend within the energy industry. A recent study from the US National Renewable Energy Laboratory suggested that installing floating solar arrays on US hydroelectric plant reservoirs could become an important new source of electricity. Recent studies suggest that installing floating solar arrays on US hydroelectric plant reservoirs could become an important new source of electricity. Learn about the advantages of both generation systems, tools to assure smooth operations, case studies, and challenges remaining in this emerging field. Download our whitepaper now!