Recent advances in materials science have led to the development of innovative new materials that provide enhanced durability to photovoltaic modules. Unique polymeric thin film technologies, such as ethylene-tetrafluoroethylene (ETFE) frontsheets, provide modules with the protection they need to perform at high levels even when exposed to the elements.
Weathering the Storm: Fluoropolymer films protect solar modules and ensure performance
Nikhil Bhiwankar | Saint-Gobain Performance Plastics
In the ever-changing world of alternative energy, solar power has emerged as a leading solution to the world's energy demand issues, generating power from a power source with unique accessibility. Reliable and environmentally sound, the conversion of solar energy into electricity is now being used in many applications across the building, residential, commercial, and industrial sectors. With advanced photovoltaic (PV) module designs, solar power can supply a considerable portion of a building's energy needs. However, while solar modules are able to harness the power of the sun, there is one major unpredictable force that man cannot control – the weather.
The simple fact of the matter is that solar modules are exposed to the elements 365 days-a-year. In order to work, solar modules must be exposed not only to the sun which also includes all other types of weather, such as excessive heat, cold, moisture, and even hail, depending on the regional weather where the module is located. These conditions can crack or damage the frontsheet, decreasing or halting light transmission. Harsh environmental conditions can even penetrate the frontsheet, resulting in damage to vital module components, such as crystalline silicon (c-Si) photovoltaic cells. These components are expensive and when not working properly, prevent the solar module from doing its job – generating vital power.
Recent advances in materials science have led to the development of innovative new materials that provide enhanced durability to photovoltaic modules. Unique polymeric thin film technologies, such as ethylene-tetrafluoroethylene (ETFE) frontsheets, provide modules with the protection they need to perform at high levels even when exposed to the elements. Extensive testing shows that ETFE frontsheets exhibit increased performance properties, including extreme durability and excellent light transmission under extreme conditions.
A Long History of Weatherability
ETFE is no stranger to the great outdoors. Before it was developed as a high-performance frontsheet material, ETFE had been used in outdoor building and roofing structures due to its durability and high light transmission. ETFE has a similar chemical structure to PTFE, which has been issued in fabric membrane roofing since 1973, and it is ETFE's unique combination of durability, light transmission and insulative properties that make it an ideal material for solar module frontsheets.
ETFE frontsheets provide key concrete performance benefits throughout their product lifecycle, such as excellent light transmission, weatherability, low flammability, stress crack resistance, and insulating properties. Tough and reliable, these highly transparent films provide frontsheets weighing only 0.1 kg/m². ETFE is more transparent than conventional materials, providing higher efficiency in frontsheet applications.
ETFE films also work well when used in tandem with other film products, such as high-quality EVA encapsulants. EVA films provide excellent light transmission, superior adhesion to frontsheet and backsheet materials for both rigid and flexible modules, and strong electrical, mechanical, and weathering properties, providing long-lasting protection for solar cells. An increased level of long-term weathering and UV protection is vital in extending the power-generating capabilities of any PV module exposed to the elements.
When it Rains it Pours
Comprehensive testing has been conducted in order to accurately measure the performance of ETFE frontsheets under a number of harsh environmental conditions. When exposed to heat and moisture, c-Si modules with ETFE frontsheet showed no significant power loss after 1,000 hours of damp heat testing (Chart 1). Measured change in power was within the flasher error- limits. This means that the performance of modules with ETFE frontsheets were unaffected when exposed to more than forty-two days of high heat and humidity, an accelerated weathering protocol used commonly in the PV industry.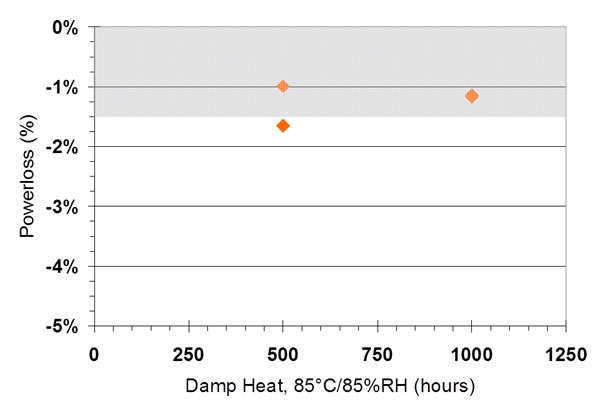 CHART 1: EFFECT OF 1000 HRS DAMP HEAT ON POWER OF C-SI MODULES WITH ETFE FRONTSHEET
However, solar modules are not only installed in warm climates. There is also snow and hail to contend with in colder regions. Considered an extremely important part of module testing, ETFE performed extremely well in various hail tests. Modules with ETFE frontsheets and either glass or fiber reinforced plastic (FRP) backpanels, were tested for performance against hail impact. ETFE frontsheets showed no major physical damage after an IEC hail test and the modules continued to generate specified power. This confirms that there was no damage in the cell circuitry of modules made with ETFE frontsheets (Chart 2).
Thermal cycling is another conventional test to measure the overall weatherability of a material. Thermal cycling is a measure of performance from -40 °C up to 90°C. Modules after hail impact were subjected to thermal cycling to induce propagation of micro-cracks, if generated during hail impact. Modules with ETFE frontsheets showed little change in power after thermal cycling followed by a hail impact test (Chart 2).
CHART 2: HAIL IMPACT RESULTS AFTER THERMAL CYCLING
When exposed to a wide range of temperatures and hail, modules with ETFE frontsheets show no major physical defects and no noticeable loss of power. So, exactly how durable is ETFE under such extreme environmental conditions? Electroluminescence is an optical technique used to view micro-cracks or other defects on the solar cells. Before-and-after electroluminescence (EL) imaging after hail impact on ETFE frontsheet modules are shown below (Chart 3 & 4). As can be observed, there are no defects or micro-cracks after hail-impact tests on the cells.
Chart 3: EL IMAGE – BEFORE HAIL IMPACT
Chart 4: EL IMAGE – AFTER HAIL IMPACT
ETFE-EVA prelaminate film has also been tested for partial discharge by a certifying body – TUV Rheinland. This pre-laminate film has passed the 1000V partial discharge requirement and hence is certified to be used as frontsheet in c-Si module.
While global demand for power continues to rise, current economic challenges have brought the search for readily available and sustainable power sources into the public eye. With solar power now a viable source of continued power, it is vital that solar modules are able to perform at a consistently high level when exposed to a variety of environmental elements. The good news is that advanced fluoropolymers, such as ETFE, have been developed to allow just that. ETFE frontsheets allow solar modules to continue generating power as specified under harsh environmental conditions. Exposed to heat and humidity, extreme cold, and even hail storms, ETFE frontsheets do not exhibit major physical damage or modules made with ETFE frontsheets experience a noticeable loss of power. With outdoor conditions no longer a factor, solar modules can weather the storm while providing much-needed power worldwide.
About the author:
As Product Manager -- Photovoltaics at Saint-Gobain Performance Plastics, a leading manufacturer of sustainable materials and engineered renewable energy solutions, Nikhil Bhiwankar is responsible for product development from design to production, managing activities between research & development and manufacturing. Bhiwankar is materials science and renewable energy industry expert with vast polymer research experience, having held various positions at Saint-Gobain Performance Plastics in Aerospace and Electronics Films, and Nanotechnology Research. He holds a Ph.D. in Polymer Science from the University of Connecticut.
The content & opinions in this article are the author's and do not necessarily represent the views of AltEnergyMag
---
Comments (0)
This post does not have any comments. Be the first to leave a comment below.
---
Post A Comment
You must be logged in before you can post a comment. Login now.
Featured Product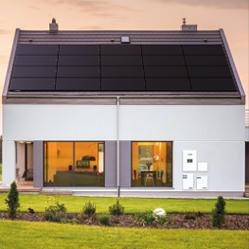 The Q.Home+ ESS HYB-G1 energy storage solution offers scalable storage capacity from 4.5 kWh up to 18.9 kWh and comes in a modular design for easy and fast installation. The system is offered in both DC-coupled and AC-coupled configurations and can connect up to 3 batteries in series using only one inverter and battery management system (BMS). The system includes an integrated backup power function for 100% of the rated inverter output to support critical loads in the event of power failure and offers remote monitoring using the QHOME+ web portal or QHOME+ ESS mobile app.