Web-based software improves the accuracy and efficiency of meeting payment obligations by providing lease management, automatic payment reminders, payment tracker, royalty calculator, and payment scheduler capabilities.
Field mobility crucial for alternative energy projects
Yogesh Khandelwal and Dan Liggett | geoAMPS
Renewable energy projects and infrastructure can be great distances from the company's headquarters or satellite offices. Supervisors, technicians and other workers in the field need technology that will allow them to maximize productivity, even though they are far from their desk. They need tools to help them work as efficiently as possible.
Utilization of smartphones and smartpad devices by field agents is crucial for companies engaged in renewable energy projects. The ability to use mobile technology increases productivity of workers inspecting or performing maintenance or repair on wind turbines, solar panels or other renewable energy project infrastructure.
Mobile technology streamlines the entire process of assigning work, inspecting infrastructure, performing maintenance and repair, and reporting and storing findings. The capability improves workflows by providing workers in the field and their supervisors in the office the ability to access work assignments and receive status reports on infrastructure in real-time. It eliminates bottlenecks and compresses cycle times. In short, it saves money, which in turn lowers the cost of electricity produced from alternative energy.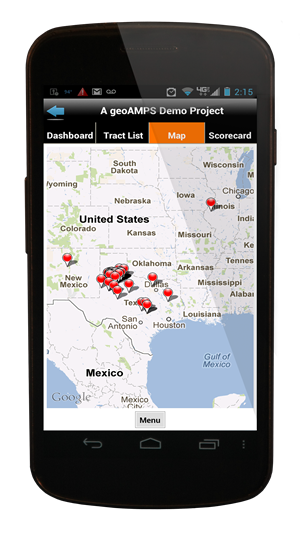 The ability to utilize mobile technology is maximized when the organization has deployed a Web database in which all project and organizational information is centrally stored. Workers in the field have online access to the organization's software through their smartphone or smartpad.
They can receive instructions from the office to travel to a location where problems are being experienced or where an inspection is required. Some systems can be programmed to provide automatic notifications of the need to conduct an inspection in a certain location. Through these programmed notifications, the organization can map out regular inspections of their infrastructure systematically. Work crews can receive inspection assignments through their mobile devices, eliminating the possibility that a duplicate inspection will be done by another crew.
Mobile technology is especially helpful in inspecting, maintaining and repairing wind turbines, both on land and offshore. Turbines typically are 100 feet or more in height. When a worker has climbed to the area of the turbine gearbox, it is necessary to record information on the status of the equipment. By using a mobile device connected to the central database, the worker can immediately upload the current condition of the turbine. He can also upload notes. There is no need to write down information that must be compiled again later for the project file.
The field worker assigned to the turbine can communicate with one or more supervisors through mobile devices, receiving instructions on how to proceed. That prevents the need to write down information and make a report later. Instructions can be relayed in real time, and work time in the field can be minimized and utilized more efficiently.
The field worker can also make real-time reports on necessary repairs and order replacement parts. Using a mobile device, he can take pictures of any damage and upload those pictures into the central database. The capability to report the turbine status and order parts can save hours, possibly days in the completion of the repair.
Some systems also provide offline or detached capability that makes it possible to update information even when Internet connectivity is lost or unreliable. The system syncs the new infrastructure information once connectivity is restored. This capability is especially useful in inspecting and maintaining offshore wind projects or onshore wind farms in remote locations.
Mobile technology can be utilized in other ways in the process of operation of a wind farm. With some systems, field agents can obtain landowner, lease and royalty payment information through the mobile device. The worker in the field can use the device to calculate the current lease or royalty payment owed to a landowner.
Ensuring timely and accurate lease and royalty payment is a significant pain point for the wind industry. There are many variables in meeting these ongoing payments. Without effective technology, wind companies must complete manual calculations that are labor intensive, with multiple staff members involved each month. Despite this commitment of company resources, payments still can be late or wrong, creating even more problems for the company.
To address these many factors, wind companies have resorted to various means with varying degrees of success. Many work from spreadsheets. Some still work from paper. In either case, the information must be input manually through each payment cycle. Many calculations must be done quickly, but the information on spreadsheets can be erroneous or inconsistent. It is complicated and time-consuming to track all of the triggers that determine the timeline for individual payments.
Tight deadlines and manual tweaking of so many adjustments can result in errors or slow the payment process. Missing payments or issuing incorrect amounts mean major headaches for the wind company, and make landowners unhappy.
Web-based software improves the accuracy and efficiency of meeting payment obligations by providing lease management, automatic payment reminders, payment tracker, royalty calculator, and payment scheduler capabilities. The system automates the process of meeting development, construction, landowner compensation and other types of payments, despite the complexities of these calculations and the varied timelines.
With new technological capabilities, including mobile technology, organizations worldwide that are involved in alternative energy have the ability to add to the growing electric capacity from clean, renewable resources.
As President and Chief Executive Officer of geoAMPS, Yogesh Khandelwal is an engineer with a diverse background in technology across various industries. He has more than 15 years of experience in database configuration and implementation and helps organizations implement standardized processes, bringing efficiency and optimization within project and asset management. He completed master's degrees in Civil Engineering from The University of Toledo and The Ohio State University.
Dan Liggett is Communications and Public Relations Manager of geoAMPS. He has an extensive background in the newspaper industry and in public relations for higher education and public transportation. He is an award-winning writer and editor. He holds a bachelor's degree in Journalism from Ohio University.
For more information, call 614-389-4871 or visit www.geoamps.com.
The content & opinions in this article are the author's and do not necessarily represent the views of AltEnergyMag
---
Comments (0)
This post does not have any comments. Be the first to leave a comment below.
---
Post A Comment
You must be logged in before you can post a comment. Login now.
Featured Product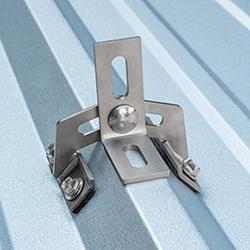 Explore new lines of income for your solar installation business with QuickBOLT's Stone Coated Steel roof mounts designed in partnership with metal roof manufacturers themselves. These SCS roof mounts work on all metal tile profiles and will help you bring in money you're missing out on. By not driving into the roofing material, QuickBOLT's Stone Coated Steel roof hooks maintain the integrity of the roof. Install with ease and confidence knowing your roof is protected against the harsh elements that these hooks are designed for.