A joint venture between the Australian National University and Origin Energy has developed a new type of solar cell with the potential to revolutionise the global solar power industry.
A joint venture between the Australian National University and Origin Energy has developed a new type of solar cell with the potential to revolutionise the global solar power industry.

Director of the ANU Centre for Sustainable Energy Systems, Professor Andrew Blakers today unveiled the Sliver CellTM, which uses just one tenth of the costly silicon used in conventional solar panels while matching power, performance and efficiency.
Professor Blakers said, "A solar panel using Sliver CellTM technology needs the equivalent of two silicon wafers to convert sunlight to 140 watts of power. By comparison, a conventional solar panel needs about 60 silicon wafers to achieve this performance.
"By dramatically reducing the amount of expensive pure silicon, the largest cost in solar panels today, this new technology represents a major advance in solar power technology."
Origin Energy's Executive General Manager, Generation, Andrew Stock said, "Origin Energy has worked with ANU's Centre for Sustainable Energy Systems for several years, investing more than $6 million in research to discover a way to harness the sun's power at much lower cost.
"Due to the economy and flexibility of Sliver CellsTM, we believe this technology will play an important role in the future wide-spread adoption of solar power. Sliver CellTM technology is an excellent example of the way Australian researchers can work with Australian industry to innovate a product that leads the world".
ANU Vice-Chancellor, Professor Ian Chubb welcomed the research breakthrough. "Origin Energy is to be congratulated for its foresight and persistence in supporting the ANU team in this project. The company has made a substantial contribution since establishing the research partnership with ANU," Professor Chubb said.
The most expensive part of traditional solar power panels is the silicon from which the individual cells are made. The Sliver CellTM is a radically different concept in photovoltaics. Sliver CellsTM are produced using special micro-machining techniques, then assembled into solar panels using similar methods to those used to make conventional solar panels.
The new technology reduces costs in two main ways – by using much less expensive silicon for similar efficiency and power output, and needing less capital to build a solar panel plant of similar capacity.
The unique attributes of Sliver CellTM technology could open many new Sliver CellTM applications, in addition to conventional rooftop and off-grid uses, including:
Transparent Sliver CellTM panes to replace building windows and cladding
Flexible, roll-up solar panels
High-voltage solar panels, and
Solar powered aircraft, satellite and surveillance systems
About Origin Energy:
With a history dating back 140 years, Origin Energy is a leading Australian energy provider. It participates in most segments of the energy chain including natural gas exploration and production; power generation; energy retailing and trading; and asset services. Origin Energy supplies energy to more than two million homes and businesses. The company focuses on providing cleaner energy choices for customers. It is now the largest retailer of grid-connected solar systems in the Victorian and South Australian markets, the largest markets for grid-connected solar power in Australia. It is the only energy retailer to win preferred partner status with three leading property development companies, Australand Homes, Henley and Metricon to bring competitively priced packaged solar power products to the new-home market. Origin Energy also is partnering with BP Solar to install Australia's largest city-based solar system on the roof of the Queen Victoria Market, Melbourne, is managing a 20kW solar power system on the SA Museum, opened yesterday, and has installed a 10kW grid connected solar system on Australia's greenest commercial building, '60L' in Carlton, Melbourne. Website: www.originenergy.com.au
About the ANU Centre for Sustainable Energy Systems:
ANU is the premier research University in Australia. The ANU Centre for Sustainable Energy Systems (CSES) involves a group of 45 staff & PhD students working on renewable energy technologies. About 80% of its turnover comes from external sources; primarily from companies and from government funds provided on a matching basis with industry. CSES has substantial activities in the areas of photovoltaics, solar thermal power and solar energy systems. Further information and pictures of systems can be obtained at http://solar.anu.edu.au
Featured Product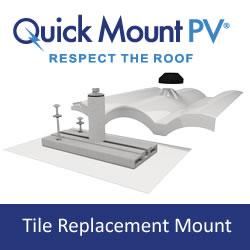 The Tile Replacement Mount provides a fast and easy way to install solar on tile roofs while protecting against water intrusion. Simply remove the tile and replace it with the Tile Replacement Mount. Works with all standard curved and flat tile roofs, and all standard rail-based racking systems. Flashed at both the deck and top levels, the mount is fully engineered to meet code requirements and industry best practices. The Tile Replacement Mount features Quick Mount PV's patented Elevated Water Seal technology for optimal waterproofing. Get a free sample and see for yourself!