Chilipepper Sales has introduced it's new improved Chilipepper model CP4000 residential hot water delivery system.
Lake Oswego, Oregon -- Feb 26, 2003 --Chilipepper Sales has introduced it's new improved Chilipepper model CP4000 residential hot water delivery system.

A small powerful micro-processor controlled pump, the Chilipepper, mounts easily under your sink and speeds hot water from your water heater to your fixtures without running water down the drain, saving you thousands of gallons of water per year.
The Chilipepper is now easier than ever to install. Only two plumbing connections are needed, and all the tubing and fittings to connect it to any sink are included.
The Chilipepper uses your cold water pipes to return the cooled off hot water in the hot water piping back to your water heater as it pumps hot water to your fixture at 2-1/2 to 3 gallons per minute. An internal temperature sensing circuit shuts off the pump when it detects hot water at the fixture.
When the pump shuts off you have virtually instant hot water at your sink fixtures, shower or tub.
If you normally let the hot water fixture run while you do something else, and come back to find the water hot, then you are running heated water down the drain. The energy required to heat water is much more expensive than the water itself. In this case the Chilipepper would save you energy as well as water. The Chilipepper typically consumes less than a dollar or two per year in electricity costs to operate.
The Chilipepper is very easy to install, requiring only two plumbing connections under your sink using fittings included with every Chilipepper. Typical installation time is about a half an hour.
The Chilipepper can be purchased online at the Chilipepper website, comes with a 30 day unconditional money back guarantee and has a two year warranty. The manufacturers suggested retail price is $169.99.
Featured Product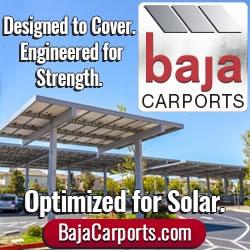 Baja Carports offers an extensive solar support system product line customized to customers' site specifications by in-house engineers, meeting their parking lot coverage, plus optimal PV production needs. Baja's Full Cantilever Tee is often paired with its Semi and Full Cantilever carports to meet live/loads up to 60psf and wind speeds to 160mph. All Baja products are pre-fabricated, bolted connections, pre-galvanized structural steel for fast on-site installation and project aesthetic requirements."