West Roxbury Home Will Be First for Massachusetts Initiative
BOSTON, Mass, April 14, 2003 — Bolstered with funding from the Massachusetts Technology Collaborative's (MTC) Solar to Market Initiative, the Massachusetts Energy Consumers Alliance (Mass Energy) has begun the installation of the first of an anticipated 40+ solar electricity (also known as photovoltaic or PV) systems, totaling over 100 kilowatts, in Boston, Newton, Brookline and Somerville.

Mass Energy's first installation through this program will take place at the home of Amy and Jeff Trueblood of West Roxbury and will begin on Monday, April 14. Weather permitting, the project will be completed within 48 hours.
It is anticipated that the Trueblood's solar electric system will produce 3,000 kWh per year of electricity thereby cutting their electric bills by 50%. "We wanted to install the system because it's important for us to support renewable energy initiatives. It's a very concrete way for us to put our belief in the value of alternative energy into practice. And we'll be more self-supporting with lower electric bills. Maybe we'll encourage more homeowners to seriously consider going solar themselves!" said Amy Trueblood, homeowner and beneficiary of the grant funds received by Mass Energy from MTC.
The system installed for the Truebloods would typically cost about $20,000. However, Mass Energy was able to bring down the cost by bulk purchasing PV and working with a pre-established design and installation team. These lower costs, combined with a grant of approximately $8,500 and available tax incentives, means that participating consumers save approximately 50%. "We intend on making solar energy part of Boston's energy mix. It may be a few years before solar is a significant percentage, but it will be done one roof at a time and people like the Truebloods are helping to make it possible," said Larry Chretien, Mass Energy's Executive Director.
"We are thrilled to work with the Massachusetts Energy Consumers Alliance to install new solar panels on homes and businesses throughout greater Boston," said Mitchell Adams, Executive Director of the Massachusetts Technology Collaborative. "The funding for this project comes from our $10 million Solar to Market Initiative, which will lead to new clean power pulsing through homes like the Trueblood's as we continue toward our goal to more than double the number of solar installations across the Commonwealth." The Solar to Market Initiative is a long-range effort to expand the production and use of solar energy in Massachusetts. The objectives of the program are threefold: 1) Reduce the cost of solar electricity by concentrating efforts in geographic clusters and through bulk purchasing; 2) Support a growing solar industry in the Commonwealth, and 3) Raise awareness among the general public about energy issues and the benefits of solar power.
Evergreen Solar, the Marlboro, MA-based manufacturer of PV panels, is a key partner in this first-of-many solar electric installation for residential and commercial properties with Mass Energy. "This is an important step forward for Massachusetts," said Mark A. Farber, President and CEO of Evergreen Solar, Inc. "It can enhance our balance of trade economic development, and even improve our national security. This state has a long-standing reputation for developing and supporting technologies that can help future generations to lead better lives. With MTC's support, the concentration of solar electric companies in Massachusetts will increase the number of high tech jobs in research, development, engineering, and manufacturing, as well as in sales, installation and service. Evergreen Solar was born and bred here in Massachusetts, having commercialized technology first developed at MIT, so we're proud to be a part of this effort."
The installation team for the Trueblood home will be lead by Zapotec Energy. "Photovoltaic systems, such as the Truebloods', work extremely well in Massachusetts — especially during the summer when electricity demand is at its annual peak," said Paul Lyons, Zapotec's President. Also on the installation team will be Lighthouse Electrical Contracting, Inc. of Pembroke. Lighthouse's President Herb Aikens said that electricians working for him are members of IBEW Local 103, which has been extremely supportive of the photovoltaic market. "Our union and our contractors are committed to partnering with groups like Mass Energy and MTC. We are currently training the 6,000 apprentices and journeyman electricians to be the most knowledgeable and productive workers in this field," said Local 103 IBEW Business Manager Mike Monahan.
ABOUT MASS ENERGY
WWW.MASSENERGY.COM
With offices in Jamaica Plain, Mass Energy is a 20-year-old non-profit membership and advocacy organization dedicated to making energy affordable and environmentally sustainable. Since 1982, Mass Energy has operated a buying group for heating oil consumers and is now serving over 7,000 households in eastern and central Massachusetts. Mass Energy is also forming a buyer's club for "green electricity". For more information, see www.NewEnglandWind.org.
ABOUT THE MASSACHUSETTS TECHNOLOGY COLLABORATIVE (MTC)
WWW.MASSTECH.ORG
MTC, an independent economic development agency, administers the state's Renewable Energy Trust, which was established to increase the supply and demand for renewable energy. The Trust is working with industry leaders and world-class academic institutions to generate new enthusiasm among consumers in targeted areas leading to the installation of nearly 250 solar systems.
ABOUT EVERGREEN SOLAR, INC.
WWW.EVERGREENSOLAR.COM
Evergreen Solar, Inc. (Nasdaq: ESLR) develops, manufactures, and markets solar power products utilizing the Company's proprietary and patented solar power technologies. The products provide reliable and environmentally clean electric power in global markets. Solar power applications include wireless power for remote homes, water pumping, lighting, and rural electrification, as well as complete power systems for electric utility customers choosing to generate their own environmentally benign green power.
ABOUT ZAPOTEC
WWW.ZAPOTECENERGY.COM
Cambridge-based Zapotec Energy is an independent consulting practice in the realm of renewable energy and resource conservation. Its mission is to provide objective advice and project management services to a variety of residential, commercial and institutional clients in New England to solve dilemmas related to energy conservation, management and production.
Featured Product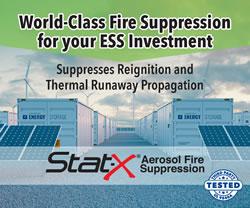 Stat-X® condensed aerosol fire suppression is a solution for energy storage systems (ESS) and battery energy storage systems (BESS) applications. Our Stat-X condensed aerosol fire extinguishing product was tested for efficacy in suppressing li-ion battery fires. It was found that the product successfully extinguished single and double cell battery fires. This testing was conducted in parallel with a large battery fire testing program on behalf of a large energy storage company.