The A-300 High-Performance Solar Cell Achieves 20 Percent Efficiency on 2-MW Pilot Line; Affiliation With Cypress Semiconductor to Bring Competitive Advantage in High-Volume Manufacturing
Sunnyvale, Calif., May 12, 2003 - SunPower Corporation, the silicon solar-cell performance leader, today announced sampling of the A-300, the world's most-efficient, low-cost silicon solar cell. Based on a unique rear-contact design—which maximizes the working cell area, hides unsightly wires and makes automated production easier—the A-300 achieves over 20 percent efficiency compared with currently available cells in the 12% - 15% range. The National Renewable Energy Laboratory (NREL) has verified 20.4 percent conversion efficiency for the A-300.

The 125-mm, single-crystal A-300 cell generates three watts of electricity providing the most efficient cost-per-watt solution in the photovoltaic (PV) industry. Additionally, the A-300 silicon solar cell delivers 3-kW in less than 17 square meters, allowing SunPower's customers to trump the world's best area-efficient construction designs. The A-300 solar cells are ideal for rooftop systems, communications, building integrated PV systems, and consumer applications.
Cypress Semiconductor Corporation is sharing its expertise in technology development and high-volume manufacturing with SunPower, providing the solar cell company with a substantial competitive advantage in a silicon-intensive, highly cost-sensitive business. The 2-megawatt manufacturing line that yielded the A-300 cells is adjacent to Cypress's manufacturing facility in Round Rock, Texas. A future SunPower manufacturing facility is under consideration for a site nearby Cypress's high-volume assembly and test facility in the Philippines.
"The A-300 cell marks a major milestone both for SunPower and for the photovoltaic industry," said Dick Swanson, SunPower president and CEO. "The cell's innovative design, high-efficiency and low manufacturing cost will enable our customers—the companies that design and build solar modules—to create superior products at a cost capable of accelerating the rate of conversion to clean, solar solutions."
"SunPower cells have been used in a broad range of high-profile, high-performance products, including NASA's Helios solar airplane, which set an altitude record of 96,863 feet in 2001," Swanson said. "But our partnership with Cypress has been key in enabling our transition from a small scale solar supplier to a world-class manufacturer of solar cells for high-volume applications."
"Performance and cost are key to making solar power a commercial success," said T.J. Rodgers, SunPower chairman, and president and CEO of Cypress Semiconductor Corporation. "The A-300 provides an entirely new class of cost-effective solutions to the clean energy industry."
"The solar cell business represents a great opportunity for several reasons," Rodgers added. "Even without the negative effects of political volatility, the production of conventional sources of energy, such as oil, is expected to peak over the next decade, requiring renewable forms of energy to begin to take its place. "After more than 30 years of continuous improvement, the science of solar power has matured to the point where it has become highly cost-effective."
About A-300 Solar Cells
The A-300 cells eliminate front-side metallization by utilizing a patented rear-contact design to provide more cosmetic uniformity and maximize energy generation. These products have been developed on a 2-MW pilot line in preparation for a full-scale manufacturing facility to be established in the near future. This production line enables SunPower to manufacture solar cells with less raw material and higher throughput. Until now, this level of efficiency and aesthetic value was unattainable for commercial applications.
Availability
The A-300 will be available in limited quantities in the second half of 2003. Production quantities are expected to be available in 2004.
About SunPower
SunPower designs and manufactures high-performance silicon solar cells based on an interdigitated rear- contact design for commercial use. The initial products, introduced in 1992, were high-concentration solar cells with an efficiency of 26%. SunPower also manufactures a 22% efficient solar cell called Pegasus that is designed for non-concentrating applications. Pegasus is based on an adaptation of the concentrating cell technology for flat-plate applications, and is the highest-efficiency non-concentrating silicon solar cell commercially available. An early application for the highly efficient and lightweight Pegasus solar cell was a high-altitude solar-powered aircraft. Pilotless solar-powered airplanes and blimps, which are nearing commercialization, can stay at altitude indefinitely and serve as telecommunications platforms over populated areas. SunPower solar cells were used on the NASA-sponsored AeroVironment airplane, "Helios," that flew to a record altitude of 96,863 feet on August 13, 2001. For more information on SunPower or solar technology, please visit the SunPower website at http://www.sunpowercorp.com
About Cypress
Cypress Semiconductor Corporation (NYSE: CY) is Connecting from Last Mile to First Mile' with high-performance solutions for personal, network access, enterprise, metro switch, and core communications-system applications. Cypress Connects' using wireless, wireline, digital, and optical transmission standards, including USB, Fibre Channel, SONET/SDH, Gigabit Ethernet, and DWDM. Leveraging its process and system-level expertise, Cypress makes industry-leading physical layer devices, framers, and network search engines, along with a broad portfolio of high-bandwidth memories, timing technology solutions, and programmable microcontrollers. More information about Cypress is accessible online at www.cypress.com
Featured Product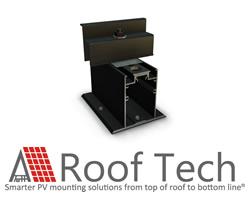 The most compact versatile rail-less PV mounting system under the sun. Instead of placing solar panels on top of long rails, simply attach E Mount AIR to rafters or the roof decking. Once panels are fastened to the roof, the system array is electrically bonded. The result is a visually seamless PV installation that stands the test of time. - Truly "One With The Roof". - PE stamped cert. letters available, UL 2703 Classified, ASTM 2140 fully waterproof. The one and only with integrated flexible flashing certified by the ICC! All the best quality. Only from Roof Tech