UniRac introduces T-bolt to further speed installation using its top mounting SolarMount system for racking photovoltaic arrays.
The fastest, easiest way to install a PV array is getting faster and easier. In June, UniRac will begin shipping T-bolts with our top mounting SolarMount systems.

T-bolts replace 1/4-inch hexhead bolts used with top mounting clamps to secure PV modules to the rails. They drop into the module mounting slot—anywhere along the length of the rail. The bolts capture with less than a quarter turn.
For example, rails that hold four 150-watt modules are typically 15 feet long. Instead of sliding in a hexhead bolt from the end of the rail, an installer can quickly drop in a T-bolt wherever it's needed.
The rail and T-bolt combination has undergone destructive laboratory testing at the University of New Mexico's Department of Civil Engineering. It remains UBC compliant when installed in accordance to UniRac's code-compliance documentation.
As with many recent UniRac innovations, this upgrade takes place with no price increase or model number change. All CT Series top mounting clamp sets will include T-bolts within two to three weeks.
Featured Product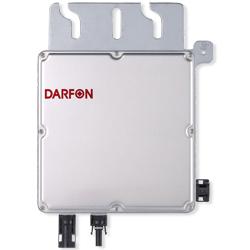 The Darfon G320 is the microinverter solution for today's high-power solar modules. The G320 handles 60- and 72-cell modules up to 350W DC and outputs up to 300W AC. The G320's 3-phase configuration accommodates the electrical distribution systems of most commercial buildings and to reduce, if not eliminate, the need for expensive transformers. The G320 comes in four voltage/phase configurations, so it can be installed in residential, commercial or utility applications.