Simple to Install and Easy to Maintain, the SolarQuilt is Designed for All Existing Flat Roofing Situations
AUBURN HILLS, Mich., May 20, 2003 - United Solar Systems Corp. (Uni-Solar), the world leader in thin-film amorphous silicon solar technology, and Independent Energy Solutions (IES) introduce the SolarQuilt - a solar energy product designed for all types of flat and low-slope roofing situations. Featuring the award-winning attributes of Uni-Solar's existing solar energy solutions - lightweight, flexible, durable and aesthetically pleasing - the SolarQuilt is an ideal solution for those with existing flat roofs who want a solar energy system.

The SolarQuilt is a lightweight, simple-to-install, easy-to-maintain ballasted solution with a self-cleaning design. Its interconnecting panels can be easily installed on all existing roofing materials without penetrating the roof, and can be easily removed and re-installed when the roof is replaced.
Stanford R. Ovshinsky, president and CEO of ECD Ovonics and chairman and CEO of Uni-Solar, said, "Our robust Ovonic thin-film solar cells are building materials which, when used to cover roofs of the world, can do much to solve today's energy problems. This always has been a focus of our business."
"The SolarQuilt can be installed on any existing roof, including built-up roofs and bitumen roofs, and is therefore complementary to our building integrated photovoltaic (BIPV) product line for membrane and steel roofs. We're pleased to partner with IES for this type of solution," said Subhendu Guha, president and chief operating officer of Uni-Solar.
"Our Company is committed to delivering turnkey solar energy systems to the growing market," said Troy Strand, President, Independent Energy Solutions. "As a result of our close working relationship with Uni-Solar, we are able to offer a turnkey system that is appropriate for both commercial and residential customers who want solar electricity. We are proud to have contributed to the development of this offering - extending our reach in the photovoltaic market far beyond installing the system itself," he added.
The solar panels are designed with a slight slope (1°), which allows water and dirt particles to run toward existing roof drains. Like other existing solar energy systems offered by Uni-Solar, the SolarQuilt panels require virtually no maintenance following their installation. Additionally, the form factor of the SolarQuilt panels makes them easy to manage from the building developer and contractor perspectives. The SolarQuilt system can be easily packaged into a pallet format, making it simple to move the panels on and off the roof, and the overall installation can be managed by one person.
Uni-Solar's unique Ovonic thin-film amorphous solar products are quickly being accepted as the ideal solution for both commercial and residential customers. Differing from the traditional crystalline technology, which typically utilizes heavy, glass-mounted panels, the UNI-SOLAR® system solutions are flexible, durable, lightweight and easy to install. In addition, independent studies have shown that Uni-Solar's systems produce more energy per rated power than crystalline products, enhancing their overall value in the market. They truly demonstrate "Ovonics@work."
About Uni-Solar
UNI-SOLAR® proprietary brand products are manufactured and marketed by Uni- Solar, a subsidiary of Energy Conversion Devices, Inc. (ECD Ovonics) (NASDAQ:ENER). Uni-Solar, building on technology invented and pioneered by ECD Ovonics, is the world leader in thin-film amorphous photovoltaics. ECD Ovonics and Uni-Solar hold the basic patents covering the continuous roll-to-roll manufacturing of thin-film amorphous silicon alloy multi-junction solar cells and related products. More information is available at www.uni-solar.com.
About Independent Energy Solutions
Independent Energy Solutions (IES), a company founded on the principles of sound engineering practices, is based in San Marcos, Calif., and is dedicated to providing complete turnkey solutions to the energy needs of clients utilizing state-of-the-art technologies in photovoltaic (PV) and power electronics including DC to AC inverters and related electronic switch gear. Additional information about IES can be found at www.indenergysolutions.com.
Featured Product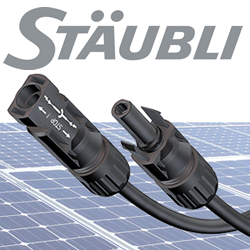 ​Stäubli Electrical Connectors are used on more than 300 GW, over 50% of the PV capacity worldwide. The MC4 family of UL and TUV listed products include connectors, in-line fuses, branch connectors, cable assembly and more.