Today, the Electric Drive Transportation Association (EDTA) announced the addition of Hydrogenics Corporation and Millennium Cell to its 2003 membership roster.
Washington, DC—June 17—Today, the Electric Drive Transportation Association (EDTA) announced the addition of Hydrogenics Corporation and Millennium Cell to its 2003 membership roster. EDTA's membership is comprised of a diverse consortium of nearly 100 automotive manufacturers, energy providers, state and local governments, and others interested in promoting the use of electric drive technologies through policy, marketing and public education initiatives.

About Hydrogenics
Hydrogenics designs and builds integrated proton exchange membrane fuel cell systems for power generation and also for testing and diagnosis. Hydrogenics offers system integration for clients requiring design engineering and prototyping to integrate existing technology into operational fuel cell systems. Hydrogenics is headquartered in the greater Toronto area, and was just named Canada's fastest growing company by Profit, a Canadian magazine that focuses on entrepreneurial business issues.
About Millennium Cell
New Jersey-based Millennium Cell has created a proprietary technology to safely store, generate and deliver pure hydrogen called Hydrogen on Demand' that is used to provide hydrogen to fuel cells and internal combustion engines. The system generates pure hydrogen from environmentally friendly raw materials, capable of storing approximately seven percent hydrogen by weight in a safe, non-flammable liquid form, and extracting pure hydrogen 'on demand'. The Hydrogen on Demand' system powers the EDTA Board Member company DaimlerChrysler's Natrium® fuel cell minivan, and provides a range of 300 miles for the vehicle.
EDTA President Kateri Callahan says, "The addition of two prominent companies from the emerging fuel cell industry underscores the important role that EDTA is playing to assist the electric drive sector in assuring the widespread use of sustainable, electricpowered transportation, from fuel cell electric vehicles of tomorrow to today's hybridelectric cars and buses, and battery-powered commuter, industrial and non-road equipment."
Jane Dalziel, Director of Communications for Hydrogenics, says, "Hydrogenics has strong working relationships with several EDTA members, and we look forward to an active role within the organization."
Dr. Stephen S. Tang, Millennium Cell President and CEO, says, "We are looking forward to full membership into EDTA and joining forces to further the important activities in public policy and education."
EDTA (formerly EVAA) is an international association representing the interest of those involved in the development, production and use of battery, hybrid and fuel cell electric drive technologies and supporting infrastructure. EDTA serves as the central source of information on all of the technical, market and policy issues surrounding the emergence of electric drive technologies, and serves as the representative of the Americas to the World Electric Vehicle Association (WEVA).
For more information about Hydrogenics, visit www.hydrogenics.com
For more information about Millennium Cell, visit www.millenniumcell.com
For more information about EDTA, visit www.electricdrive.org
Featured Product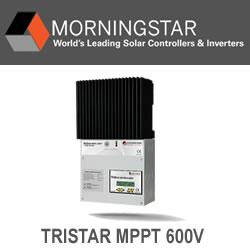 Morningstar's TriStar MPPT 600V charge controller leverages Morningstar's innovative TrakStar™ MPPT technology and our 20+ years of power electronics engineering excellence, to enable the widest input operating voltage range available from a solar array, wind turbine or hydro input. This controller's standard and DB versions are for off-grid applications, and the TR versions were developed to enable retrofitting grid-tied systems with battery backup.