SunPower Corporation, the silicon solar-cell performance leader, today announced the appointment of Tom Werner as chief executive officer (CEO).
Silicon Solar Cell Leader Also Hires VP of Sales and Marketing,

Industry Veteran Dick Swanson Moves to Post As President, CTO
SUNNYVALE, Calif., June 24, 2003 - SunPower Corporation, the silicon solar-cell performance leader, today announced the appointment of Tom Werner as chief executive officer (CEO). Werner comes to SunPower from a position as CEO of Silicon Light Machines, a supplier of components for optical subsystems. Werner also brings to the job brand management experience with a range of companies in the electronics industry, such as 3Com® and U.S. Robotics®.
Werner is tasked with accelerating SunPower's transition from a supplier of high-performance specialty products to a manufacturer of solar cells for a broad range of high-volume applications. Under Werner's direction, Silicon Light Machines diversified from a designer and manufacturer of components for a single customer and application—Sony Corp. high-definition television displays—to a provider of optical devices for a variety of markets, including telecommunications, print and display-related products.
Silicon Light Machines is a subsidiary of Cypress Semiconductor Corporation (NYSE: CY), which also holds an interest in SunPower. Cypress is sharing its expertise in technology development and high-volume manufacturing with SunPower, providing the solar cell company with a competitive advantage in a silicon-intensive, highly cost-sensitive business.
SunPower, which has produced solar cells for a broad range of high-profile projects—such as the NASA Helios solar-powered aircraft, which flew to a record altitude of 96,863 feet—recently sampled its first high-volume product—the A-300 solar cell, the industry's most-efficient, lowest-cost silicon cell.
"SunPower has a team of talented individuals; a deep portfolio of intellectual property; and great financial and technical backing by Cypress," Werner said. "These elements will provide us with a solid foundation in the process of building SunPower into a high-volume provider of high-performance, cost-efficient solar cells."
"Tom Werner has a breadth of experience turning intellectual property into real products—and, at SLM, turning an organization focused on a single product into a prolific designer and manufacturer of devices for multiple applications," said Cypress President and CEO T.J. Rodgers. "Tom's experience building businesses at 3Com and U.S. Robotics makes him the right choice to help SunPower make the leap from a niche provider of photovoltaic solutions to a dominant force in a highly competitive industry that is poised for significant growth."
Separately, SunPower will announce the appointment of Peter Aschenbrenner as vice president of sales and marketing. Aschenbrenner comes to SunPower with 25 years of experience in sales and marketing leadership positions at photovoltaic companies including Siemens Solar and AstroPower. Aschenbrenner was instrumental in AstroPower's IPO and its acquisition of Atersa, the company's European subsidiary.
SunPower Founder Dick Swanson, a 27-year veteran of the photovoltaics industry, will remain as SunPower's president and chief technical officer, driving the SunPower product roadmap and leveraging his strengths in product development.
Werner will be replaced as SLM president and CEO by Hal Zarem, who steps up from a position as SLM VP of sales and marketing. Zarem will report directly to Cypress's Rodgers and SLM's board of directors.
Executive Biographies
Tom Werner most recently served as president and CEO of Silicon Light Machines, a subsidiary of Cypress. He has also served as vice president and general manager of the Business Connectivity Group, a billion-dollar division of 3Com Corporation. In this position, Werner expanded sales at top-tier OEMs and led several key developments, including products for wireless LAN and Gigabit Ethernet. He also led partnership and acquisition activity for the division. Werner previously served as vice president of U.S. Robotics, which was acquired by 3Com in June 1997.
Werner was also at Oak Frequency Control, currently part of Corning Inc., as president of the firm's Networks Group. During his tenure, he increased revenues by 30 percent per year, doubled new product releases and annual profitability, and tripled international sales.
Peter Aschenbrenner, an industry veteran with 25 years of solar experience, comes to SunPower from AstroPower, where he held several leadership positions within the company's sales and marketing operations. Over a 9-year period at AstroPower, Aschenbrenner managed a commercial team that helped grow the company from an early stage market entry to a top five photovoltaic industry player. During this period, Mr. Aschenbrenner was instrumental in AstroPower's three public offerings and led the acquisition of Atersa, the company's European subsidiary. Aschenbrenner has also held management positions at Siemens Solar, PV Electric GmbH and ARCO Solar.
About SunPower
SunPower designs and manufactures high-performance silicon solar cells based on an interdigitated rear- contact design. SunPower's latest A-300 solar cell achieves over 20 percent efficiency compared with currently available cells in the 12% - 15% range. The A-300 cell was developed and manufactured in SunPower's Round Rock, Texas 2-MW facility that began operation in January 2003. The company's initial products, introduced in 1992, were high-concentration solar cells with an efficiency of 26%. SunPower also manufactures a 22% efficient solar cell called Pegasus, which is the highest-efficiency non-concentrating silicon solar cell commercially available. An early application for the highly-efficient and lightweight Pegasus solar cell was a high-altitude solar-powered aircraft. Pilotless solar-powered airplanes and blimps, which are nearing commercialization, can stay at altitude indefinitely and serve as telecommunications platforms over populated areas. SunPower solar cells were used on the NASA-sponsored AeroVironment airplane, "Helios," that flew to a record altitude of 96,863 feet on August 13, 2001. For more information on SunPower or solar technology, please visit the SunPower website at http://www.sunpowercorp.com.
About Cypress
Cypress Semiconductor Corporation (NYSE: CY) is Connecting from Last Mile to First Mile' with high-performance solutions for personal, network access, enterprise, metro switch, and core communications-system applications. Cypress Connects' using wireless, wireline, digital, and optical transmission standards, including USB, Fibre Channel, SONET/SDH, Gigabit Ethernet, and DWDM. Leveraging its process and system-level expertise, Cypress makes industry-leading physical layer devices, framers, and network search engines, along with a broad portfolio of high-bandwidth memories, timing technology solutions, and programmable microcontrollers. More information about Cypress is accessible online at www.cypress.com.
# # #
U.S. Robotics is a registered trademark of U.S. Robotics Corporation. 3Com is a registerd trademark of 3Com Corporation. All trademarks are the property of their respective owners. Cypress and the Cypress logo are registered trademarks of Cypress Semiconductor Corporation. "Connecting from Last Mile to First Mile," and "Cypress Connects" are trademarks of Cypress. All other trademarks are the property of their respective owners.
Contact:
Agnes A. Toan
SunPower PR
(408) 545-6909
ATN@cypress.com
Featured Product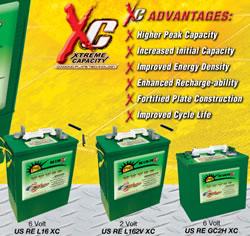 Our RE Series batteries are designed to provide the highest peak capacity, longest cycle life, and greatest reliability for use in industrial or residential renewable energy applications. Renewable Energy Series batteries utilize the company's exclusive XC2â"¢ formulation and Diamond Plate Technology® to create the industry's most efficient battery plates, delivering greater watt-hours per liter and watt-hours per kilogram than any other flooded lead-acid battery in the market. Our Deep Cycle batteries are engineered to work with solar panels as well as other renewable energy applications.