Vancouver, BC, Canada DynaMotive Energy Systems Corporation (OTCBB: DYMTF), and Ontario Power Generation (OPG), a major North American electricity producer have entered into an agreement for the proposed development of renewable fuel projects in Ontario.
Vancouver, BC, Canada DynaMotive Energy Systems Corporation (OTCBB: DYMTF), and Ontario Power Generation (OPG), a major North American electricity producer have entered into an agreement for the proposed development of renewable fuel projects in Ontario.

The two companies will be working together with other members of a consortium on an integrated 100 tonne/day biofuel and 2.5 megawatt combined heat and power facility in West Lorne, Ontario, Canada. The facility, the largest of its kind anywhere, will utilize wood residue from the operations of Erie Flooring and Wood Products. It will consist of wood conditioning equipment, a pyrolysis plant, and a combined heat and power plant. The objective is to utilize DynaMotive's unique pyrolysis technology to establish a biofueled power generation plant on a commercial scale. Previously, DynaMotive successfully demonstrated the use of this technology to produce biofuel from wood in a 10 tonne/day pilot plant. This project will demonstrate an integration of the fuel production with its use in combined heat and power production in an industrial environment. If the project is completed, the project participants will apply for EcoLogoM certification and could be contributing green power not utilized by Erie Flooring's operations to the Ontario grid by early next year.
DynaMotive and OPG executed a Memorandum of Understanding in July 2002 to investigate opportunities to utilize DynaMotive's process to convert wood residue to BioOil. This is a renewable fuel that can be efficiently transported to other facilities and could be used to replace fossil fuels to produce green power. A byproduct of the process is a high quality char that has several potential commercial applications including as a partial replacement fuel for coal.
"This project expands the technology to a commercial scale. We're excited about the potential because it essentially converts wood, which is a renewable energy source, to a liquid fuel that allows for easier use for power generation," says Larry Doran, OPG's Vice President Business Development.
OPG's initial C$200,000 investment in the project provides for the predevelopment work, including a project integration study by UMA Engineering Ltd. of Burnaby, British Columbia. Optional further investment by OPG will be subject to project feasibility. OPG has the right of first offer on future DynaMotive initiatives in OPG's trading areas and the right to partner with others.
"DynaMotive is pleased to have OPG as the first commercial generator to partner in the project. It is instrumental to have a leading generation company recognize the commercial potential of our technologies and how important they are to the collective future for renewable energy and our environment," says Andrew Kingston, President & CEO of DynaMotive.
Other participants in the project are: Magellan Aerospace division-Orenda Industrial, which is providing the power generation and fuel handling system utilizing BioOil; UMA Engineering; and Erie Flooring and Wood Products, which will supply wood residue for the project and receive electricity and process heat for its operations.
Ontario Power Generation is an Ontario based company, whose principal business is the generation and sale of electricity to customers in Ontario and to interconnected markets. OPG's focus is on the risk-managed production and sale of reliable electricity from our competitive generation assets. OPG's goal is to be a premier North American energy company, while operating in a safe, open and environmentally responsible manner.
DynaMotive is an energy systems company that is focused on the development of innovative energy solutions based on its patented fast pyrolysis system. Through the application of fast pyrolysis, DynaMotive has shown how to unlock the natural energy found in the world's abundant organic resources that have been traditionally discarded by the agricultural and forest industries in a wasteful and costly manner, and to economically convert them into a renewable and environmentally friendly fuel. Proven applications include forestry residues such as wood and bark, and agricultural residues such as sugar cane bagasse and corn stover. DynaMotive has successfully demonstrated conversion of each of these residues into fuel known as BioOil, as well as valuable char, making these residues a renewable and environmentally friendly energy reserve.
For more information on Ontario Power Generation:
Media Desk (416) 592-4008 or 1 877 592-4008 or visit us at www.opg.com
For more information on DynaMotive, please call:
Corp Communications Tel: (604) 267-6000 Toll Free (in North America): 1 877 863-2268
Fax: (604) 267-6005 Email: investor@DynaMotive.com Website: www.DynaMotive.com
In Europe, contact:
Antony Robson, Managing Director Tel: (44) 0207 550 3872 Fax: (44) 0207 409 2304
US enquiries, contact:
James Acheson, Chief Operating Officer DynaMotive Corporation
Tel: (323) 460-4900 Fax: (323) 465-2617 Email: jacheson@DynaMotive.com
Forward Looking Statement
Statements in this news release concerning the company's business outlook or future economic performance; anticipated profitability, revenues, expenses, or other financial items; and statements concerning assumptions made or expectations as to any future events, conditions, performance or other matters, are "forward-looking statements" as that term is defined under the Federal Securities Laws. Forward-looking statements are subject to risks, uncertainties and other factors which could cause actual results to differ materially from those stored in such statements. Such risks, uncertainties and factors include, but are not limited to, future capital needs, changes and delays in product development plans and schedules, customer acceptance of new products, changes in pricing or other actions by competitors, patents owned by the Company and its competitors, and general economic conditions, as well as other risks detailed in the Company's filings with the Securities and Exchange Commission.
Featured Product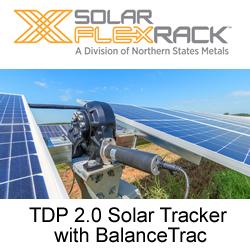 Solar FlexRack's latest solar tracker technology bundles an advanced tracker design with a full team of seasoned engineering and installation experts at your service. The next-generation solar tracker delivers a package of features that both enable increased energy yields for commercial and utility-scale solar installations, and significantly reduce project risks. That translates to smart installation cost-savings across your project budget.