SunPower Corporation today announced the appointment of Peter Aschenbrenner as vice president (VP) of sales and marketing.
Contact:
Agnes A. Toan
SunPower PR
(408) 545-6909
ATN@cypress.com
FOR IMMEDIATE RELEASE
SunPower Corporation Names VP of Sales and Marketing
Cypress Subsidiary Appoints PV Industry Veteran to Accelerate Market Penetration
SUNNYVALE, Calif., June 26, 2003 - SunPower Corporation, the silicon solar-cell performance leader, today announced the appointment of Peter Aschenbrenner as vice president (VP) of sales and marketing, reporting to SunPower CEO Tom Werner. Aschenbrenner is charged with leading SunPower's effort to establish itself from a supplier of high-performance specialty products to a manufacturer of solar cells for a broad range of high-volume applications.
Aschenbrenner comes to SunPower from AstroPower, where he held leadership positions within the company's sales and marketing operations. At AstroPower, Aschenbrenner led a team that grew product revenue at a compound annual growth rate of over 50% over a nine-year period, taking the company from market entry to a Top 5 industry player. Aschenbrenner also held a variety of marketing and product development leadership positions at Siemens Solar and its predecessor ARCO Solar, including international postings in Italy, Germany, and the U.K..
"SunPower's breakthough high-efficiency solar cell technology is the most exciting—and potentially significant—development I have seen in my 25 years in the PV industry," Aschenbrenner said. "Backed by the proven process development and volume manufacturing experience of Cypress Semiconductor Corporation, this new technology should provide customers with unprecedented levels of performance and value. I look forward to helping position SunPower as a leading supplier within this dynamic and rapidly growing industry."
"As SunPower ramps up toward production volume, Peter's extensive PV industry experience will be a critical factor in our success," said Tom Werner, SunPower's CEO. "The knowledge Peter brings to SunPower will enable us to quickly—and efficiently—focus our efforts on leveraging various market segments."
Photo
A high-resolution photo of Peter Aschenbrenner is available online at: http://www.cypress.com/support/link.cfm?mr=aschenbrenner
About SunPower
SunPower designs and manufactures high-performance silicon solar cells based on an interdigitated rear- contact design. SunPower's latest A-300 solar cell achieves over 20% efficiency compared with currently available cells in the 12% - 15% range. The A-300 cell was developed and manufactured in SunPower's Round Rock, Texas 2-MW facility that began operation in January 2003. The company's initial products, introduced in 1992, were high-concentration solar cells with an efficiency of 26%. SunPower also manufactures a 22% efficient solar cell called Pegasus, which is the highest-efficiency non-concentrating silicon solar cell commercially available. An early application for the highly-efficient and lightweight Pegasus solar cell was a high-altitude solar-powered aircraft. Pilotless solar-powered airplanes and blimps, which are nearing commercialization, can stay at altitude indefinitely and serve as telecommunications platforms over populated areas. SunPower solar cells were used on the NASA-sponsored AeroVironment airplane, "Helios," that flew to a record altitude of 96,863 feet on August 13, 2001. For more information on SunPower or solar technology, please visit the SunPower website at http://www.sunpowercorp.com.
About Cypress
Cypress Semiconductor Corporation (NYSE: CY) is Connecting from Last Mile to First Mile' with high-performance solutions for personal, network access, enterprise, metro switch, and core communications-system applications. Cypress Connects' using wireless, wireline, digital, and optical transmission standards, including USB, Fibre Channel, SONET/SDH, Gigabit Ethernet, and DWDM. Leveraging its process and system-level expertise, Cypress makes industry-leading physical layer devices, framers, and network search engines, along with a broad portfolio of high-bandwidth memories, timing technology solutions, and programmable microcontrollers. More information about Cypress is accessible online at www.cypress.com.
# # #
Cypress and the Cypress logo are registered trademarks of Cypress Semiconductor Corporation. "Connecting from Last Mile to First Mile," and "Cypress Connects" are trademarks of Cypress. All other trademarks are the property of their respective owners.
Featured Product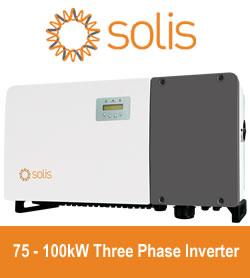 Solis75kW - 100kW series high-power string inverters are widely used in industrial and commercial rooftops. Solis's new three-phase string inverter is the first choice for industrial and commercial photovoltaics. 75-100kW three phase series string inverter have Maximum 28 strings input, support "Y" type connection in DC side. Maximum string input current 13A, support bifacial modules access.Supports anti-PID function to improve system efficiency.