The Nexa® RM Series is modular and its power output is scalable in 1 kW increments to meet individual customer requirements.
Vancouver, Canada - Ballard Power Systems (TSX: BLD; NASDAQ: BLDP) today introduced the Nexa® RM Series, its hydrogen fueled stationary fuel cell power generator. Developed to meet the needs of the uninterruptible power system (UPS) and telecommunications power markets, the Nexa® RM Series is based on the technology developed from Ballard's first commercial fuel cell product - the Nexa® power module. The Nexa® RM Series is modular and its power output is scalable in 1 kW increments to meet individual customer requirements.

Ballard has delivered Nexa® RM systems for utility and server room UPS field trials and has scheduled deliveries for telecommunications field trials before year-end. The goal of these field trials is to demonstrate, at Ballard customers' facilities, the benefits of fuel cell technology over incumbent technology, and to develop Ballard's Nexa® RM Series as the preferred, premium backup power product for mission critical applications.
"The Nexa® RM Series is ideally suited for high value power protection markets," said Dennis Campbell, Ballard's President and Chief Executive Officer. "The reliability and durability of our Nexa® power module, along with extended run capability during lengthy blackout periods and the environmental benefits of zero emissions, make the Nexa® RM Series a compelling choice for telecommunications, UPS and other emergency backup power applications. The scalability of the product in 1 kW increments provides the versatility to meet application specific load requirements across the power range. For telecom, the typical application is in the range of 5 kW to 20 kW."
The scalable Nexa® RM Series has been designed for industry-standard 19-inch rack mounting. The system includes electrical connections, an exhaust system and safety features along with N+1 redundancy capability for specific market requirements. Hydrogen fuel for the Nexa® RM Series is available from existing hydrogen gas suppliers. Additional information regarding this product is available on the Ballard web site at www.ballard.com.
MGE UPS Systems Inc. (MGE), distributor and authorized service provider for Ballard's AirGen' fuel cell generator, will also partner with Ballard to distribute and service the Nexa® RM Series.
"We see strong potential for fuel cell systems in mission critical applications where long back-up times are required," said Jack Pouchet, MGE's Director of Marketing. "MGE will conduct UPS field trials using our existing conventional powered products integrated with Ballard's Nexa® RM Series cells. It is our intention to include Ballard® fuel cells in our 2004 product line."
Nexa® RM Series prototype systems are now available for sale for additional field trials. Ballard plans to bring production units of Nexa® RM Series to the market in 2004 upon completion of the ongoing field trials.
Featured Product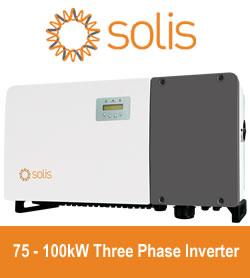 Solis75kW - 100kW series high-power string inverters are widely used in industrial and commercial rooftops. Solis's new three-phase string inverter is the first choice for industrial and commercial photovoltaics. 75-100kW three phase series string inverter have Maximum 28 strings input, support "Y" type connection in DC side. Maximum string input current 13A, support bifacial modules access.Supports anti-PID function to improve system efficiency.