Military aviation orders now at approximately $1.1M for 2003
Victoria, BC - October 1, 2003 - Carmanah Technologies Corporation (TSX VE: CMH) is pleased to announce that it has received a second order of aviation lights from a USAF base in Kirkuk, Iraq. The Company will now be supplying 120 Model 702 solar-powered LED lights to be used for obstruction lighting and helipad perimeter lighting. Value of the order is approximately $146,000, bringing the total for this air base up to 520 units of Model 702 and Model 601 valued at approximately $297,000.

"This contract is significant for Carmanah", states Carmanah CEO Art Aylesworth. "It represents the first significant reorder for our aviation lighting and provides confirmation from end-users that our lights are an ideal alternative to hardwired systems".
Carmanah's ability to provide permanent and/or temporary airfield lighting that requires no cabling or external power infrastructure has enabled air bases to install high-performance, reliable airfield lighting at a fraction of the cost of hardwired systems. The bases are also able to eliminate significant installation and labour costs, as well as any ongoing maintenance.
Since introducing its aviation lighting products in December 2002, Carmanah now has more than 2,600 units (approx. $1.1 million) in the Middle East, SW Asia and the United States for permanent, temporary and / or expedited airfield lighting at military installations. For more information, please visit www.solarairportlights.com.
About Carmanah Technologies Inc.
Carmanah is an award winning alternative energy manufacturer specializing in patented solar-powered LED lighting solutions for the aviation, marine, transit, roadway, railway and mining markets. The company currently has more than 70,000 units installed in 110 countries. The shares of Carmanah Technologies Corporation (parent company) are publicly traded on the TSX Venture Exchange under the symbol "CMH" and on the Berlin and Frankfurt Stock Exchanges under the symbol "QCX". For more information, please visit www.carmanah.com or www.solarairportlights.com.
Featured Product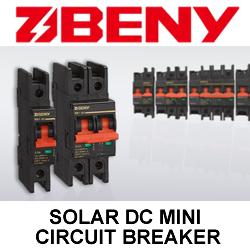 The BB1-63 modular miniature circuit-breakers can be used in solar DC circuits up to 1200 VDC (4-poles execution). Application in solar DC circuits, battery energy storage systems and UPS. Arc flash barrier design keeps solar equipment more safe and reliable. For DC circuit over-current protection.