Modules are approved to power applications in hazardous environments
SCOTTSDALE, AZ (December 4, 2003) - Kyocera announced today that it has received an advanced Underwriters Laboratory (UL) certification for a broad range of its solar photovoltaic modules. The UL Class 1, Division 2, Groups A, B, C, D certification has made Kyocera's KC-Series modules ranging from 35 to 120 watts "UL approved" for use in hazardous environments containing volatile flammable liquids, gases or vapors.

Kyocera's KC-Series photovoltaic modules have proven to be highly efficient and adaptable for industrial PV power applications. The Class 1, Division 2 certification will allow these modules to be installed in hazardous environments common to the oil and gas, mining and chemical industries, as well as many other industries which seek solar energy solutions with a higher safety rating.
Constructed with 6-inch multi-crystalline PV cells, Kyocera PV modules offer a conversion efficiency exceeding 14 percent. The cells are encapsulated between a tempered glass cover and an EVA pottant and an aluminum foil backing sheet for maximum protection even in the most severe environmental conditions. The entire laminate is installed in an anodized aluminum frame to provide structural strength and facilitate installation. A sealed junction box attached to the aluminum frame houses the wire termination contacts. All Kyocera PV modules carry a 25-year output warranty.
An industrial solar electric system with Kyocera PV modules will help avoid the need for high-cost utility extensions, while providing a more cost-effective alternative to propane-powered thermal electric generators (TEGs). Kyocera PV modules are designed to provide reliable power for a wide range of demanding applications, including pipeline control, flow and tank monitoring, chemical dispensing, compressor control, machine control, and wireless data solutions. The new UL approval enables Kyocera to engineer and integrate many more customized Class 1, Division 2 solar electric systems for industrial use.
Kyocera Solar, Inc. is a world-leading supplier of environmentally sound, solar electric energy solutions. With operating headquarters in Scottsdale, AZ and regional sales centers in Brazil and Australia, Kyocera Solar, Inc. services thousands of customers in both developed and developing regions. The company is a wholly-owned subsidiary of Kyocera International, Inc. of San Diego, the North American headquarters and holding company for Kyoto, Japan-based Kyocera Corporation.
Kyocera Corporation, the parent and global headquarters of the Kyocera Group, was founded in 1959 as a producer of advanced ceramics. By combining these engineered materials with metals and plastics, and integrating them with other technologies, Kyocera Corporation has become a leading supplier of solar energy systems, telecommunications equipment, semiconductor packages, electronic components, cameras, laser printers, copiers and industrial ceramics. During the year ended March 31, 2003, the company's net sales totaled 1.069 trillion yen ($9.06 billion) with net income of 41.1 billion yen ($348 million).
Featured Product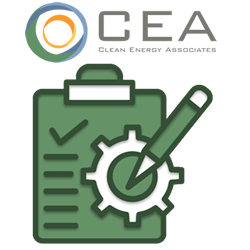 Clean Energy Associates provides a complete quality assurance solution that covers the entire product lifecycle of PV modules, storage systems, and every Balance of Sy stem (BOS) component. CEA's experienced on-the-ground and international team of quality control engineers and account managers offer an unparalleled quality assurance presence that can protect solar and storage investments and ensure future energy-producing viability for the life of the product.